10,000 Birds Beat Writers
Here are all of the amazing 10,000 Birds Beat Writers in alphabetical order by last name.  If you want to see the posts in which they were introduced you can see the first group, the second wave, or the final beats.  If you don't see a beat writer you are looking for here they might have left the blog in which case you will find them on the 10,000 Birds Writers Emeritus page.  If you are looking to find information on Mike Bergin or Corey Finger just click their names. If you scroll down to the bottom of the Beat Writer directory you will see the Beat Writer posting calender so you know when to look for your favorite 10,000 Birds Beat Writer.  Note that everyone does their best to stick to the schedule but occasionally life gets in the way.
………
Alfredo Begazo wrote a couple of guest posts on 10,000 Birds and we (and our readers) liked them so much that we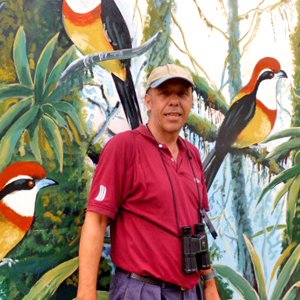 invited him to become a Beat Writer. His work appears every-other-Thursday morning and is all about the birds, ecology, and conservation of the Neotropics, hence his beat: "Neotropical Birds and Ecology."
Alfredo has been fascinated by birds since early age. He grew up alongside Peruvian Meadowlarks and Marvelous Spatuletails in his native Peru. Trained as Wildlife Biologist at the University of Florida, he moved south to the central part of the State and settled in sunny Vero Beach. He now divides his time between South Florida and the tropics where he spends a fair amount of time.  Alfredo founded Surbound Expeditions, a birding and nature travel company, as mean to share the wonders of Tropical Nature with others.  His passion for birds has expanded into a broad interest for other wildlife and for the conservation of their habitats.  Alfredo believes eco-tourism has the potential to foster sustainable practices among people who live in and own bird and wildlife habitats.
…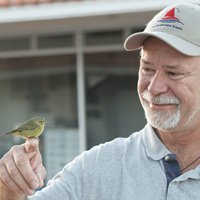 Tom Brown came to 10,000 Birds after doing a couple of guest posts that were well-written and well-received. He will be writing every Wednesday afternoon on his 10,000 Birds beat, Birding Mexico. (At least until he moves and gets a new beat!)
Tom Brown grew up in the high desert area of central Oregon. His love for birds and photography started at a young age. Thru the course of time, travel, and a lot of different occupations, he ended up living in Seattle, and met a girl with a sailboat. Now his wife, Jeanne wanted to travel the world, and he thought that sounded like fun, and a great way to see a bunch of new birds! So far they have sailed north from Seattle, up thru British Columbia, Canada and down the West Coast of the US to settle (for now) in La Paz, Mexico. When he is not scouring whatever area they are in, looking for the next great bird photo, he can be found trying to earn enough money for the next adventure, and of course, a new lens or camera body! Having been nick-named "The Bird Nerd" by his last remaining friends and family, Tom continues search for that next lifer, and the accompanying photo that goes with it.
James Currie might be a bit too famous to be writing on this blog but we decided to let him anyway.  If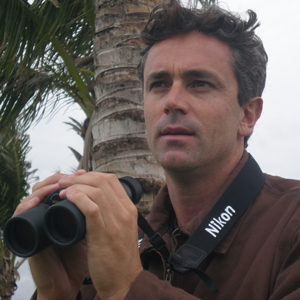 you have ever seen Birding Adventures TV you have seen James.  So, yeah, we have a television star on 10,000 Birds!  James has Worldwide Birding Adventures as his beat and posts every other month on the first Saturday.
A life-long birder and native of South Africa, James Currie has many years experience in the birding and wildlife tourism arenas. James has led professional wildlife and birding tours for 15 years and his passion for birding and remote cultures has taken him to far corners of the earth from the Amazon and Australia to Africa and Madagascar. He is also an expert in the field of sustainable development and holds a Bachelor's Degree in African Languages and a Masters degree in Sustainable Environmental Management. From 2004-2007 James worked as the Managing Director of Africa Foundation, a non-profit organization that directs its efforts towards the uplifting of communities surrounding wildlife areas in Africa. James is currently the host and owner of Nikon's Birding Adventures TV and he resides in West Palm Beach, Florida.
…
Renato Espinosa is known to 10,000 Birds readers as both the owner and operator of Pululahua Hostal in Ecuador and 
also as a frequent commenter on the blog.  He had been a biweekly contributor but now posts on occasion, after having learned that fatherhood takes up far more time than is expected!
Renato was born in Quito, Ecuador and quickly flew to the USA to learn all about engineering and climbing company ladders.  After getting his engineering degree from the University of Minnesota he worked in the Standard-American-Rat-Race-Company for fifteen years.  After climbing the ladder to where he could no longer see the ground, he decided to jump off the ladder and migrate south like all normal birds do.  To his surprise home did not look like it did when he left as a young fledgling; the towns were bigger, most of his friends had nests of their own, and the countryside was changed.  Shocked by all the change he searched for a new life and a new wife.  He stumbled across a vivacious young chick who would accompany him inside a volcanic crater to set up a love nest.  So, after eight years of nesting inside the crater a new love for nature and birds has sprung a career in environmental conservation and birding tours.  Finally this bird has come home to roost!
…
Suzie Gilbert first came to our attention here at 10,000 Birds when she published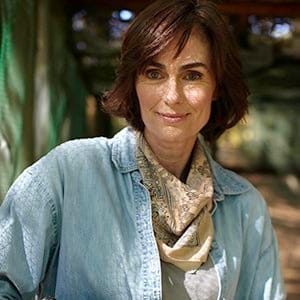 Flyaway: How A Wild Bird Rehabber Sought Adventure and Found Her Wings in 2009. She is also the author of Hawk Hill which was published in 1996. Suzie wrote a marvelous guest post, Wild Bird Rescue 101, for 10,000 Birds back in September of 2009 and we are pleased to present her posts on the "Bird Rehabilitator Beat" every other Friday morning. You can visit Suzie's website here.
Suzie Gilbert is a licensed wild bird rehabilitator whose shameful secret is that on one occasion (well … maybe more than one) she has received a little brown job, or a fledgling whatever, and has been completely unable to ID it. Luckily, she has birder friends who will rush to her aid, although she must then suffer their mockery. Suzie runs Flyaway, Inc. out of her home, and has been caring for injured and orphaned wild birds for 20 years. Why go birding when you can just stroll through the house? Honestly, though, she is wildly envious of birders and their trips to exotic locales. She is the author of Flyaway, her bird-rehabbing memoir, and is the sole parent of two teenagers. Never a dull moment.
…
Felonious Jive is The Best Birder in the World.  Not much is known about him, but his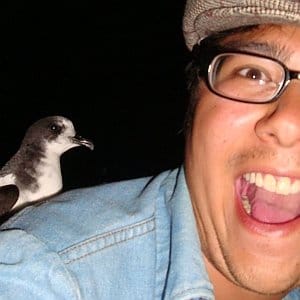 brother, close friend, and colleague, Seagull Steve, blogs over at Bourbon, Bastards and Birds.  Felonious Jive's beat posts on the topic of "I Am Birder" are published on the fourth Tuesday of each and every month.
The Great Ornithologist Felonious Jive is indisputably the world's greatest birder. As a child, Felonious was involved in a tragic accident that left him blind and crippled. Miraculously, he began regaining his faculties while parked at a window that faced his family's bird feeder. Following his full recovery, he continued his pursuit of birds past his family's yard and out across the globe. Now, his identification skills are unmatched by anyone living, dead, or unborn. Although considered a living deity in the birding community, his avian abilities have made him critical of his comparatively inexperienced peers. This has won him no popularity contests, although he remains much sought-after by birdwatchers of the opposite sex. His close colleague Seagull Steve writes of his exploits at Bourbon, Bastards and Birds.
…
Larry Jordan is or should be well-known to 10,000 Birds readers as a bird blogger who is deeply committed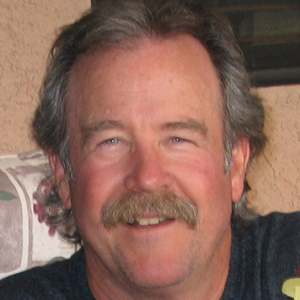 to conservation.  His blog, The Birder's Report, is, like 10,000 Birds, a BirdLife International Species Champion.  Larry is the West Coast beat writer here and his posts  appear on alternating Wednesdays.
Larry Jordan was introduced to birding after moving to northern California where he was overwhelmed by the local wildlife, forcing him to buy his first field guide just to be able to identify all the species visiting his yard. Building birdhouses and putting up feeders brought the avian fauna even closer and he was hooked. Larry wanted to share his passion for birds and conservation and hatched The Birder's Report in September of 2007. His recent focus is on bringing the Western Burrowing Owl back to life in California where he also monitors several Bluebird trails. He is a BirdLife Species Champion and contributes to several other conservation efforts, being the webmaster for Wintu Audubon Society and most recently, the habitat manager for the Burrowing Owl Conservation Network.
…
Carrie Laben, known for her penchant for the extinct penguins of the north, fills the role of beat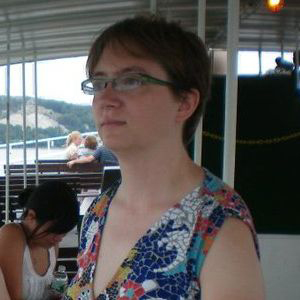 writer for the Interior West of the United States.  You can catch her excellent and thoughtful writing every Friday.
Carrie Laben, after years of writing and birding in New York State, moved to Montana to pursue her two great passions more effectively. She is now working on her MFA in Creative Nonfiction at the University of Montana in Missoula. When she is not cranking out essays and speculative fiction stories, or wandering around on mountains failing to see the birds she is looking for, she is likely to be drinking one of the many fine local microbrews or attending a potluck with something from the local farmer's market in hand. Or, to be perfectly honest, playing games on Facebook, but let's not talk about that. You can read more of Carrie's work at Great Auk – or Greatest Auk?
…
Greg Laden, who is familiar to anyone who pays attention to nature blogs because of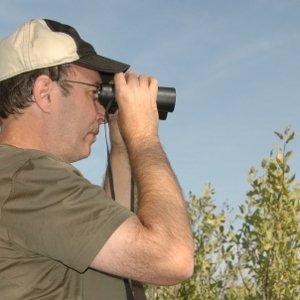 his perch near the pinnacle of the Nature Blog Network.  Greg brings a lot of great traits to the table and his posts on the third Tuesday every month on Bird Evolutionary Biology will be the highlight of your month.  His brief bio is below and the non-sequitur of a final sentence should give you some idea of how well he fits in here at 10,000 Birds.
Greg Laden has been watching birds since they were still dinosaurs, but has remained the consummate amateur. This is probably because he needs better binoculars. Based in the Twin Cities, Minnesota, Greg is a biological anthropologist and Africanist, who writes and teaches about Evolution, especially of humans. He also blogs at Scienceblogs.com. Greg's beat is bird evolutionary biology. One could say that knowing the science of birds can make the birds more interesting. But really, knowing about the birds that go with the science is more likely to make the science more interesting. And thus, birding and Neo Darwinian Theory go hand in hand. Darwin was, after all, a pretty serious birder. Greg has seen a bird eat a monkey in the wild.
…
Meredith Mann is a long time reader of 10,000 Birds who regularly let Mike and Corey know about cool news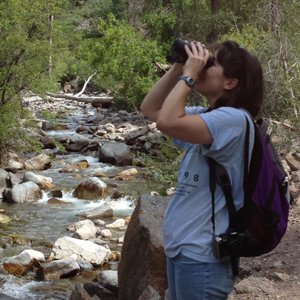 stories, blog posts, and other tidbits related to birds that she found. Mike and Corey would often turn her links into short blog posts. Then, one day, Mike had the great idea of cutting out the middleman, so to speak, and asking Meredith to share her links herself! Now Meredith is the Nature News beat writer and her posts appear whenever inspiration strikes her!
When Meredith was a little girl in the New York suburbs, her dad praised her "eagle eyes," but she didn't see her first eagle until decades later along the Hudson River. She's a relative newcomer to birding, but it's already taken her to some amazing places, from Plum Island in Massachusetts where she saw baby Piping Plovers during blackfly season, to the National Aviary in Pittsburgh where the birds were not countable as lifers, but still very cool, to the streets of downtown Chicago, which she walks early mornings during migration season as part of Chicago Bird Collision Monitors. She adores her new adopted home, especially because she lives in jogging distance of its birding mecca, the Magic Hedge. When she's not poring dreamily through field guides or rescuing injured feathered out-of-towners, she's a health and medical writer and editor—and inveterate newshound—who chronicles her experiences in the Windy City at Blog5B. Her lifer dance uses the same moves she breaks out for Katrina and the Waves' "Walking on Sunshine."
…
Clare Morton is familiar to those of you who read her guest posts here on 10,000 Birds about the shorebirds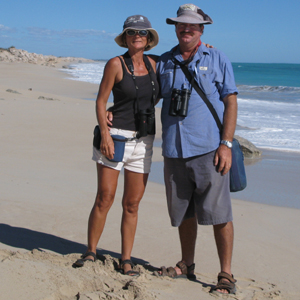 that she monitors and protects at Roebuck Bay in Broome, the world-famous shorebird site in Australia, before she became a beat writer.  She writes weekly on Sundays  about her Western Australia beat.
Clare and her husband Grant have lived permanently in Broome, Western Australia since 1999 after living in various outback locations around Western Australia and Darwin. Her childhood was spent in the UAE and Kuwait (before the wars) with flamingos being the highlight close to the Iraq border in the early 80's. 1985 and 1986 were spent working in Maine and Florida before moving to Australia. In the late 80's she traveled with her husband birding and working throughout Europe and the USA for 2 years. Until the end of 2014 she did full time voluntary work for the local Australasian Wader Study Group, which aims to understand and analyze the factors determining shorebird numbers in a rapidly changing world. She was actively involved in fieldwork and maintaining the database. This involved the sighting of these birds both here and overseas resulting in some incredible life stories. She also monitors Pied Oystercatchers breeding along a 23km stretch of beach by bicycle and on foot. She hopes to spread the word about the dangers the shorebirds face as they migrate north each year and the changing bird seasons experienced throughout the year.
…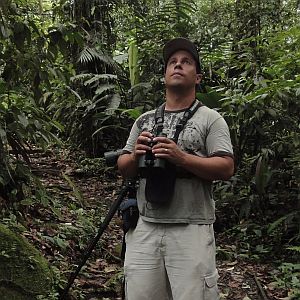 Patrick O'Donnell is one of the kings of Costa Rica birding and we are very pleased to have him posting here on 10,000 Birds as both Mike and Corey have been fans of his blog for quite some time. Patrick will, not surprisingly, be blogging about "Costa Rica Birding" and his posts will appear every-other-Saturday morning.
Patrick O'Donnell became a birder at the age of 7 after seeing books about birds in the Niagara Falls, New York public library. Although watching thousands of gulls in the Niagara Gorge was sublime, more bird species (and warmer weather) eventually brought him to Mexico, Costa Rica, Ecuador, and other very birdy tropical places. A biologist by training, he has worked on bird-related projects in Colorado, Washington, Peru, and other locales, and has guided birders in Peru, Ecuador, and Costa Rica. These days, Patrick lives in Costa Rica where he juggles guiding, freelance writing, developing bird apps for Costa Rica and Panama, posting on his Costa Rica birding blog, and discussing dinosaurs with his young daughter.
…
The International Birder of Mystery who blogs here as Redgannet is a world-traveling birder who prefers 
to blog under a veil of anonymity.  His beat is International Birding and he might even be birding your local patch right now.  Redgannet's blog posts appear once a fortnight on Saturdays.
The nom de blog was adopted to add an air of mystery and make himself more attractive to women.  He has been working for over 25 years as a crew member/flight attendant.   Experiences of too many people for too long in confined and uncomfortable conditions lead him to seek out quiet, open, well-ventilated places, where no-one asks him difficult questions.  His father first whetted Redguga's appetite for all things natural by buying him his first pair of 7x35s and a copy of Thorburn's Birds. Having no mentor beyond an indulgent parent, he spent the first season hoping for an Egyptian Vulture to visit the bird table in his English garden. His most memorable birding moment is seeing an Egyptian Vulture with those same binoculars 26 years later.  Redgannet (the blog) fledged in February 2009 and the 100th post was published as he was invited to become a beat writer for 10,000 Birds.  Redgannet is married to Canon, but his heart and half of his house belongs to Helen and their son Joseph.  He is looking forward to communicating with people who don't ask if he is searching for the "feathered variety" of bird.
…
Adam Riley takes awe-inspring picture of wild birds and animals.  We are seriously fortunate to have him writing on the African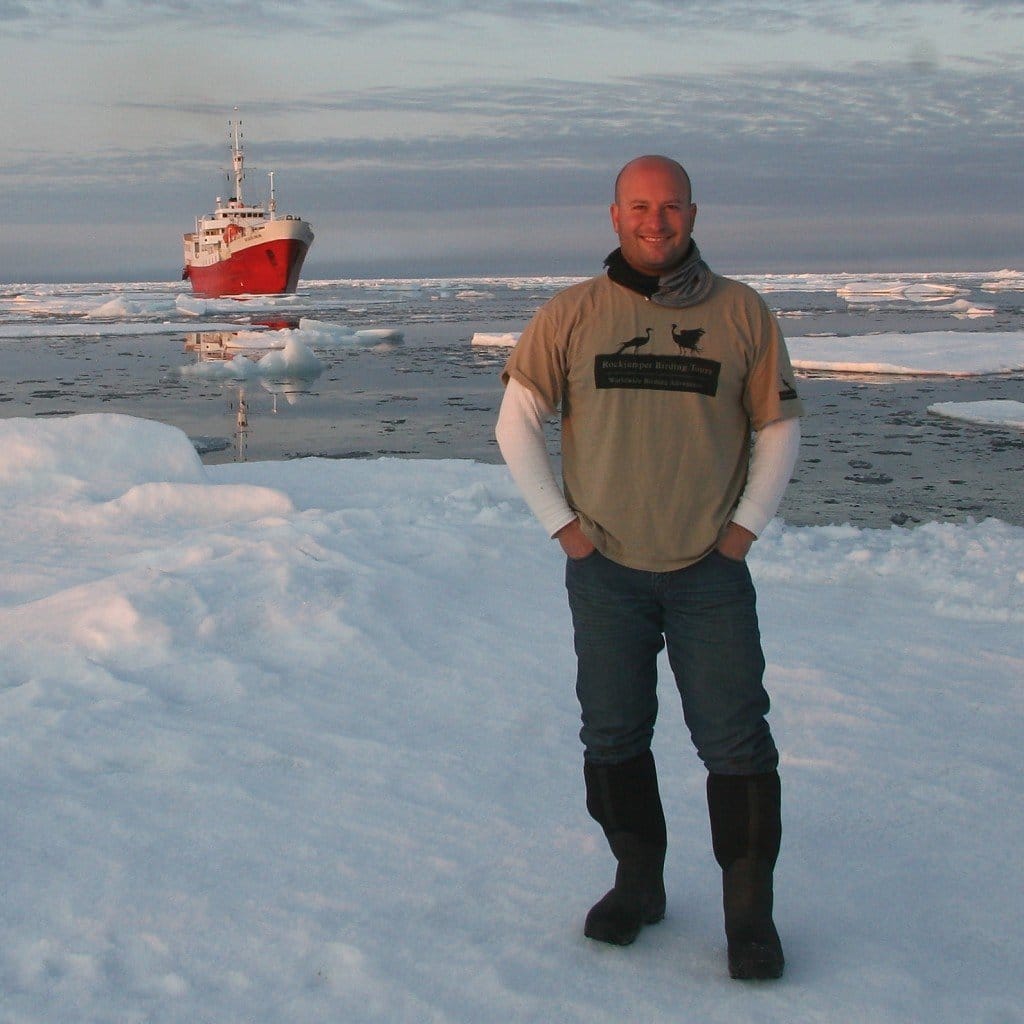 Birding Beat here on 10,000 Birds: he had posted biweekly for a long time but the pressures of work and family have seen him drop back to being an occasional contributor. No matter how many posts Adam puts up we like them all!
Adam has had a lifelong interest in wildlife since childhood, which evolved into a particular fascination with birds. Raised in a rural region of KwaZulu-Natal, South Africa, Adam qualified as a Chartered Accountant but in 1998 his career path took an alternative route when he founded Rockjumper Birding Tours with his friend Jonathan Rossouw. Since 2000 Adam has been the sole owner and managing director of Rockjumper and has also founded Indri – Ultimate Mammal Voyages and Oryx – Worldwide Photographic Safaris. Adam has traveled extensively to all 7 continents, leading tours to numerous countries ranging from Colombia to Egypt, Angola to Papua New Guinea and Antarctica to Alaska. He is one of Africa's most experienced birders, having seen over 2,000 species on the continent as well as 7,000 species worldwide.
…
David J. Ringer has been blogging about birds for quite some time and is therefore one of the best in the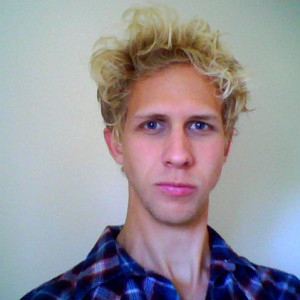 genre. His blog, Search and Serendipity, is a must-read for bird blogging aficionados. He had been posting on the 3rd Sunday of every month but is now an occasional contributor on his 10,000 Birds beat, Taxonomy and Systematics.
David says he's exploring the world one bird at a time. His fascination with birds and nature began at the age of four or five, and he now works full time in conservation of Gulf of Mexico and Mississippi River birds and ecosystems with the National Audubon Society. He is a writer and communicator whose day jobs have taken him to six continents and more than 25 countries, including Papua New Guinea – where he lived for nearly a year and became fell in love with subject of island biogeography – Vanuatu, Kenya, and Cameroon.
…
Jochen Roeder's Bell Tower Birding is a unique place in the bird blogosphere and when he moved back to Germany from the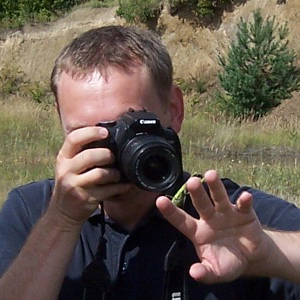 United States several bloggers contemplated following him there and dragging him back to the states.  Fortunately, cooler heads prevailed, and while we may have to poke Jochen with a sharp stick on occasion to make sure he posts in a timely way he blogs every month on the 10th on a dual Central Europe and Bird Names beat.
Jochen Roeder was born in Germany and raised to be a birder. He also spent a number of years abroad, just so he could see more birds. One of his most astounding achievements is the comprehension that Yellow-crowned Night-herons do not exist, as he failed to see any despite birding in North America for more than two years. He currently lives near Heidelberg, one of the most boring places for a birder to live, a fact about which he likes to whinge a lot. When he is not birding or trying to convince his young son that patiently scanning some fields for migrants is more fun than working the jungle gym of a playground, he enjoys contemplating the reasoning behind the common names of birds.
…
Carlos Sanchez first met someone from 10,000 Birds when he wandered out of the Ecuadorian jungle and started finding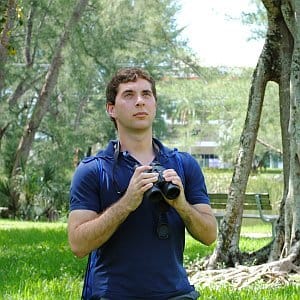 and identifying birds at a rapid rate, stupefying Corey and the birders with whom he was birding. He is well-known in south Florida birding circles for his ability to find great birds and we at 10,000 Birds are thrilled to have him join us as a Beat Writer writing about birding in South Florida. His posts will appear every other Thursday morning.
A native of southern Florida, Carlos has had a fascination with wildlife as far back as he can remember combined with an unquenchable thirst to learn — the first books he checked out of the library were Beehler's Birds of New Guinea and Stiles and Skutch's Birds of Costa Rica. Despite his parent's belief that he would 'grow out of it,' Carlos's passion has never wavered, and he has dabbled in everything from bird art to taxonomy. His passion has interwoven with his interest in travel, having birded extensively throughout the southeastern United States, eastern Australia, and Ecuador along with shorter jaunts to other locales such as Puerto Rico and Costa Rica. He has also been freelance guiding in Florida for the past four years (as well as briefly in Ecuador), and he is determined to continue pursuing guiding abroad in the future.
…
Donna Lynn Schulman was one of the kind Queens birders who helped Corey find his way around his adopted borough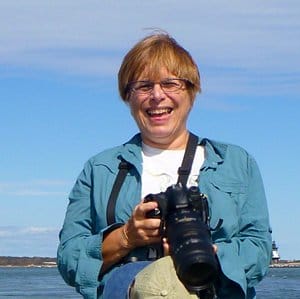 when he moved to New York City. A librarian by trade, she is the ideal person to have the Book Review Beat on 10,000 Birds.
Having been attached to books all her life, Donna is thrilled to be engaged in a passion that requires fealty to an information artifact called a "field guide." Donna divides her birding time between Queens, NY, where she grew up, and central New Jersey, where she is on the faculty of a very large public university, and a volunteer with the Sandy Hook Bird Observatory of New Jersey Audubon. She was a Library Journal book reviewer for 15 years, reviewing over 100 titles, and has also reviewed birding books for the Queens County Bird Club's News & Notes, which she formerly edited. When she is not birding or photographing dragonflies, or going to the theatre with her wonderful daughter, Donna travels to Florida where she attempts to turn her young nephews into birders, and contemplates writing an article for her blog, Queensgirl.
…
Dragan Simic is a name known by many of those who bird eastern Europe. After sharing some excellent guest posts on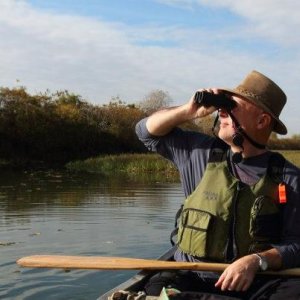 10,000 Birds we thought he would be a great addition as a Beat Writer and asked him to join 10,000 Birds. Dragan is now the "Eastern Europe and Beyond" Beat Writer on 10,000 Birds and you can find his posts every-other-Thursday.
Now nearing 50 and duly lost in a mid-life crisis, Dragan Simic took to birding rather late – only half a lifetime ago, after successfully testing his inadequate skills in other life threatening activities, such as rock climbing and vertical caving. In the end, it was birding that has taken him from his native Serbia, across the Balkans and Turkey, to the very borders of the Old World: East Anglia and Spain, southern Africa and India… Beside birds and traveling in search of them, Dragan likes a good beer and the croaky voice of Shane MacGowan, hates confinements of four walls, but prefers four wheels and a lot of elbow room around. Birder by passion and environmentalist by education, he is the coauthor of three common birds guidebooks, the writer and the host of one TV film on birding for beginners, a field researcher, an ecotourism consultant, a bird blogger and a guy who always think that birding must be better behind that next curve of the road, and that the best bird ever is the – next lifer.
…
Nate Swick, the man who has recently challenged the birding world to get its collective act together,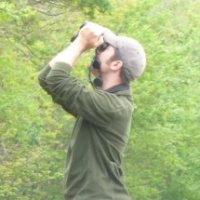 has his chicken scratchings appear every other Tuesday.  He will also have two beats – the Southeastern United States and the American Birding World.
Nate Swick is a birder.  He grew up in the midwest but currently makes his home in Greensboro, North Carolina, with his wife and two children, who will eventually become aware that they are birders too.  He has a soft spot for Piping Plovers and loves pelagics even when his stomach doesn't, which makes him the quintessential Carolina birder. When he's not looking for birds, which is not often, he enjoy music with banjos in it, disc golf, good beer, progressive politics and the St. Louis Cardinals baseball team and he's not particularly shy about sharing his opinion on any of those things.  Nate is Managing Editor of the ABA Blog, helps lead trips for the Wake County Audubon's Young Naturalist's Club and the Carolina Bird Club and he's an eBird reviewer for the state of North Carolina.  He writes about birds and birding at The Drinking Bird.
…
Duncan Wright is well-respected here at 10,000 Birds for his tireless and thankless work making sure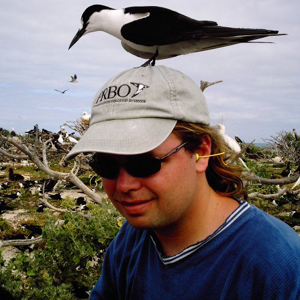 that Wikipedia's bird entries are accurate and up-to-date and his even more thankless willingness to comment on our blog posts here on 10,000 Birds.  He posts every single Wednesday here as the New Zealand beat writer.
Duncan Wright is a Wellington-based ornithologist working on the evolution of New Zealand's birds. He's previously worked on seabirds in California and Hawaii, monkey behaviour in Uganda, sharks in the Bahamas and grasshopper genetics in Namibia. He came into birds rather later in life, and could quit any time he wants to.
…
Erika Zambello is an excellent addition to 10,000 Birds and her weekly posts on Tuesday afternoons as "Birder at Large" are more than welcome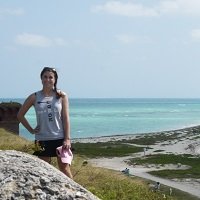 here. Every other week she posts on a state or national bird and on the off weeks she shares tales from her birding adventures.
Erika grew up in Maine, inspiring a deep interest in nature at an early age. She fell in love with birding after receiving a Sibley field guide for Christmas during her senior year in college, and has birded across the eastern seaboard and internationally ever since. To inspire others to protect birds and the environment, she has blogged for the Conservation Fund, Sarah P. Duke Gardens, Triangle Land Conservancy, and Duke University, and is writing a birding guide to Northern New England for Wilderness Adventures Press. Erika is currently living in Durham, NC to pursue her Master of Environmental Management degree at Duke University. Check out her photography site and follow her on Instragram.
…
………
Beat Writer Posting Calender
Sunday
7 AM          Clare Morton
1 PM           Jochen Roeder or Nathan Swick
Monday
All you get on Mondays are Mike and Corey.  You poor, suffering reader you.
Tuesday
7 AM         1st Donna Schulman, 3rd Greg Laden
1 PM           Erika Zambello
Wednesday
7 AM          Duncan Wright
1 PM           Tom Brown
Thursday
7 AM        Dragan Simic or Larry Jordan
1 PM         Where are You Birding This Weekend?
Friday
7 AM          Suzie Gilbert or Carlos Sanchez
1 PM           Carrie Laben
Saturday
7 AM          Redgannet or Patrick O'Donnell
Any-Time Contributer
Occasional Contributors
Clare Kines
Renato Espinosa
Adam Riley
David Ringer
On Haitus
Alfredo Begazo
Felonious Jive
James Currie
………