The Amazon is the best place to see jacamars, so my wife and I were very happy to find a few of these large-insect eating birds on our recent scouting trip to the Amazon. We spent eight wonderful days searching for possible areas where we could put together a bird watching tour that would not be as expensive as the typical Amazon lodges, and also that would not require a whole day of travel. On our first visit we stayed near Tena which is the closest Amazonian town that is easily accessible by car from Quito. We were greatly surprise by the beauty of the birds and the great biodiversity that these nearby forest have to offer.
On our scouting trip we first visited a 2500 hectare forest that is protected by Fundacion Jatun Sacha .  This is their Biological Station and Reserve that was established in 1985 and has been ignored by bird watchers for its closeness to Tena.  With the help of Milton Orosco, a local bird guide who works at Jatunsacha, we discovered great birds and wonderful experiences in Ecuador Manakin Tour Part 1 and Ecuador Manakin Tour Part 2.
We found the first jacamar on the road between Jatun Sacha and Misahualli.  At first we did not appreciate how different and beautiful this bird is but now looking at the pictures we are fascinated with this bird.  The large angular red bill draws particular attention, I hope someday I can see his long machine in action as he traps and swallows some large insect.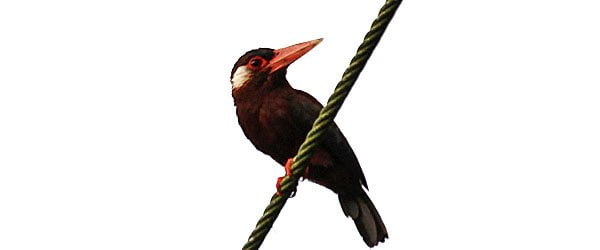 White-eared Jacamar
As we venture into the primary forest near Gareno Lodge we heard the Yellow-billed Jacamar and with one playback call he jumped in front of us only 10 ft away.  This great looking bird with shiny turquoise back, a chestnut belly, and a yellow bill stood in front of us for a few seconds and flew to another perch about 50 ft away where I took this picture.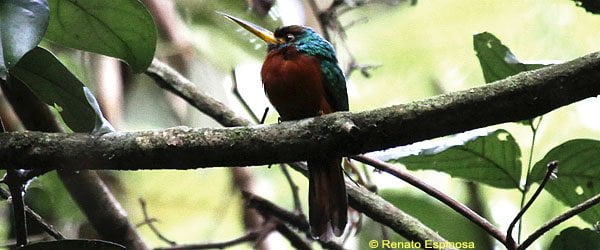 Yellow-billed Jacamar
Later near an open road I spotted a bird with a flycatcher like behavior and turned out to be the Brown Jacamar.  At first I did not see many colors but the picture shows some nice purple on his back and a lighter yellow belly. The Brown Jacamar is more than just brown.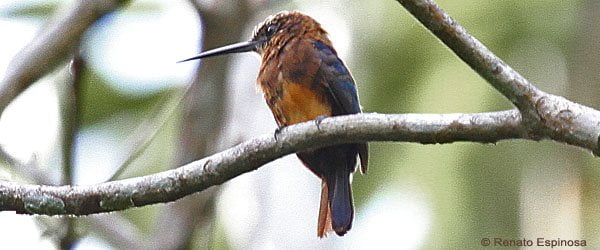 Brown Jacamar
The Great Jacamar called near us at Gareno Lodge but Sandro, the owner and guide, clarified that the call was an imitation by Lawrence´s Thrush. In the next couple of days we learned to differentiate between the real call and the imitation but we never saw Great Jacamar.
On a different scouting trip to the Southeastern Amazon near the Condor Mountain Range we spotted the Purplish Jacamar while we were photographing a Thrush-like Wren.  This beautiful Jacamar was so well camouflaged that it was a great surprise to see it standing still next to our target bird.  The Jacamar did not move while we approached it to take this picture.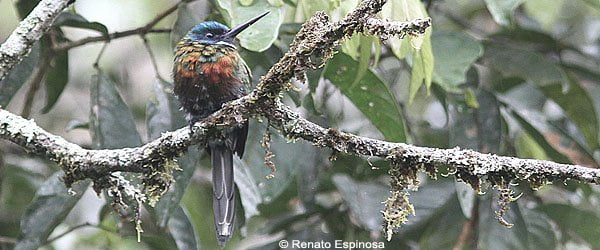 Purplish Jacamar
In the same area we also photographed the Paradise Jacamar but we did not get close enough to get good details on the picture.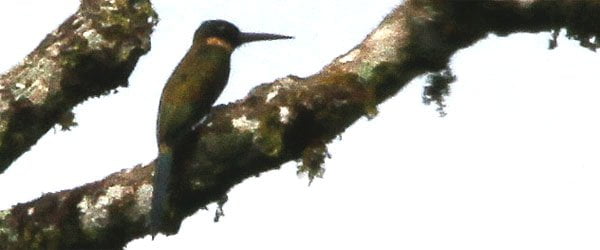 Paradise Jacamar
There are still four Jacamars in Ecuador which I have not seen yet, I hope to share those pictures with you soon.