10,000 Birds Beat Writers
Here are all of the amazing 10,000 Birds Beat Writers in alphabetical order by last name. If you don't see a beat writer you are looking for here they might have left the blog in which case you will find them on the 10,000 Birds Writers Emeritus page.  If you are looking to find information on Mike Bergin or Corey Finger just click their names. If you scroll down to the bottom of the Beat Writer directory you will see the Beat Writer posting calendar so you know when to look for your favorite 10,000 Birds Beat Writer.  Note that everyone does their best to stick to the schedule but occasionally life gets in the way.
………
When Faraaz Abdool reached out to Mike and Corey about writing on 10,000 Birds they were keen about the idea: after all, both of them had birded T&T before and loved it! Faraaz's posts on Birding Trinidad and Tobago and Beyond will appear every-other-Wednesday afternoon.
Faraaz is an internationally published freelance conservation and wildlife photographer/writer who specializes in birds and the issues they face worldwide. He graciously serves on the Trinidad and Tobago Bird Status and Distribution Committee (formerly the Trinidad and Tobago Rare Bird Committee), and leads birding trips on both islands. Faraaz also runs yearly birding and wildlife tours to East Africa.
Although he doesn't keep a life list, Faraaz has been a keen birder for many years, separating Black and Turkey Vultures at distance as a little boy, skipping class to gaze at Magnificent Frigatebirds as a teenager and quitting his job as an electrical engineer to put all his energy into conservation as an adult.
Faraaz cultivates wildlife consciousness via his words and images, in a last-ditch attempt to reconnect humans with nature and save the world.
…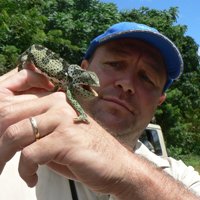 Ken Cross is a birder from Down Under! He teaches at a local high school and lives with his wife Megan and their three children [two now as the oldest has recently left!] on the forested hinterland of the Sunshine Coast on Australia's east coast. Currently he is the convenor for Birdlife Australia in his local area and, as that suggests, he loves sharing his passion for birds and all wildlife through outings and bird walks.
As a kid he was pretty much wildlife crazy: devouring books and doco's on wildlife, keeping birds in aviaries, turtles in bathtubs, walking through the woods catching snakes, but he wasn't a birder. That came later while at University. Part of the conversion was Bill Oddie's Little Black Bird Book and part because other birders took him under their wing. He has been birding for the 33 years since and his world list is approximately 4000.
…
Currently Ken continues to dream of overseas birding tours but will settle for ones near home. He is keen to remind readers of the 10,000 Birds about the stunning birds and wildlife of Australia and his beat is awkwardly but perhaps accurately named, "Birds and stuff from Down Under".
Jason Crotty started at 10,000 Birds with a series of awesome guest posts and signed on as a beat writer in March 2017. His beat is General Birding and the Law.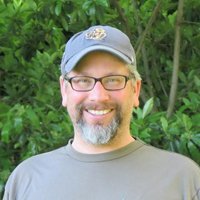 His posts appear on the second Tuesday of each month.
Jason Crotty is a birder, lawyer, and occasional writer currently living in Portland, Oregon with his wife and daughter. A Bay Area native, he started birding while working at a large law firm in San Francisco, but birds less frequently now that there's a toddler around so he writes instead.  He is particularly interested in the intersection of law and birding (especially the Endangered Species Act), other bird-related federal litigation, and the impact of federal public lands. He has also written about birding in Puerto Rico, which he believes is criminally underappreciated as a destination for birders.  Jason's writing has also appeared in BirdWatching, Birding, and Birder's Guide, both online and in print.
…
Mark Gamin contributed three posts to 10,000 Birds before deciding to take the plunge and become a regular writer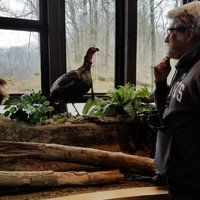 here. We agreed, mostly because we feel we have to be nice to him because he's a lawyer and we don't want to get sued. In all seriousness, Mark's guest posts were excellent and adding another skilled reviewer seemed like a really good idea. His beat is Nature Book Reviews and his posts will appear monthly on Saturday afternoons.
Mark Gamin is a lawyer, writer, and editor.  He became a birder at Antioch College, where he studied with the ornithologist Jim Howell, and first saw the secretive Virginia Rail.  Physically Mark is resident in Cleveland, but in his mind he is often at his small farm in Appalachian Ohio, on the very edge of civilization.
…
Suzie Gilbert is a wild bird rehabilitator whose shameful secret is that on more than one occasion she has received a female LBJ or a fledgling whatever and was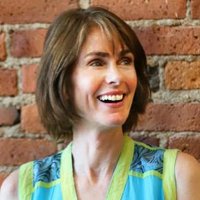 completely unable to ID it. Luckily she has birder friends who will rush to her aid, although she must then suffer their mockery. She is the author of her bird rehabbing memoir Flyaway (HarperCollins) and the children's book Hawk Hill (Chronicle Books). Her recent suspenseful, bird-filled adventure novel Unflappable (Perch Press) was selected by Audubon Magazine as one of their Three Best Summer Reads of 2020. She lives in New York's Hudson Valley, and is always up for a good hike.
…
Larry Jordan is or should be well-known to 10,000 Birds readers as a bird blogger who is deeply committed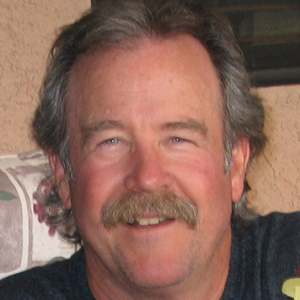 to conservation.  His blog, The Birder's Report, is a BirdLife International Species Champion.  Larry is the West Coast beat writer here and his posts  appear on alternating Wednesdays.
Larry Jordan was introduced to birding after moving to northern California where he was overwhelmed by the local wildlife, forcing him to buy his first field guide just to be able to identify all the species visiting his yard. Building birdhouses and putting up feeders brought the avian fauna even closer and he was hooked. Larry wanted to share his passion for birds and conservation and hatched The Birder's Report in September of 2007. His recent focus is on bringing the Western Burrowing Owl back to life in California where he also monitors several Bluebird trails. He is a BirdLife Species Champion and contributes to several other conservation efforts, being the webmaster for Wintu Audubon Society and most recently, the habitat manager for the Burrowing Owl Conservation Network.
…
Carrie Laben, known for her penchant for the extinct penguins of the north, fills the role of beat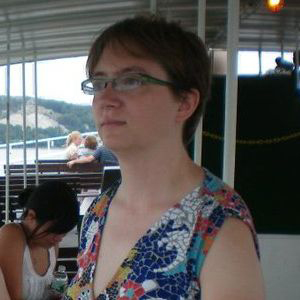 writer for the Interior West of the United States.  You can catch her excellent and thoughtful writing every Friday.
Carrie Laben, after years of writing and birding in New York State, moved to Montana to pursue her two great passions more effectively. She is now working on her MFA in Creative Nonfiction at the University of Montana in Missoula. When she is not cranking out essays and speculative fiction stories, or wandering around on mountains failing to see the birds she is looking for, she is likely to be drinking one of the many fine local microbrews or attending a potluck with something from the local farmer's market in hand. Or, to be perfectly honest, playing games on Facebook, but let's not talk about that. You can read more of Carrie's work at Great Auk – or Greatest Auk?
…
Greg Laden, who is familiar to anyone who pays attention to nature blogs because of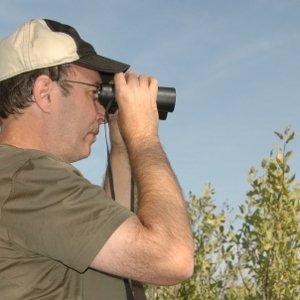 his perch near the pinnacle of the nature blogging world.  Greg brings a lot of great traits to the table and his posts on the third Tuesday every month on Bird Evolutionary Biology will be the highlight of your month.  His brief bio is below and the non-sequitur of a final sentence should give you some idea of how well he fits in here at 10,000 Birds.
Greg Laden has been watching birds since they were still dinosaurs, but has remained the consummate amateur. This is probably because he needs better binoculars. Based in the Twin Cities, Minnesota, Greg is a biological anthropologist and Africanist, who writes and teaches about Evolution, especially of humans. He also blogs at Scienceblogs.com. Greg's beat is bird evolutionary biology. One could say that knowing the science of birds can make the birds more interesting. But really, knowing about the birds that go with the science is more likely to make the science more interesting. And thus, birding and Neo Darwinian Theory go hand in hand. Darwin was, after all, a pretty serious birder. Greg has seen a bird eat a monkey in the wild.
…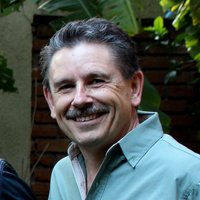 Paul Lewis reached out to us with some guest posts about birding in Mexico and we liked them so much we invited him to become a beat writer! His posts will appear every Wednesday morning.
Paul Lewis moved from California to Mexico 36 years ago. He lived first in Mexicali, and now in the historic city of Morelia (about halfway between Guadalajara and Mexico City), where he and his wife pastor a small church. He is the author of an internationally distributed book in Spanish about family finances and has recorded four albums in Spanish of his own songs. But every Monday, he explores the wonderful habitats and birds found within an hour of his house, in sites which go from 3,000 to 10,000 feet of altitude.
…
Tristan Lowery sadly moved to Albany from Queens at the same time that Corey was moving from Albany to Queens. Despite the missed connection,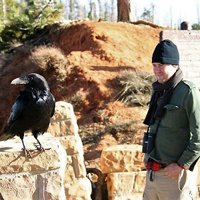 Tristan came to the attention of 10,000 Birds because of his constant birding in the Capital Region of New York and a confluence of interests (like beer!) between existing folks at 10,000 Birds and him. His posts on "Birds and Booze" appear on Friday mornings, just in time for the weekend.
Tristan Lowery's busy homebrewing schedule took a hit in 2010 when discovered birding and found that scanning the waterfowl at Jamaica Bay Wildlife Refuge on a frigid midwinter morning could be just as much fun as standing over a steaming mash tun in a sweltering Queens apartment in August. While his growing commitment to birding has undeniably diminished his brewing output of ales – fine and otherwise – Tristan finds that birding still affords him plenty of excuses to at least keep drinking beer, especially when celebrating life birds, lamenting unsuccessful chases, and capping off an exhausting Big Day or Christmas Bird Count. After leaving behind a hectic cooking career in New York City's fine-dining scene, Tristan moved inland to the New York's Capital District, where the relative abundance of Pileated Woodpeckers almost makes up for the fact that he's only seen a single Sanderling in Albany County ever. When he isn't birding his local patches in urban Albany, Tristan works in energy regulation for the State of New York.
…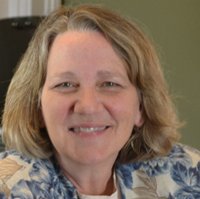 Angela Minor offered to write for 10,000 Birds despite already having quite a few writing and editing credits to her name. (We don't know why either!) She wanted to write about visiting parks and political-based attacks on those parks but "Conservation Politics and Park Destinations" wasn't quite the catchy title we felt was needed for her beat. Fortunately, Angela came up with Park Watch both because she'll be doing lots of birding in parks and because she will be watching over parks, so to speak. It's perfect! Her posts will appear every-other-Saturday afternoon.
Angela has lived, traveled, and birded across the southern US to the Rocky Mountains, in Alaska and the Caribbean, and seven countries in Europe. Freelance travel writer is her third career iteration, following teacher and small business owner. She currently writes for several travel publications including Blue Ridge Country, Smoky Mountain Living, and cruise sites; serves as a Field Editor with Birds & Blooms; and authors the state park birding series for Bird Watcher's Digest.
…
Meredith Mann is a long time reader of 10,000 Birds who regularly let Mike and Corey know about cool news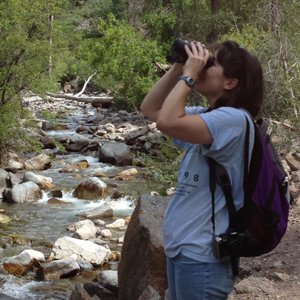 stories, blog posts, and other tidbits related to birds that she found. Mike and Corey would often turn her links into short blog posts. Then, one day, Mike had the great idea of cutting out the middleman, so to speak, and asking Meredith to share her links herself! Now Meredith is the Nature News beat writer and her posts appear whenever inspiration strikes her!
When Meredith was a little girl in the New York suburbs, her dad praised her "eagle eyes," but she didn't see her first eagle until decades later along the Hudson River. She's a relative newcomer to birding, but it's already taken her to some amazing places, from Plum Island in Massachusetts where she saw baby Piping Plovers during blackfly season, to the National Aviary in Pittsburgh where the birds were not countable as lifers, but still very cool, to the streets of downtown Chicago, which she walks early mornings during migration season as part of Chicago Bird Collision Monitors. She adores her new adopted home, especially because she lives in jogging distance of its birding mecca, the Magic Hedge. When she's not poring dreamily through field guides or rescuing injured feathered out-of-towners, she's a health and medical writer and editor—and inveterate newshound—who chronicles her experiences in the Windy City at Blog5B. Her lifer dance uses the same moves she breaks out for Katrina and the Waves' "Walking on Sunshine."
…
Clare Morton is familiar to those of you who read her guest posts here on 10,000 Birds about the shorebirds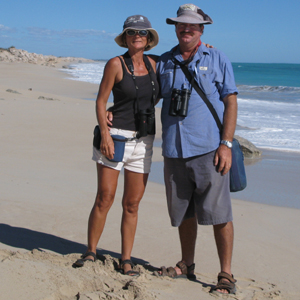 that she monitors and protects at Roebuck Bay in Broome, the world-famous shorebird site in Australia, before she became a beat writer.  She writes weekly on Sundays  about her Western Australia beat.
Clare and her husband Grant have lived permanently in Broome, Western Australia since 1999 after living in various outback locations around Western Australia and Darwin. Her childhood was spent in the UAE and Kuwait (before the wars) with flamingos being the highlight close to the Iraq border in the early 80's. 1985 and 1986 were spent working in Maine and Florida before moving to Australia. In the late 80's she traveled with her husband birding and working throughout Europe and the USA for 2 years. Until the end of 2014 she did full time voluntary work for the local Australasian Wader Study Group, which aims to understand and analyze the factors determining shorebird numbers in a rapidly changing world. She was actively involved in fieldwork and maintaining the database. This involved the sighting of these birds both here and overseas resulting in some incredible life stories. She also monitors Pied Oystercatchers breeding along a 23km stretch of beach by bicycle and on foot. She hopes to spread the word about the dangers the shorebirds face as they migrate north each year and the changing bird seasons experienced throughout the year.
…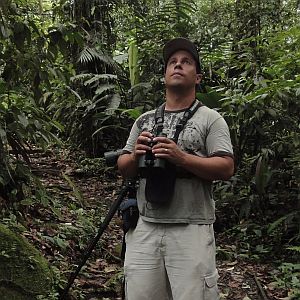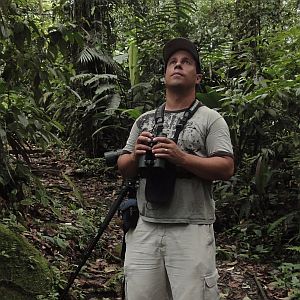 Patrick O'Donnell is one of the kings of Costa Rica birding and we are very pleased to have him posting here on 10,000 Birds as both Mike and Corey have been fans of his blog for quite some time. Patrick will, not surprisingly, be blogging about "Costa Rica Birding" and his posts will appear every-other-Saturday morning.
Patrick O'Donnell became a birder at the age of 7 after seeing books about birds in the Niagara Falls, New York public library. Although watching thousands of gulls in the Niagara Gorge was sublime, more bird species (and warmer weather) eventually brought him to Mexico, Costa Rica, Ecuador, and other very birdy tropical places. A biologist by training, he has worked on bird-related projects in Colorado, Washington, Peru, and other locales, and has guided birders in Peru, Ecuador, and Costa Rica. These days, Patrick lives in Costa Rica where he juggles guiding, freelance writing, developing bird apps for Costa Rica and Panama, posting on his Costa Rica birding blog, and discussing dinosaurs with his young daughter.
…
Kai Pflug is an excellent photographer who we are extremely pleased to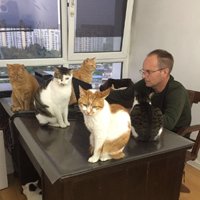 have sharing his photos of birds in China (and beyond) here every-other-Thursday morning. The official title of his beat is "Bird Photography in China and Beyond."
Kai  is a German who has been living in Shanghai for the last fifteen years, and who only became interested in birds in China – so he is much more familiar with birds in China than with those in Germany. While only an average birder, he aims to be a good bird photographer and has created a website with bird photos as proof. He hopes not too many clients of his consulting company read this blog, as they will doubt his dedication to providing consulting services related to China's chemical industry. Whenever he wants to shock other birders, he tells them his (indoor) cats can distinguish several warblers by taste.
…
The International Birder of Mystery who blogs here as Redgannet is a world-traveling birder who prefers 
to blog under a veil of anonymity.  His beat is International Birding and he might even be birding your local patch right now.  Redgannet's blog posts appear once a fortnight on Saturdays.
Redgannet has been working for over 33 years as a crew member/flight attendant and enjoys the well-ventilated air of the outdoors. The nom de blog, Redgannet, was adopted to add an air of mystery and to make himself more attractive to women. His father first whetted Redguga's appetite for all things natural by buying him his first pair of 7x35s and a copy of Thorburn's Birds. Having no mentor beyond an indulgent parent, he spent the first season hoping for an Egyptian Vulture at the bird table in his English garden. His most memorable birding moment is seeing an Egyptian Vulture with those same binoculars 26 years later. Redgannet is married to Canon, but his heart and half of his house belongs to Helen and their son Joseph. He is looking forward to communicating with people who don't ask if he is searching for the "feathered variety" of bird.
…
Donna Lynn Schulman was one of the kind Queens birders who helped Corey find his way around his adopted borough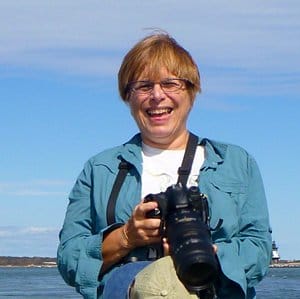 when he moved to New York City. A librarian by trade, she is the ideal person to have the Book Review Beat on 10,000 Birds.
Having been attached to books all her life, Donna is thrilled to be engaged in a passion that requires fealty to an information artifact called a "field guide." Donna divides her birding time between Queens, NY, where she grew up, and central New Jersey, where she is on the faculty of a very large public university, and a volunteer with the Sandy Hook Bird Observatory of New Jersey Audubon. She was a Library Journal book reviewer for 15 years, reviewing over 100 titles, and has also reviewed birding books for the Queens County Bird Club's News & Notes, which she formerly edited. When she is not birding or photographing dragonflies, or going to the theatre with her wonderful daughter, Donna travels to Florida where she attempts to turn her young nephews into birders, and contemplates writing an article for her blog, Queensgirl.
…
Dragan Simic is a name known by many of those who bird eastern Europe. After sharing some excellent guest posts on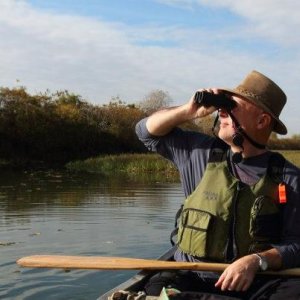 10,000 Birds we thought he would be a great addition as a Beat Writer and asked him to join 10,000 Birds. Dragan is now the "Eastern Europe and Beyond" Beat Writer on 10,000 Birds and you can find his posts every-other-Thursday.
Now nearing 50 and duly lost in a mid-life crisis, Dragan Simic took to birding rather late – only half a lifetime ago, after successfully testing his inadequate skills in other life threatening activities, such as rock climbing and vertical caving. In the end, it was birding that has taken him from his native Serbia, across the Balkans and Turkey, to the very borders of the Old World: East Anglia and Spain, southern Africa and India… Beside birds and traveling in search of them, Dragan likes a good beer and the croaky voice of Shane MacGowan, hates confinements of four walls, but prefers four wheels and a lot of elbow room around. Birder by passion and environmentalist by education, he is the coauthor of three common birds guidebooks, the writer and the host of one TV film on birding for beginners, a field researcher, an ecotourism consultant, a bird blogger and a guy who always think that birding must be better behind that next curve of the road, and that the best bird ever is the – next lifer.
…
Duncan Wright is well-respected here at 10,000 Birds for his tireless and thankless work making sure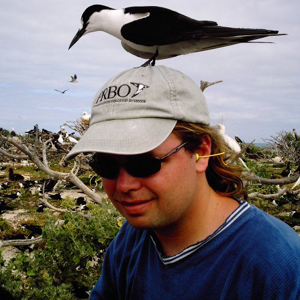 that Wikipedia's bird entries are accurate and up-to-date and his even more thankless willingness to comment on our blog posts here on 10,000 Birds.  He used to post every single Wednesday here as the New Zealand beat writer but had now become an occasional contributor. Busy as he is, we can't blame him.
Duncan Wright is a Wellington-based ornithologist working on the evolution of New Zealand's birds. He's previously worked on seabirds in California and Hawaii, monkey behaviour in Uganda, sharks in the Bahamas and grasshopper genetics in Namibia. He came into birds rather later in life, and could quit any time he wants to.
…
Erika Zambello is an excellent addition to 10,000 Birds and her weekly posts on Tuesday afternoons as "Birder at Large" are more than welcome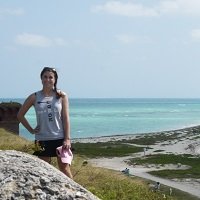 here. Every other week she posts on a state or national bird and on the off weeks she shares tales from her birding adventures.
Erika grew up in Maine, inspiring a deep interest in nature at an early age. She fell in love with birding after receiving a Sibley field guide for Christmas during her senior year in college, and has birded across the eastern seaboard and internationally ever since. To inspire others to protect birds and the environment, she has blogged for the Conservation Fund, Sarah P. Duke Gardens, Triangle Land Conservancy, and Duke University, and is writing a birding guide to Northern New England for Wilderness Adventures Press. Erika is currently living in Durham, NC to pursue her Master of Environmental Management degree at Duke University. Check out her photography site and follow her on Instragram.
…
………
Beat Writer Posting Calender
Sunday
7 AM          Clare Morton
1PM           Suzie Gilbert
Monday
All you get on Mondays are Mike and Corey.  You poor, suffering reader you.
Tuesday
7 AM         1st Donna Schulman, 2nd Jason Crotty, 3rd Greg Laden
1 PM           Erika Zambello
Wednesday
7 AM          Paul Lewis
1 PM           Faraaz Abdool
Thursday
7 AM        Dragan Simic or Kai Pflug
1 PM         Where are You Birding This Weekend?
Friday
7 AM        Tristan Lowery
1 PM           Carrie Laben or Ken Cross
Saturday
7 AM          Redgannet or Patrick O'Donnell
1 PM         Angela Minor (biweekly) or Mark Gamin (monthly)
Any-Time Contributer
Meredith Matthews

Duncan Wright
………