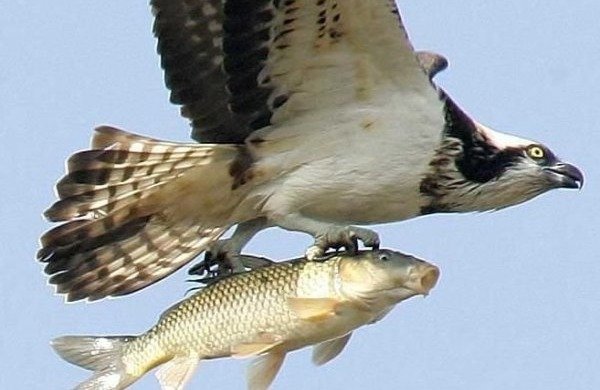 This story comes from Melissa Gillmer, a zookeeper and wildlife rehabilitator at the Bear Mountain Zoo. The zoo is part of Bear Mountain State Park, a glorious expanse of mountainous land on the west side of the Hudson River in New York.
When Melissa's sister Danielle wanted to do some volunteer work at the zoo, Melissa decided to put her to work cleaning out the Black Bear den. Once a week the zookeepers drag out a fire hose and spend about an hour and a half tidying everything up.
"I'm a little nervous," said Danielle.
"Why?" asked Melissa.
"Because there are bears in there," said Danielle.
"It's just Clarence and Josephine," said Melissa.
Melissa accompanied Danielle into the bear den for moral support, and partway into the cleaning session heard a thud. She assumed one of her fellow zookeepers, also hard at work cleaning out the bear den, had dropped a radio, but there was no radio on the floor.
"What was that?" Melissa asked Danielle.
"Uh …" said Danielle, pointing at a large fish lying in a corner of the bear den. "That fish just fell out of the sky."
Melissa immediately began scanning the surrounding area, assuming that Scudder, their long-time maintenance guy, was hiding in the woods and hurling fish at the zookeepers.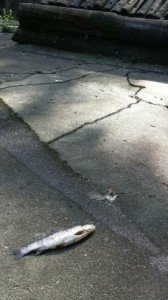 "Wait a minute," I said to Melissa, as she was recounting the story. "Does he do this a lot?"
"No," replied Melissa. "But it was the first thing that came to mind."
Melissa's second thought was to look up, which was when she spotted the Osprey flying overhead. She walked over to the fish, which was a lovely Brook Trout riddled with talon holes. It seems that Bear Mountain stocks them in their Hessian Lake, a fact well known by all the local Ospreys, including the disgruntled slippery-footed one flying away.
"Does this happen all the time?" asked Danielle.
Melissa left the fish for Clarence and Josephine, but they wanted no part of it. However, the gang of Turkey Vultures and Black Vultures who hang around the zoo were happy to oblige, and soon descended on the fish. Evidently this made Clarence reconsider his decision, and soon he walked over and grabbed the fish away from the vultures.
"That was an omen," declared Danielle. "I'm not going into that bear den again."
Since then, no fish have fallen from the sky.