The first Global Big Day will take place this coming May 9, 2015. The event is spearheaded by the Cornell Lab of Ornithology and has as goal to raise money for bird conservation and to tally 4000 of the world's birds in a single day. The idea is to go birding wherever you are, for any length of time, on May 9 and enter your lists in eBird.
The idea has become wildly popular and has generated some side competition. Lots of numbers and statistics can be gleaned from the final tally. One of the more interesting results will be the number of birds tally by each participating country.  Making this a country competition may seem unfair. Countries in the temperate region will be in disadvantage when compared to those in tropical regions with a lot more birds. However, the number of bird enthusiasts likely to participate in the Global Big Day is by far greater in the temperate regions of the world. As a general rule, a greater number of observers in the field will report more birds than a few observers in bird rich regions.
A new challenge has emerged this coming May 9. Can the U.S., with millions of bird enthusiasts, tally more birds than, say the Country of Peru with only a handful of bird enthusiasts? We will know when the results are in.
CORBIDI, a Peruvian non-government organization largely dedicated to ornithological studies has taken the country challenge upon itself.  Folks at CORBIDI are mobilizing bird enthusiasts throughout the country to go out on May 9 and to count as many bird species as they can. So far, there are 97 teams spread throughout the county and more are being added on a daily basis.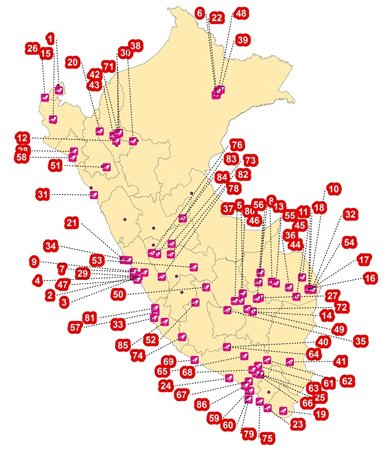 Map of Peru showing the distribution of teams participating in the Global Big Day
With over 1800 species recorded in the country, the goal of being the country with the greater number of birds tallied on the Global Big Day is a possibility.  With 97 participating teams spread throughout most ecosystems, being the country with the largest bird tally may be a reality…we will only know when results are in!