If it were entirely up to me I likely would not have given up my Saturday afternoon this past weekend to go to Daisy's job's yearly summer picnic.  But I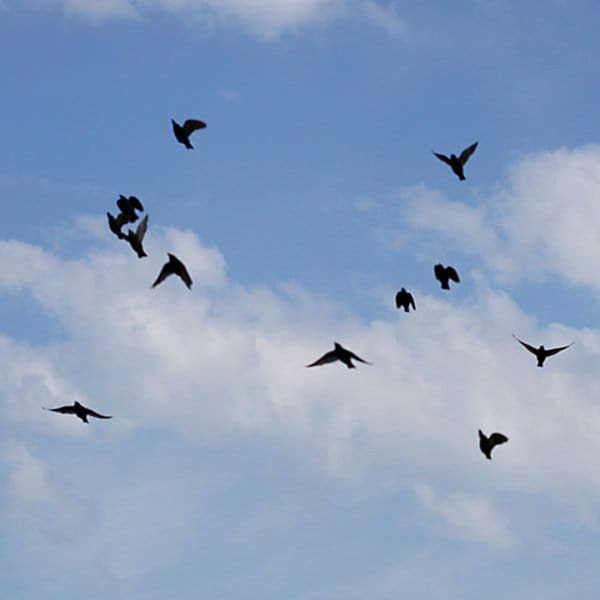 agreed, mostly because of the promise of delicious food and the threats of physical harm.  The location of the picnic intrigued me as well.  I had never heard of Riverbank State Park but a quick search showed that it is a small park on the Hudson River in Harlem.  Green space and rivers usually combine for decent bird sightings so I had some hope of seeing some interesting species, though my main duty for the day would be Desi wrangling duty, a difficult task now that he is nearly twenty months old, highly mobile, and furiously curious about, well, everything.
I was surprised when we arrived at the park to find out that while it is on the Hudson River it is high above it, built on a platform over what I later learned is a sewage treatment plant.  I never would have guessed what was beneath us as there was no smell or other unpleasant association with the plant, and our high perch afforded great views up and down the Hudson River and of New Jersey. (UPDATE: Today the sewage plant caught fire, causing an evacuation of the park.  Raw sewage may be dumped into the Hudson River if the plant can't be brought back on line quickly.  More information here.)
The avifauna in the overutilized park were somewhat lacking, with birds like the silhouetted European Starlings above pretty common but not much else of interest.  Sure, a Song Sparrow sang from on top of a bush, a Gray Catbird called from deep in some landscaping, and Cedar Waxwings fed on some berries, but the House Sparrows, Rock Pigeons, and Ring-billed Gulls were clearly the regular birds at the park.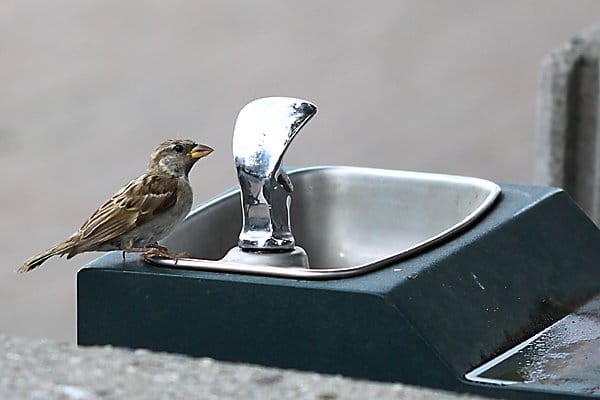 The lack of terribly interesting birds was a bit of a disappointment, but Desi didn't mind.  He loves pigeons!  They are not as fond of him though…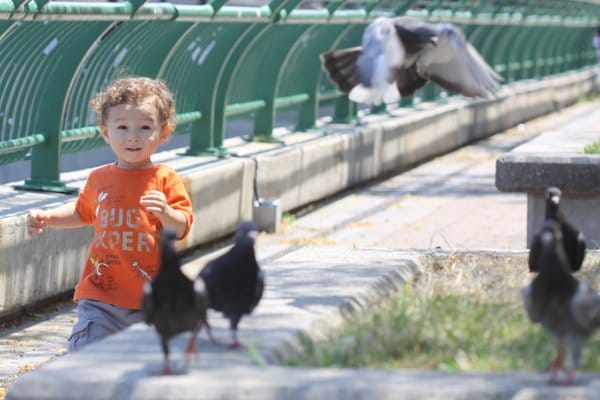 While Desi entertained himself by chasing pigeons I chased Ring-billed Gulls, trying to get shots of them with the George Washington Bridge as a backdrop.  Not bad, no?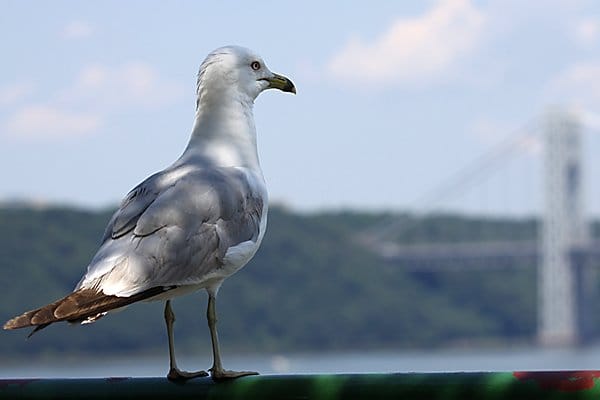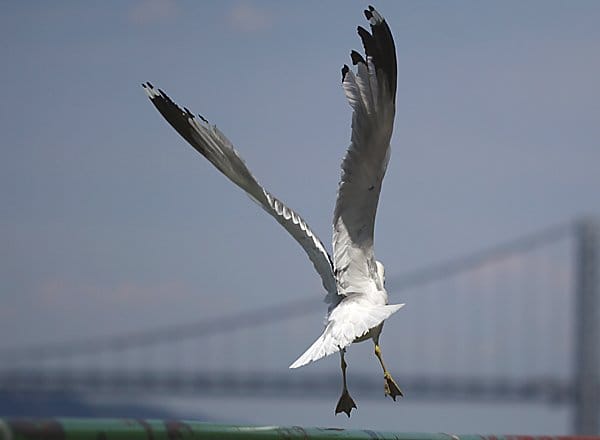 Of course, we spent time eating and hanging out with Daisy's coworkers and that was fun too.  The food was my favorite kind – delicious and plentiful!  The topper for the day, though, was getting a new species for my Manhattan list when a flock of five Monk Parakeets flew by.  Now I only need them in Staten Island and I will have a five borough sweep!
You should certainly not go to Riverbank State Park if your goal is to see a variety of good birds. (Though maybe in migration there could be some?)  If you want close looks at common birds, lots of picnic facilities, and great views of the river, then Riverbank State Park is a great spot.  And, really, in New York City parks of every kind are needed to relieve some of the stress of being packed so closely together.  You could certainly do worse than Riverbank State Park on a sunny Saturday afternoon.
…