Now that I have a car I can get to places that were either too far to be really worth walking to or too difficult to access via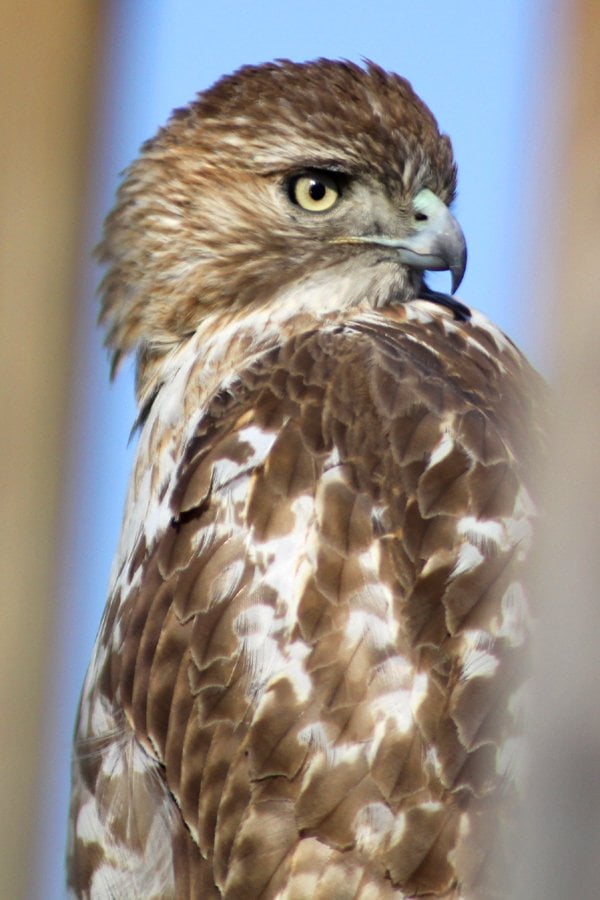 mass transit.  Yes, such places exist in New York City, even within my beloved borough of Queens.  One such place is the World's Fair Marina, located at the far end of Flushing Meadows Corona Park, separated from my normal walk through that park by Citi Field, the Long Island Railroad tracks, the Billie Jean King National Tennis Center, the 7-train tracks, Northern Boulevard, Roosevelt Avenue, a train yard, and a variety of service roads and parking lots.  None of that is promising habitat so I never made the long walk north to scan the waters of Flushing Bay while airplanes buzzed overhead as they took off and landed at LaGuardia Airport.  Sure, the bay itself might hold good birds but traversing a land of starlings and pigeons on foot in order to stare at a polluted bay while airplanes fly so low it seems they can be touched does not sound fun.
On the other hand, now that I own a car it takes me only a couple of minutes to buzz over there and scan the water for cool ducks.  Which is what I found myself doing when I had some time to kill on Thursday afternoon.  I had already found a flock of seven drake Canvasbacks and seen more mixed in with some Greater Scaup further east and I wanted an accurate count so I made my way as far east as I could and came to a little pier used for launching kayaks and canoes into the bay.  Near the end of the pier sat a young Red-tailed Hawk.  Of course, the pier is where I wanted to be.  This means we had a bit of a stand-off.  Sure, I could just walk out on the pier but that would flush the bird, which, as a juvenile, has had a hard enough time surviving this winter and I certainly didn't want to make its life more difficult by forcing it to relocate.  That, and I try to follow the American Birding Association Code of Ethics which says birders should "avoid stressing birds or exposing them to danger" and "exercise restraint and caution during observation."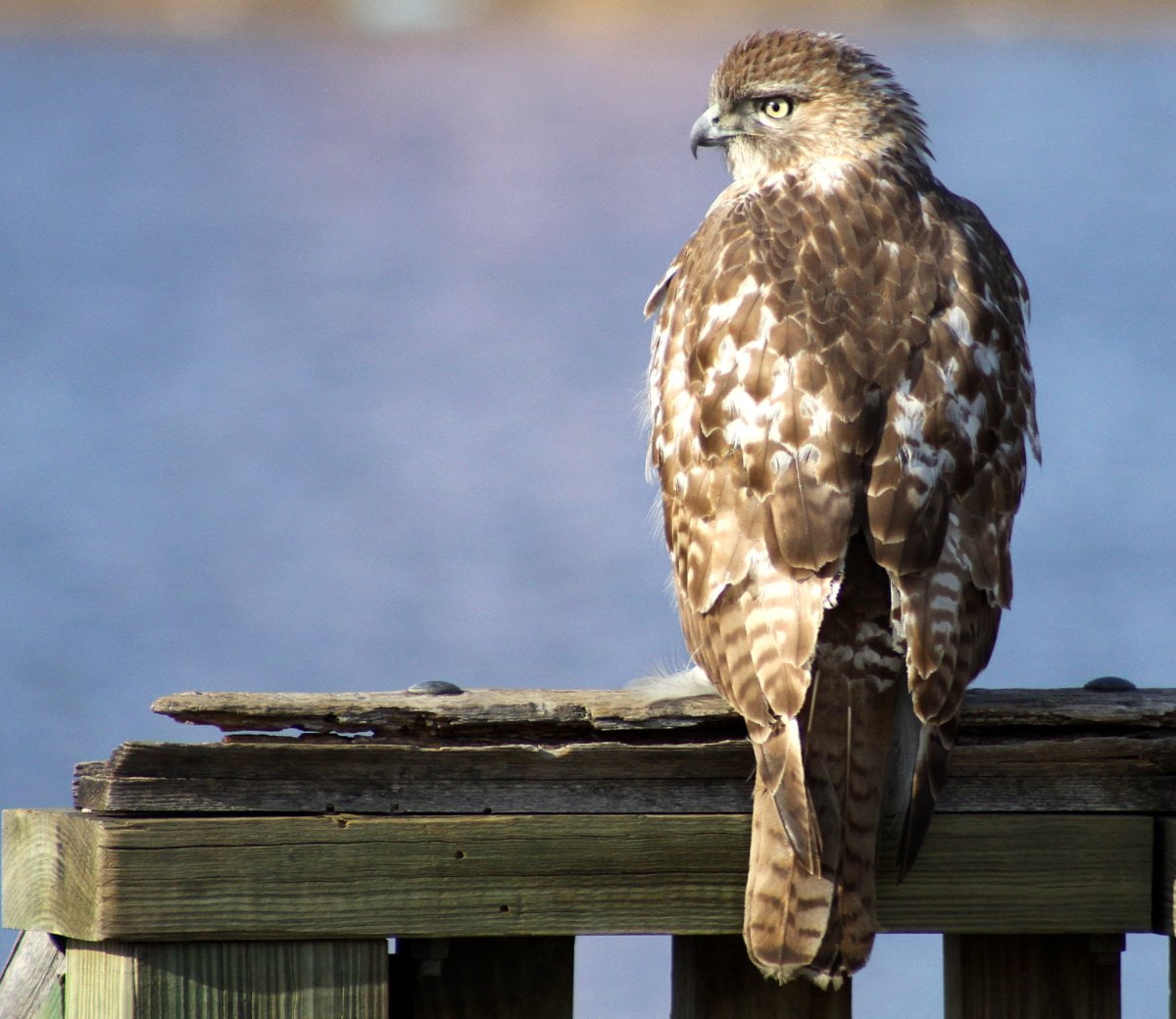 Red-tailed Hawk Buteo jamaicensis taken from the end of the pier
Then I noticed a group of teenagers making their way towards the pier, horsing around as teenagers do.  The bird was not going to stay put for long.  If I acted quickly I could get some photographs of the bird which was going to flush shortly anyway.  Next to the pier was a boat ramp which allowed me to be screened a little bit from the bird while giving me an opportunity to observe and photograph the bird.  The young hawk definitely noticed me but did not seem terribly concerned.  I got some shots, the teenagers got on the pier, the bird flushed, and I had good pictures and a clean conscience.  It was only once I got home that I realized I could have tried to intercept the teens and show them the hawk though I am not sure if that would have worked out or not.*
Whatever I could have done what I did do was get some images.  I hope you enjoy them.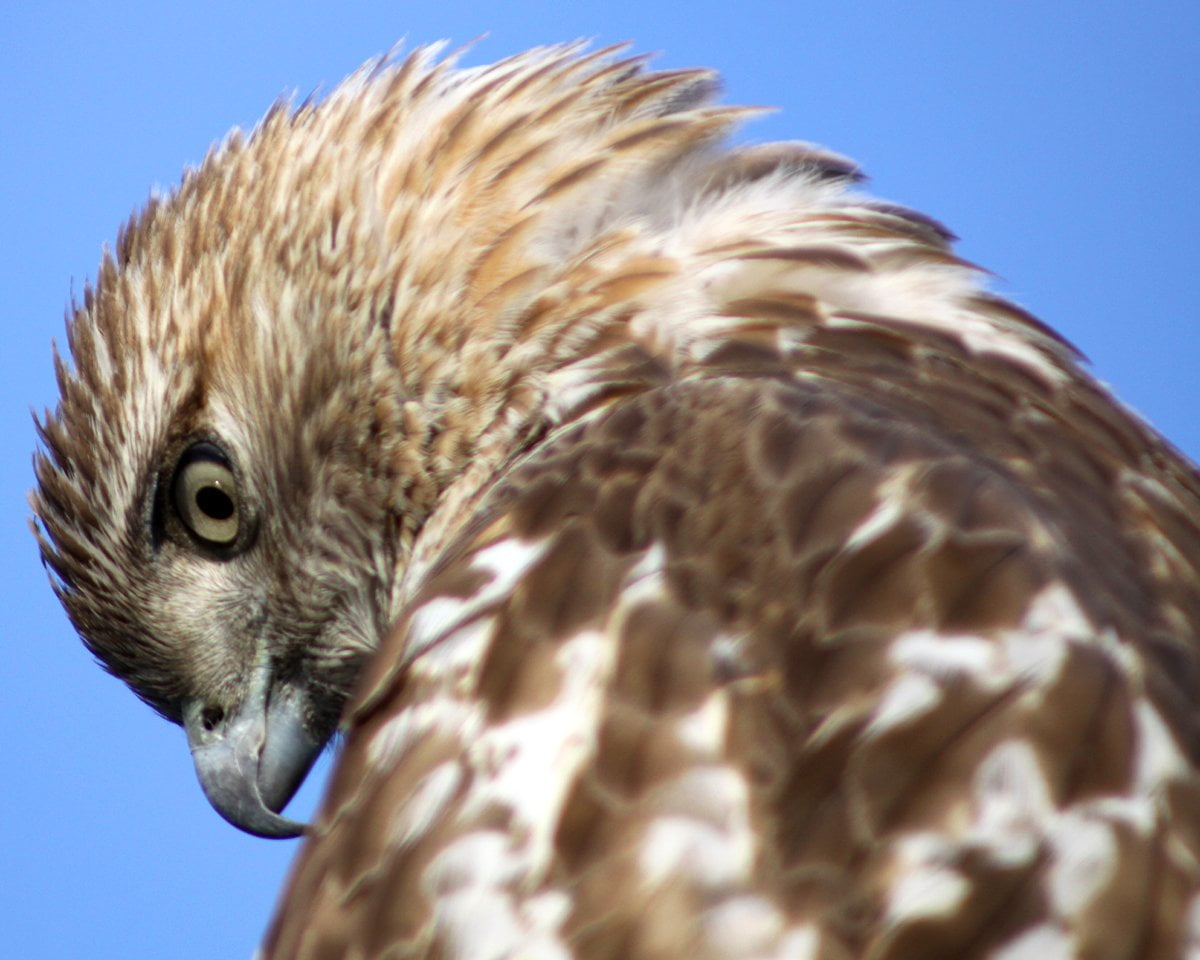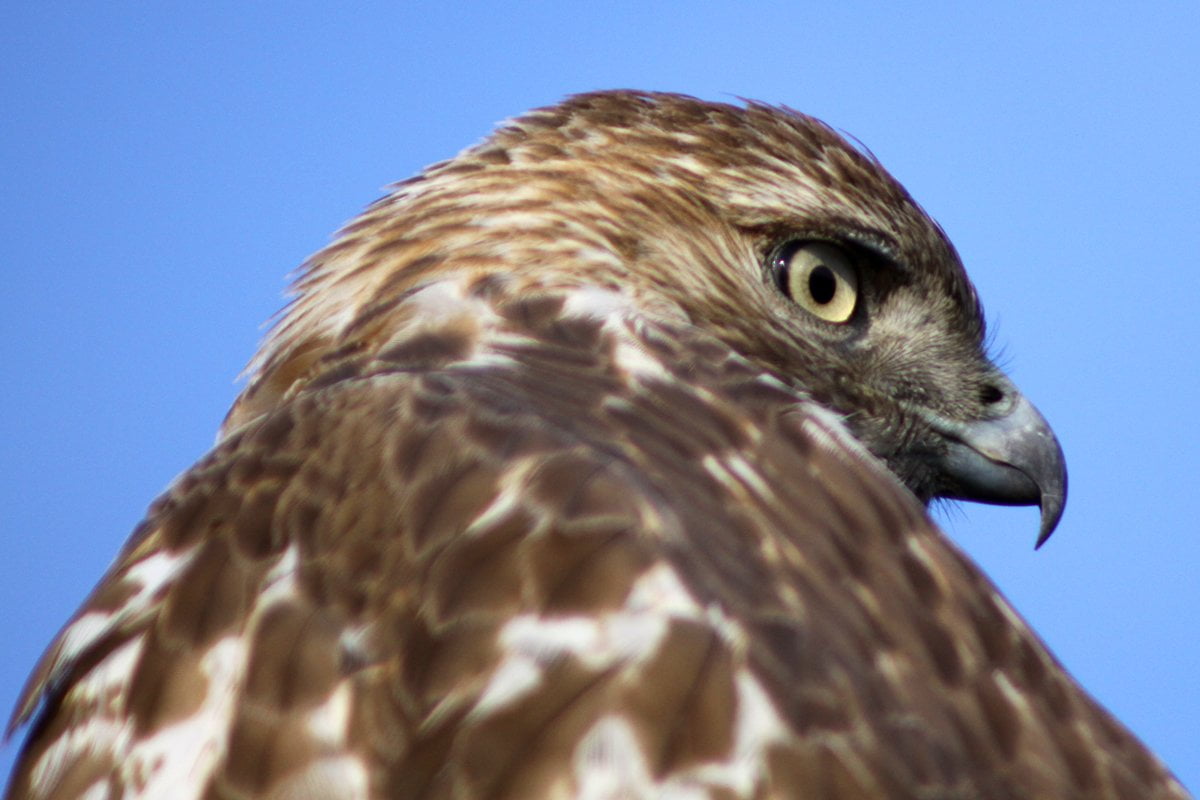 By the way, I found ten more Canvasbacks, bringing the total to seventeen.  Now I need to find my Redhead for the year.
You can see another set of images of a juvenile Red-tailed Hawk here or you can go to 10,000 Clicks, the photo galleries page here on 10,000 Birds and check out lots of great bird images!
…
*What was I going to do?  I could have said: "Look at this cool hawk.  Now don't go on the pier or you will be violating the ABA Code of Ethics by disturbing it."  Somehow I don't think that would have worked.  Eh, it's a Red-tailed Hawk in New York City and I am overthinking the whole interaction a bit much.  The kerfluffle on the state and city listservs about a recent photographer / Golden Eagle interaction has me thinking about this stuff again though.
…
This post has been submitted to Bird Photography Weekly #131. Go check it out!
…