Given the events of the last 24 hours it seemed inappropriate to have my weekly New Zealand post be about a jolly pelagic trip. The country is still reeling from Tuesday's catastrophic earthquake in Christchurch which has killed at least 70 people and has levelled numerous buildings in the centre of the country's second largest urban area. So strong was the earthquake that colleagues of mine on the seventh floor of my university building here in Wellington could feel it. It was actually less intense on the magnitude scale than the earthquake that struck the city last September, but because the focus was shallower it hit the city with more force.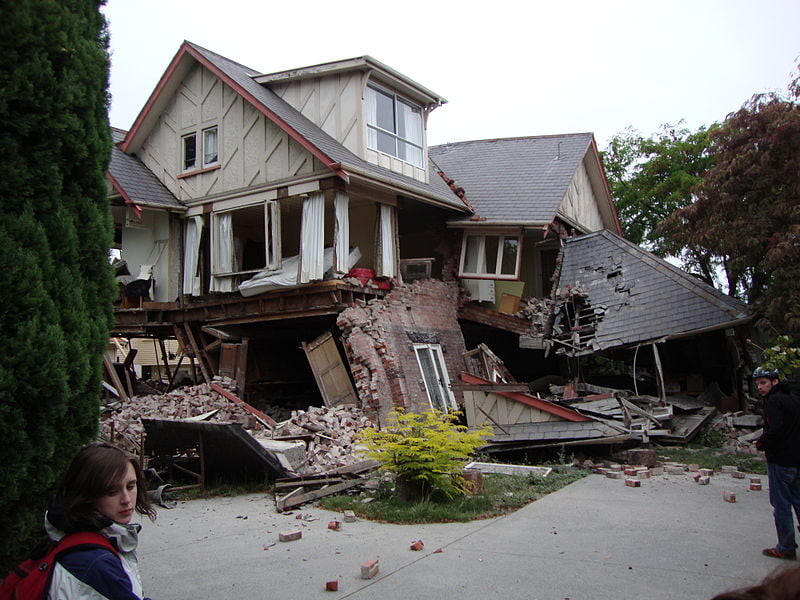 A home in Christchurch destroyed yesterday. By Wikimedia User Schwede66 released on a Creative Commons License.
You are never far away from reminders of the awesome forces geology can inflict on a whim in New Zealand. Only last Sunday a group of friends and I were making fun of new road markings near the coast showing the possible extent of tsunamis (although it was the rather random and seemingly physically impossible trajectory we were mocking). Looking back at the postings over the last few weeks of my trip up north for Christmas, one post was all about volcanoes, I mentioned earthquakes and faults in my post on Napier, and geothermal vents in the Corormandel. These forces tore New Zealand away from Antarctica over 60 million years ago, changing the fauna here forever, and also resulted in Karori being abandoned as a reservoir and turned into a sanctuary.
So, back to the birds next week. In the meantime, if you wish to help the people of Canterbury who've lost everything this week, the Salvation Army and the Red Cross have begun appeals for donations.