ARUBA — Of all the places that I've had the privilege to bird, Aruba is probably has the poorest birding coverage. For starters, it's small. And really windy. And mostly desert. None of the things that really lend themselves to high bird diversity. It has no avian endemic species (only one subspecies), and its most spectacular birds like Venezuelan Troupial and Fiery-Topaz Hummingbird can be found in greater numbers across a narrow strait in mainland South America, where you can pick up an additional 400-500 species besides. So why waste your time on this mostly over-developed island anyway?
With few exceptions, almost no one does.  Jeff and Allison Wells, a pair of Americans who run the excellent Birds of Aruba website, being the sole keepers of Aruba's historical records, and Steve Mlodinow, the Colorado birder who travels there annually and eBirds the heck out of the place, being the only ones I can find. This, like most things, offers some pros and some cons. Cons include poor field guides, incomplete knowledge and the paralysis of not knowing what you might see on any given day. Pros include the opportunity to offer valuable data to the record simply by birding and the ecstasy of not knowing what you might see on a given day.
For instance, Aruba's position just north of South America, source of a ridiculous percentage of North American birds we erroneously considered "ours" (particularly this time of year), means that if there are any species of birds up for making a run north, Aruba is one of the first places they'll hit. The Caribbean is a tempting pathway for expansion and a handful of birds have traveled this well-trodden route to establishment in the ABA-Area. The most famous of these is Cattle Egret, but Masked Duck looked like it might make things interesting for a while and Antillean Nighthawk has more or less staked out a little niche for itself in extreme southern Florida.
For a long time in the 90s, the next big thing was going to be Shiny Cowbirds, which would make landfall in the south with all the stealth of the Normandy Invasion. The species was predicted to sweep up the eastern seaboard turning aside hordes of Brown-headed Cowbirds in its wake and causing the extinction of forest bird just by looking askance at them. That, obviously, never happened, and truly the cowbird du jour in Florida anymore is the Bronzed, so the conquering army is not a specialty bird, sought out by birders between the Snail Kite boat ride and the Mangrove Cuckoo swamp stomp. In any case, they're still present in the Caribbean in numbers that make you think that the long-anticipated invasion is only a matter of time. But they prefer to hang tight in the islands. Not that I can blame them.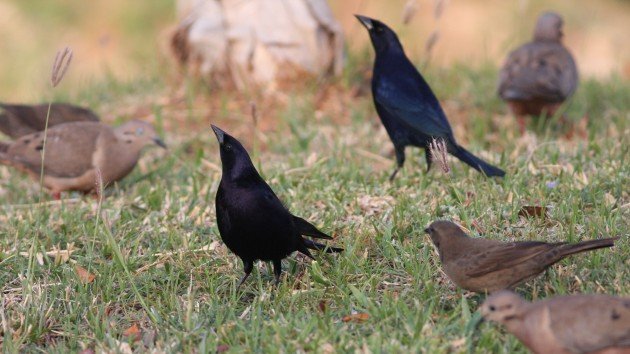 But Aruba is not only the source of these avian explorers, it's also seeing expansion of its own on its shores. I learned about the Cattle Tyrants at the super-posh Tierra del Sol golf course when I emails Jeff Wells about a Yellow-rumped Warbler I had found, at the time thinking that it was a 3rd island record according top the field guide I'd been using. Not true, said Jeff. It's a good bird, but there are a small handful of other records. But by the way, did I know about the Cattle Tyrants, a strange species of open-country South American tyrant flycatcher that has pushed its range northward in recent years.
Of course not. My field guide still had them listed as "extremely rare", and if there's one thing I know about birding travel, it's that the extremely rare stuff doesn't usually get seen unless you make a real effort to find them. Since time and transportation was a problem, I'd given up on it.
Nonsense, said Jeff. Go to the TdS golf course and look around. as luck would have it, my golfing father and brother-in-law were heading that way in the morning. So I hoped in the car and planned to walk back. But as soon as I stepped out of the car, I could not one, but two Cattle Tyrants preening in the trees. If that's extremely rare, than I'm extremely lucky.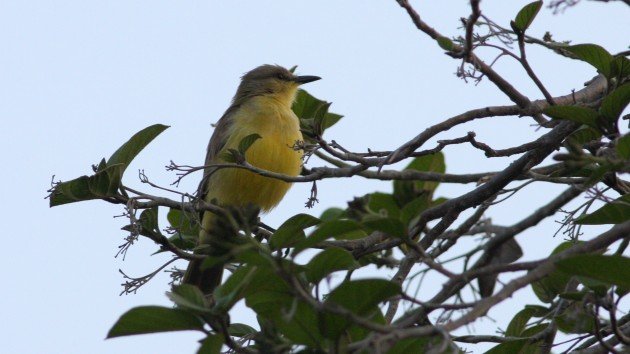 Cattle Tyrant is one of those species folks are predicting will show up in Florida not if, but when. Their northward trajectory has been the stuff of legends. And from there, up the coast? Who knows. The species could find a niche in agricultural areas like the Cattle Egrets or remain stuck in place like the Shiny Cowbirds.
And when it does, I can say I saw it back when.