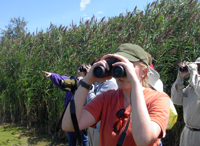 The Core Team returned to Jamaica Bay Wildlife Refuge today. However, this time was a little different. We were intrigued by the many activities offered by New York City Audubon, so we signed up for a Shorebird Walk led by Don Riepe, an experienced naturalist.The group of participants was gigantic, probably more than 40 people of all ages and experience levels. Don and his fellow guides led our unwieldy but enthusiastic group to the heretofore unheard of East Pond of the refuge. There, we learned just how difficult it is to identify shorebirds.
The East Pond is an incredible marsh where one can get really close to the birds. It was home today to great flocks of Semipalmated Plover, Semipalmated Sandpiper, and Least Sandpiper, as well as a few White-rumped Sandpiper. The sandpipers can be very difficult to distinguish from one another, but after the expert guidance we received today, we at least have a fighting chance.
One of the prize sightings was a Red-necked Phalarope. Today was only the second time our guides had seen this typically open ocean bird at Jamaica Bay in fifteen years. Everyone got their fill of the phalarope this time, as it swam within ten feet of the group and remained in the area for at least an hour. The East Pond also yielded another life bird, the Forster's Tern, as well as a visitor from a far-away land that I will discuss another day.
We followed part of the group back to the West Pond to try and spot another rarity, the Hudsonian Godwit. Although camouflaged in a sea of Greater Yellowlegs, it could not escape detection. The godwit was not in its typical ruddy breeding plumage, but we were able to mark its distinctive black and white tail in flight. As a bonus, we also saw Northern Shoveler, which is new to us, as well as Short-billed Dowitcher, Tricolored Heron, and plenty of common refuge birds.
On the way out, we spotted a beautiful Yellow-crowned Night-Heron. As we admired it, a Clapper Rail darted out behind it and swam around just long enough to become our last life bird of the day. Jamaica Bay is an incredible resource for local birders. We see new species every time we visit. The refuge also serves a critical role as a meeting place for members of the birding community, both local and from distant places. It was a blast spending time with members of the community and learning from interesting, experienced birders like Don and his colleagues. We will be back.