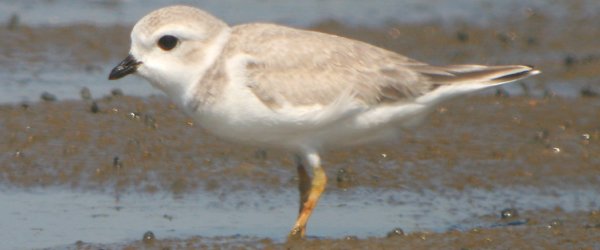 Have you noticed that, at certain times of the year, many of us share similar weekend birding highlights? It stands to reason that we all tend to look in the same direction or dig around parallel places during raptor migration or winter waterfowl season. But I still love the serendipity of sharing best birds with the best birders out there.
This is not to say that Corey ranks with the best, though I don't mind saying that his birding mojo is strong. Nonetheless, he and I share our Best Bird of the Weekend despite hundreds of miles between us. Corey's Best Bird of the Weekend was his first Piping Plover of the year, at Point Lookout in Long Island's Nassau County. My Piping Plover experience was probably better, as I was surrounded by at least 5 in un-plover-like proximity. We took my father-in-law's new boat out to a barrier island south of Chincoteague NWR… alas, I had so little faith in our first voyage that I left my camera home for safety. Ugh. At least we have Corey's juvenile Piping Plover above!
<strong>How about you? </strong><em><strong>What was your best bird of the weekend?</strong> </em>Tell us in the comments section about the rarest, loveliest, or most fascinating bird you observed. If you've blogged about your weekend experience, you should include a link in your comment.