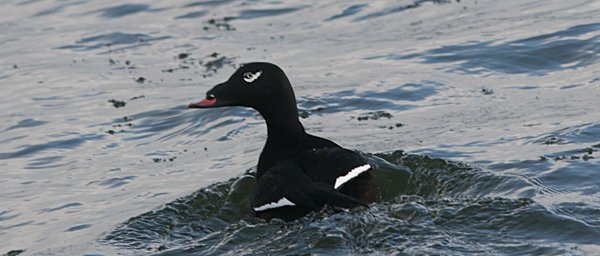 Late April offers so much for nature lovers. If you didn't see something interesting or new this weekend, you must not have gotten out of your house!
I enjoyed encountering a lot of first-of-year spring arrivals, but the species that most piqued my interest was White-winged Scoter, with a late flock of 17 hanging around Braddock Bay. The birds had already adopted their drab eclipse plumage, unlike the winter warrior featured in the photo above. What can I say? I didn't think I'd need a photo. And on that note, do we really believe Corey saw the famous Florida Cuban Vireo if he doesn't have visual evidence? As they say, pics or it didn't happen…
How about you? What was your best bird of the weekend? Tell us in the comments section about the rarest, loveliest, or most fascinating bird you observed. If you've blogged about your weekend experience, you should include a link in your comment.