One sure way to heighten the pleasure of a special bird sighting is to brag about it later. Step right up and share your best bird of the weekend.
Though I'm grappling with a monstrous sore throat, I did take on the ill-advised project to dig up the yew bushes blocking my picture windows. The stumps are still stuck solid as rocks in my lawn and my best birds this weekend were Blue Jays that came nice and close to mock me.  Jerks! Corey had better bird luck. His best of the weekend was a first-of-season Prairie Warbler at the waterhole in Forest Park, a bird first spotted by fellow birder Danny Melore, and photographed recognizably, despite the fact that it had a penchant for putting itself between the observer and the sun.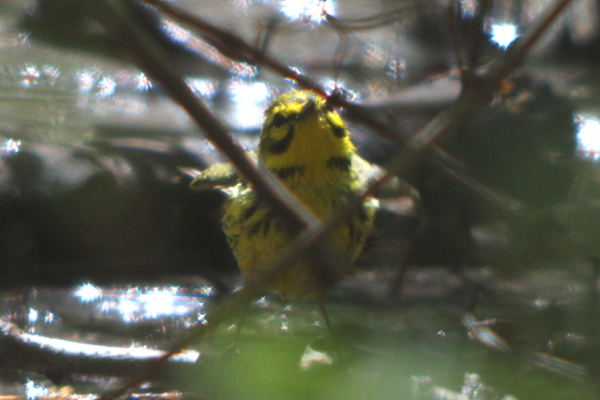 What was your best bird of the weekend? Tell us in the comments section about the rarest, loveliest, or most fascinating bird you observed.  If you've blogged about your weekend experience, you should include a link in your comment.