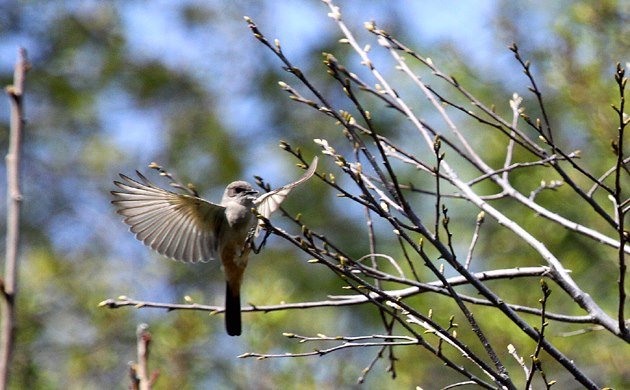 No matter where you live in the world, you've probably noticed how interesting the unfolding of this season is becoming. True, many of you live in locations that are verdant and vibrant all year long or cold and white most of the time. But from pole to pole, creatures are on the move and blossoms and berries are bursting to greet them. Isn't that exciting?
During a mild-by-adult-standards hike with the kids this weekend, I was charmed by the antics of singing Ruby-crowned Kinglets, harbingers of a wave of imminent warblers to this northern outpost of America. Corey couldn't be satisfied with FOY migrants but instead had to gorge his gluttonous appetite for birds on the rare vagrant Say's Phoebe (shown above) in Brooklyn. Ridiculous.
How about you? What was your best bird of the weekend? Tell us in the comments section about the rarest, loveliest, or most fascinating bird you observed. If you've blogged about your weekend experience, you should include a link in your comment.