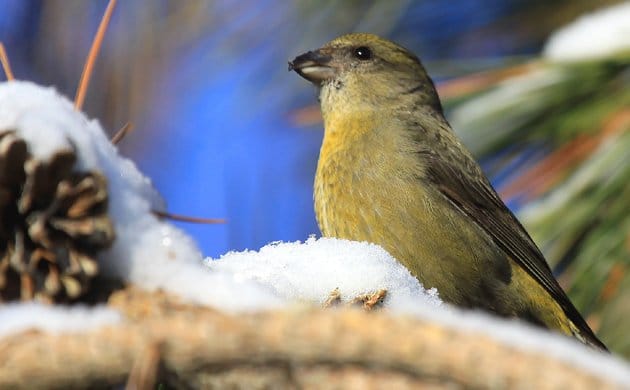 Winter in the temperate portions of the Nearctic ecozone might be cold, but fine birds choose to visit no matter what the weather. I've always equated winter with big predatory birds like Snowy Owls and Rough-legged Hawks.  But on second thought, smaller birds like Horned Larks and Lapland Longspurs spring to mind. And on third thought are those winsome winter waterfowl and exciting alcids… so what avifauna do you equate with winter in your part of the world?
The Best Bird of my Weekend was my local Sharp-shinned Hawk, browsing the wares in my backyard in hopes of a warm meal. I didn't see this bird break its fast, at least not recently. Corey had a pretty good morning's birding at Jones Beach on Saturday and had a difficult time deciding between three different species as his Best Bird of the Weekend. He eventually decided to choose small flock of three Red Crossbills he spotted because crossbills are always awesome, though the fact that neither the Snowy Owl nor the Lapland Longspur made the cut is kind of absurd. Also absurd is how Corey likes to taunt me with the crossbill I haven't seen yet.
How about you? What was your best bird of the weekend? Tell us in the comments section about the rarest, loveliest, or most fascinating bird you observed. If you've blogged about your weekend experience, you should include a link in your comment.