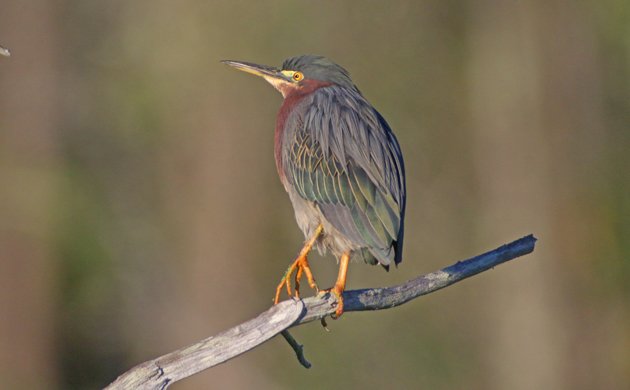 For those who track avian migration, each new week may bring a fresh arrival or herald a new departure. Of course, birds only represent a sliver of the near-infinite flora and fauna that, collectively, grows, blooms, dies back, and lapses into dormancy over the course of a year. I'm only musing on seasonal changes because one of my many environmental allergies flared up today. The coming of autumn is bittersweet indeed.
I did, however, incur this allergic reaction in the line of duty this weekend, as I checked out a new wetland trail in my area. My first pass, sans binoculars, revealed many migratory songbirds popping around. When I returned Sunday morning with appropriate optics, warblers were nowhere to be seen, but a veritable profusion of sparrow species along with a mess of Marsh Wrens made up for their absence. Corey's Best Bird of the Weekend was his favorite species, a Green Heron, at the Great Vly in his hometown of Saugerties, New York. Though he has no complaints about seeing his favorite bird he would have liked to have seen more species this weekend.
How about you? What was your best bird of the weekend? Tell us in the comments section about the rarest, loveliest, or most fascinating bird you observed. If you've blogged about your weekend experience, you should include a link in your comment.