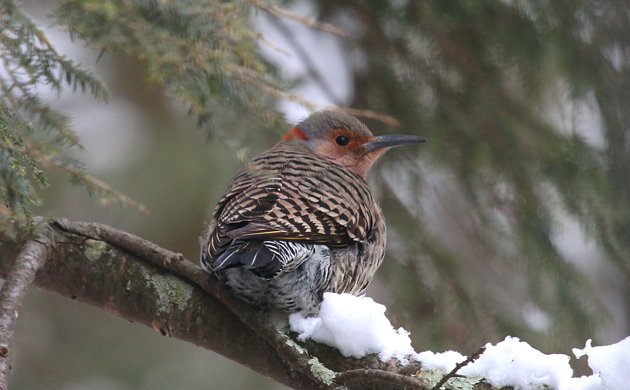 Be honest. Which winter sporting event captured your attention more this weekend: The Olympics or the Great Backyard Bird Count? The GBBC appears to have as much international cache these days as that other event running in Sochi; as of Sunday morning, checklists have been submitted from 103 countries and 6 continents. That's a global initiative I can support!
Speaking of the globe, I'll be spanning it later this week. I've been paying careful attention to nuthatches in anticipating of seeing a gaudy new species of what has always been a prosaic but still pulchritudinous bird for me. Red-breasted Nuthatches are as rare this year as they were common last year, but thankfully the trusty White-breasted Nuthatch always makes the scene. Corey's Best Bird of the Weekend was a Northern Flicker that has become a repeat customer at his parents' feeders. It provided a nice burst of bright yellow against the grays and browns of winter. It also made up to some small degree for the fact that the Barred Owl that had been roosting in Corey's parents' backyard decided to make itself scarce while Corey was there.
How about you? What was your best bird of the weekend? Tell us in the comments section about the rarest, loveliest, or most fascinating bird you observed. If you've blogged about your weekend experience, you should include a link in your comment.