One essential way to heighten the pleasure of a special bird sighting is to brag about it later. Step right up and share your best bird of the weekend.
Though I wish my best bird of the weekend was a Saw-whet Owl in Owl Woods, Seth and I dipped again. Still, I'm willing to settle for a Bald Eagle over downtown Rochester and Buffleheads in Braddock Bay. Charlie's best was a Barn Swallow which suddenly appeared over his garden, a species he didn't expect for at least another fortnight. Corey's best was an American Oystercatcher.  Why? Because he, his parents, Daisy, and Desi went to Jones Beach and all they saw was one seriously distant oystercatcher, the first one either of his parents had ever seen.  Luckily, just before they left, two flew much closer, offering much better looks…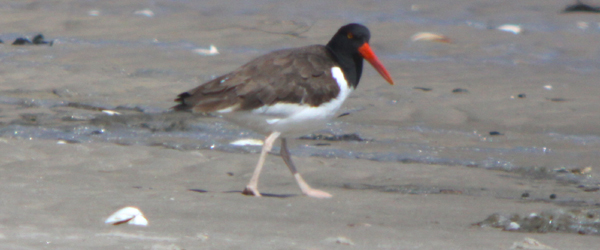 What was your best bird of the weekend? Tell us about the rarest, loveliest, or most fascinating bird you observed in the comments section. If you've blogged about your weekend experience, you should include a link in your comment.