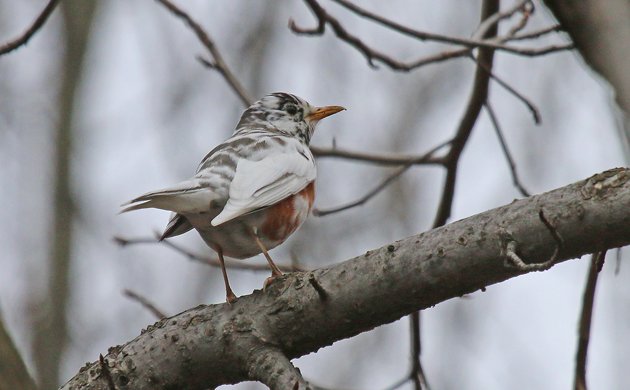 Spring has officially sprung, assuming you live on the same side of the equator as I do. Now that the balance between night and day is shifting, no matter how imperceptibly,  we can anticipate new birds in our immediate vicinities.
Work kept me from exploring the wilds, but why bother when Common Grackles, resplendent in blue, purple, black, and bronze, have returned to raid my feeders? Corey could have chosen his first Piping Plover or Eastern Phoebe of the year in New York as his Best Bird of the Weekend and either would have been an understandable pick. Instead, he chose one of his favorite individual birds, or at least a descendant of one of his favorite individual birds, the white American Robin of Alley Pond Park. It, or its descendants, have been present in the park since at least 2009.
How about you? What was your best bird of the weekend? Tell us in the comments section about the rarest, loveliest, or most fascinating bird you observed. If you've blogged about your weekend experience, you should include a link in your comment.