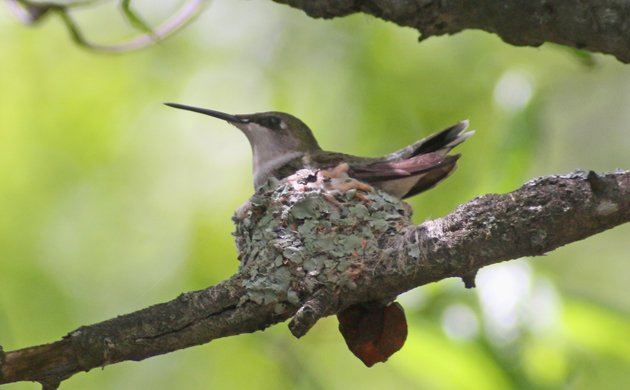 The question isn't whether you went birding this weekend, because everyone who wasn't part of the Royal Wedding was out chasing birds. The only valid questions involve what you saw and whether you'll share details.
I'm happy to share details on my annual run to Rush Oak Openings for cinch Blue-winged Warblers. Not only did I bag the beautiful bird I expected, but I also encountered a tasty species I never expect there until I see it every year: Olive-sided Flycatcher. Speaking of OSFL, Corey had quite a haul of species to choose from this weekend after leading two walks for New York City Audubon and doing a ton of birding on his own on Sunday. He nearly doubled his total sightings of Olive-sided Flycatchers in Queens, he heard a Bicknell's Thrush sing, and enjoyed his first Black Skimmers of the year in his home borough. But none of those birds compared to the plucky Ruby-throated Hummingbird that returned to the same exact branch in the same exact tree at Jamaica Bay Wildlife Refuge to nest once again. Now that is a bird that is worthy of Best Bird of the Weekend!
How about you? What was your best bird of the weekend? Tell us in the comments section about the rarest, loveliest, or most fascinating bird you observed. If you've blogged about your weekend experience, you should include a link in your comment.