Monday morning a Prothonotary Warbler was reported in Central Park.  I, of course, had to be at work all day, but did manage to take my lunch break in the park.  In the rain.  Without seeing the bird.  So you can imagine my joy when the bird was once again reported from Central Park on Tuesday morning.  Another chance at seeing the lemon-yellow of the rare-for-New-York-wood-warbler.
My morning in the office went sloooowly and as if the anticipation of trying again for Protonotaria citrea was not enough to make the morning drag, well, the interminable conference call, with an agenda apparently devised by whoever came up with waterboarding, did not help one bit.  Then a report on the local listserv of an American Woodcock in Bryant Park, a mere three blocks from my office, just about drove me mad.  I made arrangements for an extra half-hour on my break and escaped the office as quickly as I could, hoofed it down 41st Street like a madman, and was unable to find the American Woodcock at the spot from which it was reported.  Talking to park workers got me the information that the bird had been around for a week (!) but they couldn't find the bird in its usual haunts.  Then another birder, Chris Cooper, arrived, and then the pioneer of Bryant Park birding, Ben Cacace, and we all were searching under every shrub and bush until Chris called out "I have it!"
There it was, hidden in plain sight.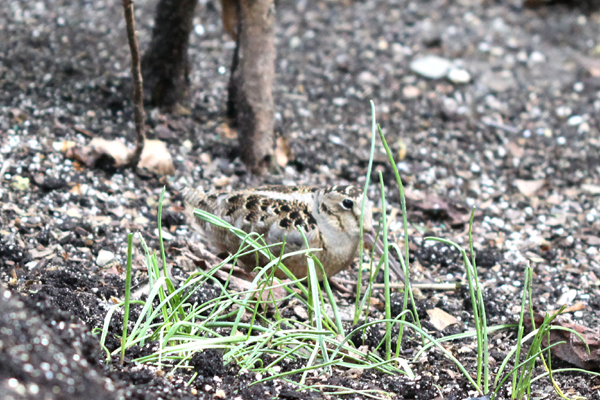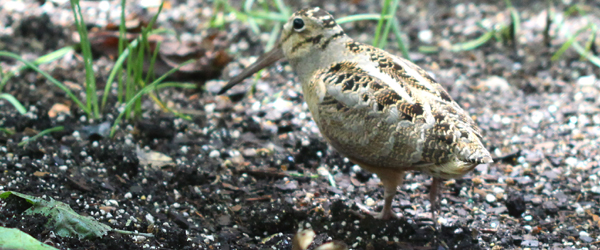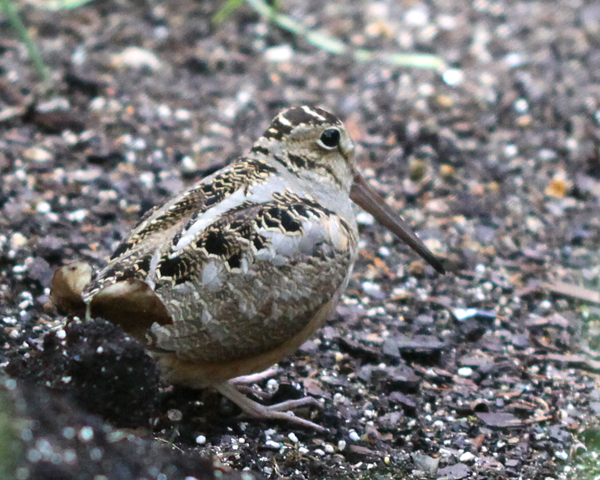 I would have loved to stay and soak it in more than I did but I had an appointment with a Prothonotary Warbler and a train to catch to get me there.  The B train pulled into the the 42nd St Bryant Park station as soon as I reached the platform and it whisked me uptown to 72nd St, where I once again started speed-walking.  I arrived at the location near Belvedere Castle to be told that the bird had been below eye-level and putting on a heck of a show – fifteen minutes earlier.
It did sing a couple of times from way back in the brush but it did not bring its absurdly bright yellowness into my field of view, despite (because of?) the burgeoning crowd of birders.  Eventually, I got frustrated and decided to strike out to the other side of 79th Street to see if the bird had moved over there (where it had originally been reported early Monday morning).  Sure enough, I quickly heard it singing and finally got it in my binoculars, unfortunately rather high up in an oak.  After snapping off a couple of pictures I drank the bird in for a moment more before it bolted back across 79th Street, leaving me happy and in need of a miracle to get back to work on time.
If I hadn't stopped for a takeout Greek salad I would have made it back on time too.
Best.
Lunch.
Break.
Ever.