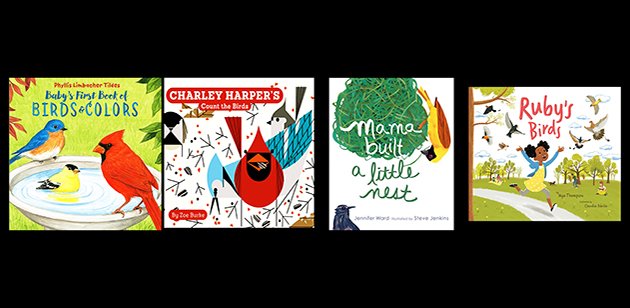 It's never too late or too early to buy a children's book about birds. You never know when you'll be invited to a small one's birthday party, a distant relative's baby shower, or when you'll get a text telling you that you have a granddaughter while you're waiting out a three-hour-plus flight delay at JFK Airport. It's been a few years since my last roundup of children's bird books, and children's book writers, illustrators and publishers continue to produce picture books that feature avian protagonists. In some cases, as with Mo Willems Pigeon series (one of my favorites), the bird acts as a stand-in for the child. My interest here is on books that introduce children, from toddler age to first grade, to birds as wild creatures they can observe and enjoy.
First, the board books. My first purchase for Abigail Ruth was Baby's First Book of Birds & Colors by Phyllis Limbacher Tildes, and she loves it. (And, if Abigail's recommendation isn't enough, this title was highly recommended by several birding friends with their own little ones.) The book is simple in design and text. Each spread presents two birds of a color–Red (Scarlet Tanager and Northern Cardinal), Pink (Greater Flamingo and Roseate Spoonbill), and so one, with the last spread presenting two colors–Black and White (Downy Woodpecker and Black-and-White Warbler). Text is spare–color(s) and names of the birds with notations on gender, which I found very interesting. Clearly, author Phyllis Limbacher Tildes, the author of 24, soon to be 25, children's books, is also a birder (and a little research brings up a presentation she gave at Ogeechee Audubon, Georgia with the biographical information and she and her family "love watching birds and wildlife seen near their lagoon on Skidaway Island."
The simplicity works well for toddlers like Abigail Ruth; she focuses on the bright colors as I read to her and I can elaborate on the text–pointing out the birds' eyes, mouths/bills, saying a bird looks funny or sweet–as long as her attention span lasts (which, let's face it, isn't long–she is a toddler!). There is an Eastern slant to the birds in the book, but I think that at this age the main focus is on relating the type of bird (woodpecker, hummingbird, songbird) to birds we see outside.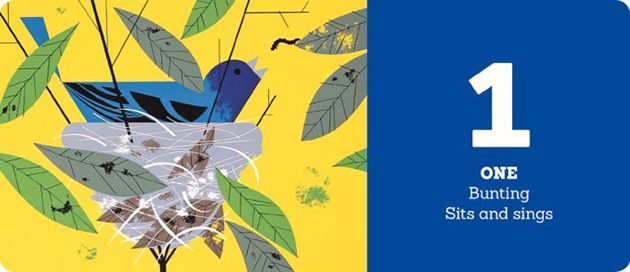 Charley Harper's Count the Birds also combines simplicity of image and text in board book form, marrying Harper's popular serigraphs of birds with text by Zoe Burke. (Harper has been gone 12 years, but his family continues to market his art through textiles, glassware, prints, calendars, and books–just enough to be in demand, not enough to be totally ubiquitous.) Zoe Burke is vice-president and publisher of Pomegranate Communications, the company that published this book, and I think she must have an interest in nature; her other titles include a Nature Discovery series, also illustrated by Charley Harper, and a board book featuring beautiful block prints of birds by Molly Hashimoto. She's chosen some of Harper's most iconic images for Count the Birds–his beloved Cardinals, Barn Owls, and Puffins, as well as buntings, pelicans, grosbeaks, finches, bluebirds, quail, and turnstones, and though she does not give the birds complete names (I really would like those grosbeaks to be named Evening Grosbeaks), it's a fun book to look at and read.
I do wonder, however, if Harper's birds are too minimally visual for a toddler's eyes. We look at the Six Pelicans who rest at night and see Brown Pelicans because we already know what pelicans look like. A very young child might look at that image and see lines, rectangles, and funny circles. Or, maybe this is how toddlers see birds! I asked Abigail, and her reply was intriguing but inarticulate, as befitting a child not yet a year old. She does like this book, though I'm not sure if it's the shapes, colors, or the rhythm of the text, which nicely matches Harper's whimsical images. 'Six Pelicans Rest at night. Seven Finches Stand apart. Eight Owls Make a heart.' The capitalization is straight from the book, emphasizing the birds' actions. The world is full of wonderful creatures who do marvelous and common things, and Ten Baby Quail Want to play.
Mama Built a Little Nest, written by Jennifer Ward and illustrated by Steve Jenkins, is one of a number of children's books that have come out about birds and nests. This is my favorite, and I can't wait to read it to Abigail Ruth when she's a bit older. (The recommended age range is 4 to 8 years, but I can see starting at 3 years, even 2.) This large picture book features simple, yet clever, rhymes, most of which begin with "Mama build a little nest…" and go on to describe a wide variety of bird nests–a small hummingbird cup, a woven weaverbird sac, a floating Grebe's nest anchored to water plants, even the foot of 'daddy' Emperor Penguin. And, for the hornbills above, an old tree hollow:
Mama built a sealed nest
within an old tree's hollow.
My daddy left a little hole
to her her food to swallow.
I said most of the rhymes begin with the mother; there are two pages that begin with "Daddy built a little nest…," a wonderful way to emphasize the varied roles mothers and fathers play in the avian world. (And, if you're wondering which 'daddies' build nests, it's swifts and Cactus Wrens.) The poem is on the left side of each two-page spread and a factual paragraph about the nesting process–usually brief, but sometimes fairly detailed–is located on the right side. The hornbill paragraph, for example explains how the male seals the female into the cavity nest, using mud and droppings, leaving a small hole through which he feeds her. She doesn't break out until the chicks have hatched, when, the text emphasizes, she works with the male to feed and care for the nestlings. I have to admit I didn't know this. And, I imagine many parents don't know it either, or most of the other nesting facts. It's good material to use while reading the book aloud, rephrasing the information to fit the child's level of interest and to expand on the illustrations.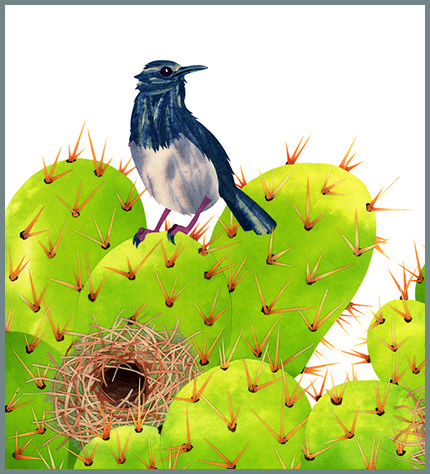 These illustrations by Steve Jenkins are perfect. The colorful collages fill each page with images of the bird, nest, and habitat. Jenkins has written and illustrated a number of science-based books for children, many with his wife, Robin Page. His illustrations here have an Eric Carle feel, but slightly more dynamic, communicating the action of nest building and nestling care with diagonal lines and jagged shapes that cut across the page and embrace the text. I particularly love the two-page spread of Emperor Penguins looking down at the dad's feet, each penguin filling its page as a long vertical oval that loops down at the top.
Not surprisingly, author Jennifer Ward is a birder (she even lists her yard list on her web site), and pretty much all her books connect to nature in some way. In a note at the back of Mama Built a Little Nest, she traces her interest in bird nests back to a hummingbird who built a cup nest on a mobile hanging outside her kitchen window, and offers "resources for further learning and exploration." Her books for grownups focus on nature activities for children, including this recently published title: I Love Birds!: 52 Ways to Wonder, Wander, and Explore Birds with Kids (Roost Books).

You can tell that Ruby's Birds by Mya Thompson with illustrations by Claudia Dávila is a special book by looking at the cover. A young black girl in a yellow dress and blue sweater runs through a park, her hand lifting high like wings, her face smiling in wonderment as seven birds fly around her. It's a very specific illustration. The birds are instantly recognizable to anyone who's birded New York City:  Mourning Dove, Rock Pigeon, Cedar Waxwing, Brown-headed Cowbird, American Robin, House Sparrow, European Starling. And, the young girl, Ruby, is a unique individual–a girl with too much energy for a city apartment. She sings, dances, play the piano, talks to the cockatoo, till finally her neighbor Eva offers to take her to the park.
Well, the park is New York City's Central Park, and Eva, who wears binoculars around her neck, is a birder, and she introduces Ruby to the magic of birding when she spots a bird she knows from her native Costa Rica, a Golden-winged Warbler. I'm not going to spoil the rest of the story, let's just say that this is Ruby's spark bird, and it's clear that Eva has helped Ruby find a focus for her energy and intelligence. The story is told in simple narrative language from Ruby's point of view, and I think Abigail will find it highly engaging in a few years when I read it to her on her annual visit to New York City. And, I think she will love Ruby, who is the most personable young lady I've read about since Ramona Quimby.
Author Mya Thompson has a Ph.D. in Neurobiology and Behavior from Cornell University and works for the Cornell Lab of Ornithology, but this story clearly has its roots in personal experience birding with young children. I love her, or rather Ruby's, description of Eva when she spots the warbler:
I tug on Eva's sleeve, but she's not paying attention
She holds her binoculars up to her eyes.
She is frozen like a statue.
And then, she smiles a huge smile.
Illustrator Claudia Dávila comes from Santiago, Chile and writes and illustrates various types of children's books and graphic novels, many featuring children who need to figure out how to live in an adult world. Her illustrations for Ruby's Birds have a cinematic quality, showing Ruby and her world at odd angles that emphasize the limited spaces of urban life, going in for close-ups as Ruby gazes about the park in wonder. They are realistic enough that I recognized the section of Central Park that Eva brings Ruby to as Harlem Meer and the North Woods, even before I confirmed the location in the back-of-the-book commentary.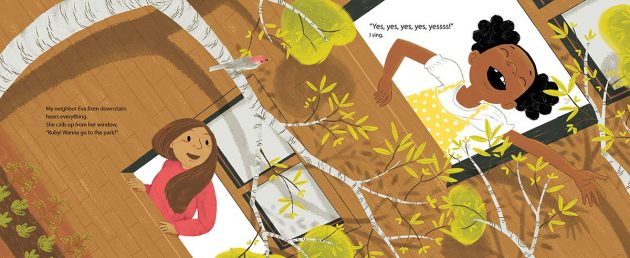 Dávila also does a very good job drawing the small birds that populate almost every page of Ruby's Birds. From the moment Eva leans out the window to ask Ruby if she wants to go to the park, birds appear–a House Finch, a Peregrine Falcon, a Black-crowned Night-Heron, and more, the birds one expects and does not expect in the middle of New York City. And, because Ruby's Birds is published by the Cornell Lab Publishing Group, these birds are shown again in the back of the book, in a section that challenges children to "Find These Birds in This Book–And in Your City!"  There's also "Ruby's Tips for Taking a Nature Walk," which includes advice on what to do when members of your family do NOT want to go outside. And, an activity guide for teachers is available on the Lab of Ornithology website.
Like Mama Built a Little Nest, this picture book is a great starting point for learning more about the natural world with your child (or grandchild or niece or nephew or neighbor). But, simply reading these books aloud to our children is a good thing in and of itself. I can think of no better way to have a good time while sharing my love of birds.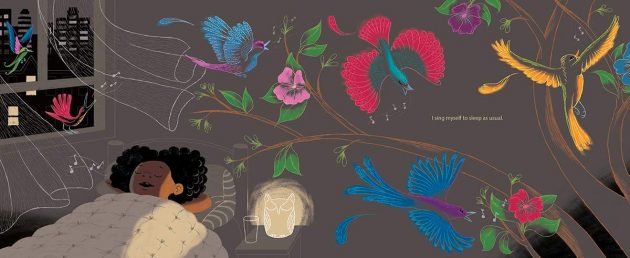 ---
Baby's First Book of Birds & Colors
by Phyllis Limbacher Tildes  (Author, Illustrator)
Charlesbridge, 2017; Boardbook edition, 18 pages, 7 x 0.5 x 7.1 inches.
Grade Level: Preschool and up
ISBN-10: 1580897428; ISBN-13: 978-1580897426
$7.99
Charley Harper's Count the Birds
by Zoe Burke (Author), Charley Harper (Illustrator)
PomegranateKids, 2015;
Boardbook edition, 24 pages, 7 x 0.8 x 6 inches
Age Range: 2 – 5 years
ISBN-10: 0764972464; ISBN-13: 978-0764972461
$10.95
Mama Built a Little Nest
by Jennifer Ward  (Author), Steve Jenkins (Illustrator)
Beach Lane Books, 2014
Hardcover: 40 pages, 9 x 0.4 x 11 inches
Age Range: 4 – 8 years; Grade Level: Preschool – 3
ISBN-10: 1442421169; ISBN-13: 978-1442421165
$17.99
Ruby's Birds
By Mya Thompson; Illustrated By: Claudia Dávila
Cornell Lab Publishing Group, Wundermill Books, March 2019
Hardcover, 36 pages, 11.3 x 0.7 x 9.1 inches
Age Range: 3 – 7 years; Grade Level: Preschool – 3
ISBN-10: 1943645337; ISBN-13: 978-1943645336
$16.95