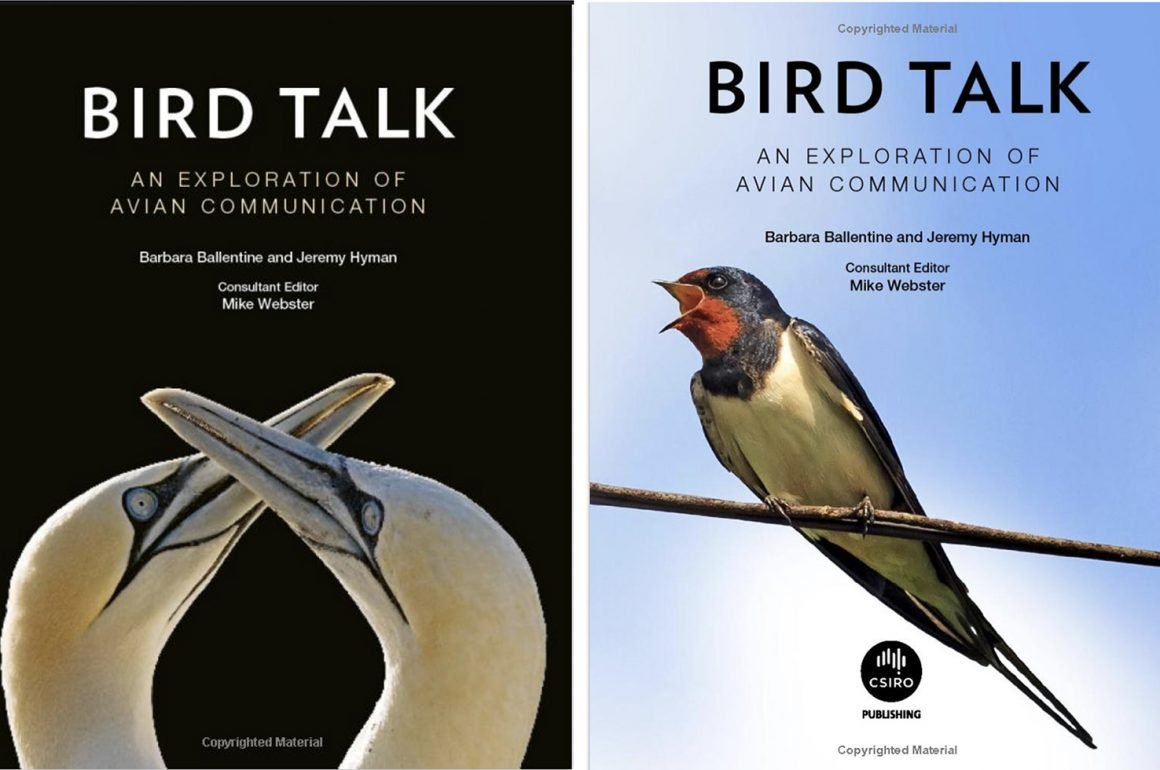 There was a time when I thought each bird species had its own individual song. Then I found out that there was this vocalization called a 'call,' so I thought each bird species had its own individual song (but just the males) and individual call. But then, somewhere along the time I saw my first Common Raven, I realized that not every bird species sang, some just called. Then, my friend Marylee told me about this thing called a 'dawn chorus' and I read about birders recording night flight calls* and I thought, "What? There's a time differential?"* And then, my bird club friends started talking about alternate warbler songs and sparrow dialects and I thought, "Really? There's more than one song per warbler? And, that sparrow I heard in California that sounded so different really is a Song Sparrow?" Then, I heard a Ruffed Grouse drumming with its wings and only its wings, and watched a video of ornithologist Kim Bostwick moonwalking with Red-capped Manakins and heard my friend John describe a Bowerbird enticing a mate with home decoration techniques, and I thought, "Birds! They're just like us–they talk with their hands (er, wings) and their feet and some are even crafty!" And then I found out that bird song doesn't just belong to the males, that there are female birds who sing too, only not so much in North America, and my mind was blown.**
Bird communication is a complex and evolving science. There is always more to learn, more to explore, and it appears that in some areas we are just starting to know what we don't know (female bird song!). Bird communication is much broader than just vocalization, something I tend to forget. It encompasses movement and plumage and even smell. It's a big subject that has been embraced by biologists Barbara Ballentine and Jeremy Hyman in Bird Talk: An Exploration of Avian Communication, a largish, book recently published by Comstock Publishing Associates, an imprint of Cornell University Press. Ballantine and Hyman explore how birds communicate and summarize studies on how that communication functions in diverse bird families all over the world. Their text is combined with 200 (rough count) brightly colored photographs, many full or three-quarter page in size, and 10 charts and diagrams. The total package is a combination text/photography book, an enjoyable road for learning more about this specific and captivating bird behavior.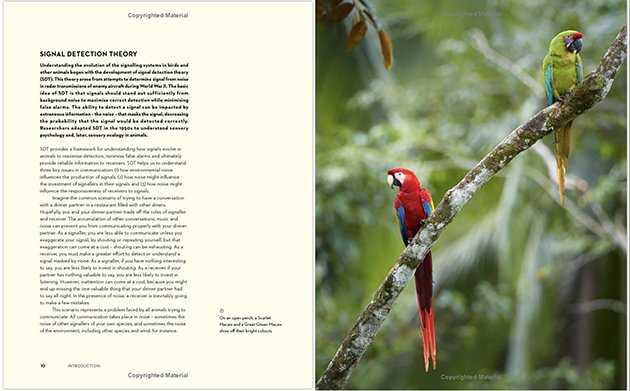 © 2021 Barbara Ballentine and Jeremy Hyman & Quarto Publishing
The authors use signaling theory, an evolutionary biology construct, as a framework. Signaling theory examines communication between individuals and groups, within and across species, focusing on whether signals–communications containing complex information–are honest or deceptive and how the exchange of these signals impacts the individuals involved and the larger group or groups to which they belong. Signaling theory comes up frequently in bird literature (one example I can think of off-hand is Nick Davies' Cuckoo: Cheating by Nature, Bloomsbury, 2015), but if you're not familiar with its basic ideas you must read the Introduction. Ballentine and Hyman keep it simple and understandable and don't use a lot of scientific language (signaling theory does involve new meanings for the 'noise,' 'cost,' and 'expensive,' so pay particular attention to that language). However, if you're totally uninterested in wondering whether, say, the development of yellow, orange, or red plumage in male House Finches is too 'costly' (they derive these colors from the environment, which involves using more resources than genetically derived colors), there are still a lot of engrossing and possibly mind-blowing information to be digested here.
The book begins with the basics: What is signaling theory and the anatomical, genetic, and environmental reasons for why birds sound, look, and even (for a few species) utilize a sense of smell in the very specific and diverse ways that they do. In some ways, these chapters (Introduction and Chapter 1, "Communication Channels") remind me of those articles that present '10 things about birds you did not know' (and in fact, author Jeremy Hyman wrote a children's book on "the wild and wacky world of birds"): they include information on how chicks acquire species-specific songs and calls (some are born with it, some learn it, some learn while in the egg!); the anatomy that produces bird sound, a specialized item called the syrinx found only in birds; the various ways in which feathers acquire color, nicely presenting a sometimes complicated topic in understandable language; and the still little understood subject of olfaction (smelling) in birds.
The six chapters that follow explore bird communication in mating; defending territory; rearing children; responding to predators; interacting with neighbors and functioning in large groups; and communicating successfully in a noisy human world. There is so much here! A continuation of the material on plumage color and shape, descriptions of scientific studies on peacock eye spots and Red-collared Widowbird tail length; the puzzling mating displays of male Long-tailed Manakins, who perform in a coordinated group; the use of song to defuse fights in territorial conflicts and how, if there is a fight, countersinging is often the first step; the evolution and function of begging signals by nestlings and how different species respond (just because you beg, you may not be fed, it's all about survival of the species!). There is discussion of the communication signals birds use in very large groups to locate mates and children, which is something that never occurred to me. How do they know? Apparently, species like Sand Martins and Emperor Penguins develop distinct parent-child vocalizations. And summary and discussion of recent research on how birds have changed the frequency and pitch of their songs in response to human noise and the possible consequences of those changes (again, we know that we don't know).
I do wish there was more about research on female bird song. The subject is noted in the beginning of the book with the caveat that most male-only singing species live in North America and most bird research has been done in North America, so we know very little. And, that's it. Knowing that female birds sing presents a challenge to signaling theory, in which it's assumed that male songbirds send the signal and female songbirds receive it. How new insights would an "integrative" research framework bring to our knowledge of sexual selection and avian social networks?***
© 2021 Barbara Ballentine and Jeremy Hyman & Quarto Publishing
I have great admiration for Ballentine and Hyman's ability to clearly articulate and summarize the many research articles they must have read in preparation for this book. If you haven't read a peer-reviewed article, I highly recommend you peruse at least one to get a flavor for how scientific discourse differs from books for the general public. (If you don't have a copy of Behavioral Ecology or The Auk on your night table, try Google Scholar, it will link to the full text of a scholarly article if one is available.) They successfully delineate research findings, explain how they fit into the larger behavioral framework, and pinpoint areas that are still confusing or unexplained. They also talk about the research itself, why experimental studies in the field and the lab reduce variables and help answer the many questions posed by bird communication behavior. I wish there was more discussion of research techniques and resources. For example, the authors explain 'playback,' a technique utilized in many of the studies they summarize and apparently in their own studies. As most birders know, playback is controversial in the birding world. It would love to read more about the ethical considerations that go into using playback for research purposes and how federal rules against playback affect research design.
I also would have liked more specific information on the studies themselves–authors, years, where I can read them. Research experiments are described without citing the names of the researchers themselves or any other background information. I understand that details like this may create text that is confusing and hard to follow, but I think the addition of boxed text offering close-up looks at specific, significant experiments and their creators would have added to readers' engagement with the material and also given recognition to avian researchers. Unfortunately, source information is hard to find within the text or in the back of the book. There are no footnotes and the two-page list of books and articles for "Further Reading" is selective. The articles clearly relate to some of the studies described in the text, but not all. I understand that Bird Talk is written for the general public, but I also believe that footnotes and bibliographies provide informational depth and opportunities for those of us not in the scientific ornithological world to learn more on our own. Publishers–don't underestimate your readers!
I am also very surprised that a book on bird communication published by Cornell University Press does not mention the Macauley Library, the world-famous archive of bird sound (and video and photo images, but mostly audio files). The foreward is written by Mike Webster, director of the Macauley Library (also a professor in Cornell's Department of Neurobiology and Behavior). It is possible that I missed this, but I don't see it in the Foreword or the index and I didn't note it as I read the book (some parts two times) and I don't have an eBook version to search. So, let me know if I made a mistake, I hope I did, because this really puzzles me.
The photographs are a major part of this book's attraction. All photographs within chapters are accompanied by a detailed caption, illustrating or adding to the scientific points in the text; others are used in full-page-plus size to introduce chapters. They are all quality photographs and many are beautiful, if you were perusing this book in a bookstore or library you might spend quite a bit of time just savoring them. I was surprised, then, to find a Picture Credits page that lumps all credits together in less than one page in tiny print, organized by source (i.e., Shutterstock, Wikipedia Commons) and within source alphabetized by first name or organization or, for Wikipedia Commons, by subject. It is very difficult to figure out who is creatively responsible for the images.
I was particularly struck by an image on page 117. It's an in-you-face photo of a Pin-tailed Whydah nestling and a Common Waxbill nestling side by side, mouths wide open showing how the parasitic Whydah has intricate gape markings that mimic the Waxbill markings. It took me quite a while to find the attribution. The photographer, Justin Schuetz, is the only photographer who receives his own separate listing so maybe I should have found it immediately, but I was too busy squinting through the Alamay and Shutterstock blocks of tiny print. Anyway, I'm happy the image is in the book, but sad that more isn't said about its background and that the photographer is also the scientist who did his dissertation research on Pin-tailed Whydah parasitism of Common Waxbills in South Africa. If the photo looks familiar to you, it's probably because it was used to illustrate a New York Times article on Pin-tailed Whydah parasitism in 2017, if you haven't seen it, click on one of the links in this paragraph.
This is a beautifully designed book. In addition to the carefully placed photographs and diagrams, I like the small arrow icons that indicate which caption goes to which photograph and the use of bold print to set off captions and section summaries. My one grip is the font, it is too small and too light. I needed to read Bird Talk under a very bright light, often with my glasses off. So, I'm not sure if this is a Donna problem or a more universal problem, but I hope the design team reconsiders what fonts they select for their next title.
And let's give credit to the design team of The Bright Press, the book packaging company that designed and produced this book: art director James Lawrence and designer Wayne Blades. The photos, while we're at it, are the work of picture researcher Alison Steven. The Bright Press is a British company. It is part of The Quarto Group, a British publishing umbrella that also includes Cool Springs Press, the U.S. company responsible for the Bird Watcher's Digest Backyard Birds series. I find it fascinating tracing the publishing roots of these titles.
The authors themselves, Barbara Ballentine and Jeremy Hyman, are professors at Western Carolina University, a state university in Cullowhee, North Carolina. Dr. Ballentine is an Associate Professor in the Department of Biology and has a long list of articles published in peer-reviewed journals and scientific conference presentations on her university web page. She writes, "Broadly, I am interested in the evolutionary mechanisms underlying phenotypic variation and population divergence in animals, primarily birds." Her photo shows a young woman in a grassy field bordered by trees, binoculars around her neck, pack on her back, smiling broadly, the kind of smile one can only have when they are invigorated by nature. Dr. Hyman is a professor and assistant department head at WCU. His web page says he "studies "personality", or individual variation in behaviors like territorial aggression…" and Google Scholar reflects an active academic career of peer-reviewed journal articles and doctoral committees. More of interest to me is his book Bird Brains: The Wild & Wacky World of Birds, a children's book illustrated by Haude Levesque about fun bird facts, including some featured in this more grown-up book. I just might review Wild & Wacky in my next children's bird book review!
Bird Talk: An Exploration of Avian Communication is a very good and surprisingly relatively inexpensive way to expand one's knowledge of birds and what we know about how they communicate by song, movement, physical appearance, and smell. It is part of a publishing trend to make scientific information easily available, effortless to read and process, primarily through the use of stunning visual material to engage our eyes and spike our interest. I'm thinking here of books like Wenfei Tong's Understanding Bird Behavior (PUP, 2020) and John Kricher's superlative Peterson Guide to Bird Behavior (HMH, 2020). These titles don't offer the personal viewpoints or rich story-based writing talents of Scott Weidensaul or Jennifer Ackerman (who has written on some of the topics covered in Bird Talk), however they cover a wide scope of facts and theory. Reading Bird Talk will help birders, naturalists, students, and those who are curious understand more fully the natural processes they witness in their backyards and beyond. I highly recommend reading it while also using a more practical guide to bird sound, like Nathan Pieplow's Peterson Field Guide to Bird Sounds of Eastern North America (HMH, 2017) or Peterson Field Guide to Bird Sounds of Western North America (HMH, 2019). The Pieplow titles will help you identify a bird sound. Bird Talk will help you understand why and how that bird is creating the sound and why and how the bird (or birds) it's directed at is receiving it. Bird communication may be more complicated than I thought 20 years ago, but it's not a total mystery. It's a joy to witness, hear, comprehend, and know.
---
*  Flight Calls of Migratory Birds by Bill Evans & Michael O'Brien, originally available in CD-ROM format in 2002, is now available free at http://oldbird.org/pubs/fcmb/start.htm
** For more on female bird song and The Galbatross Project, see https://femalebirdday.wordpress.com/
*** Riebel, Katharina , Karan J. Odom, Naomi E. Langmore and Michelle L. Hall. New insights from female bird song: towards an integrated approach to studying male and female communication roles, Biology Letters, publishe April 03, 2019, https://doi.org/10.1098/rsbl.2019.0059
---
Bird Talk: An Exploration of Avian Communication
by Barbara Ballentine and Jeremy Hyman, foreword by Mike Webster.
Comstock Publishing Associates, Cornell Univ. Press; May 2021
Hardcover, 192p., 8.5 x 0.8 x 10.2 in.; $29.95 (discounts from the usual suspects)
ISBN-10: 1501753428; ISBN-13: 978-1501753428