After leaving San Joaquin Wildlife Sanctuary behind I made my way back out to Jamboree Road and headed downhill,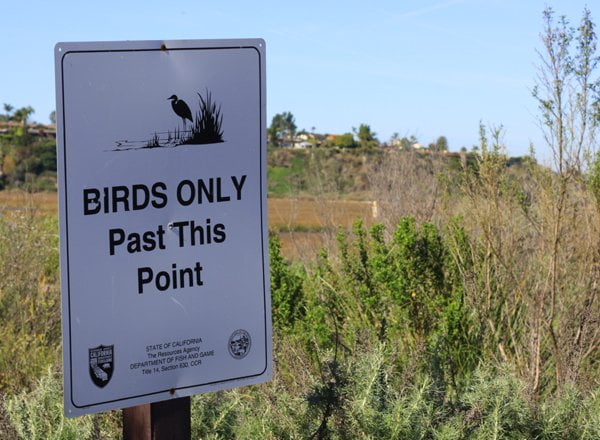 west, towards the coast.  Before actually reaching the ocean I cut right onto Back Bay Drive and started making my way along Upper Newport Bay.  The tide was just past high, the sun was shining, and the birds were out in numbers.  As I have been on every visit I was amazed by the fecundity of the bay, with life seemingly everywhere.  I wanted to focus on the Brown Pelican flying out to sea, the Green-winged Teal dabbling for food, the Song Sparrow singing from the brush, the Northern Harrier coursing over the marsh, and the Marbled Godwit probing at what little mudflat was exposed.  In other words, my eyes were going every which way and I could barely keep track of all the birds I was seeing and hearing.  Such is the lot of a birder at the Upper Newport Bay Nature Preserve and Ecological Reserve, which, despite the resources devoted to such a absurdly long proper name is somehow still not short on birds.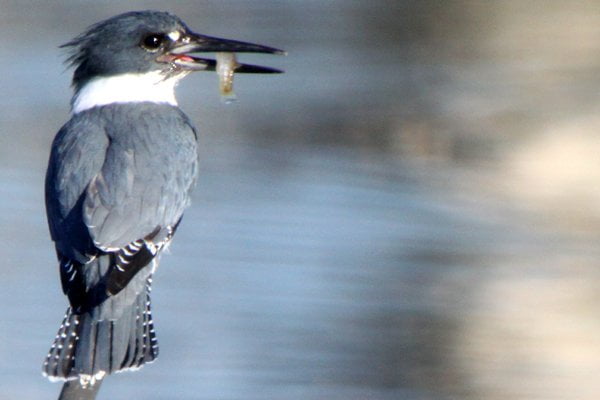 Belted Kingfisher Megaceryle alcyon
Despite wanting to focus on everything at once the main birds that I focused on were the shorebirds, which, because most of their foraging habitat was covered by the tide, were conveniently clustered in roosting spots that the waters of high tide did not reach.  Marbled Godwits, American Avocets, Short-billed Dowitchers, and Willets were around in numbers, along with a few each of Western Sandpipers and Least Sandpipers, to say nothing of a single Long-billed Curlew and several Dunlin and Black-bellied Plovers.  It was a nice bunch of shorebirds the likes of which any New York birder would drool over at any time of year, but especially in January, when the best we can hope for is a few species of beach-dwelling shorebirds.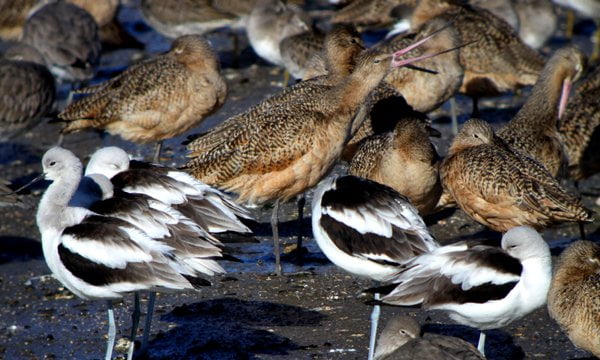 Pictures above and below are of shorebirds, including Marbled Godwits, American Avocets, Short-billed Dowitchers, and Willets.  The image below will get bigger if you click it.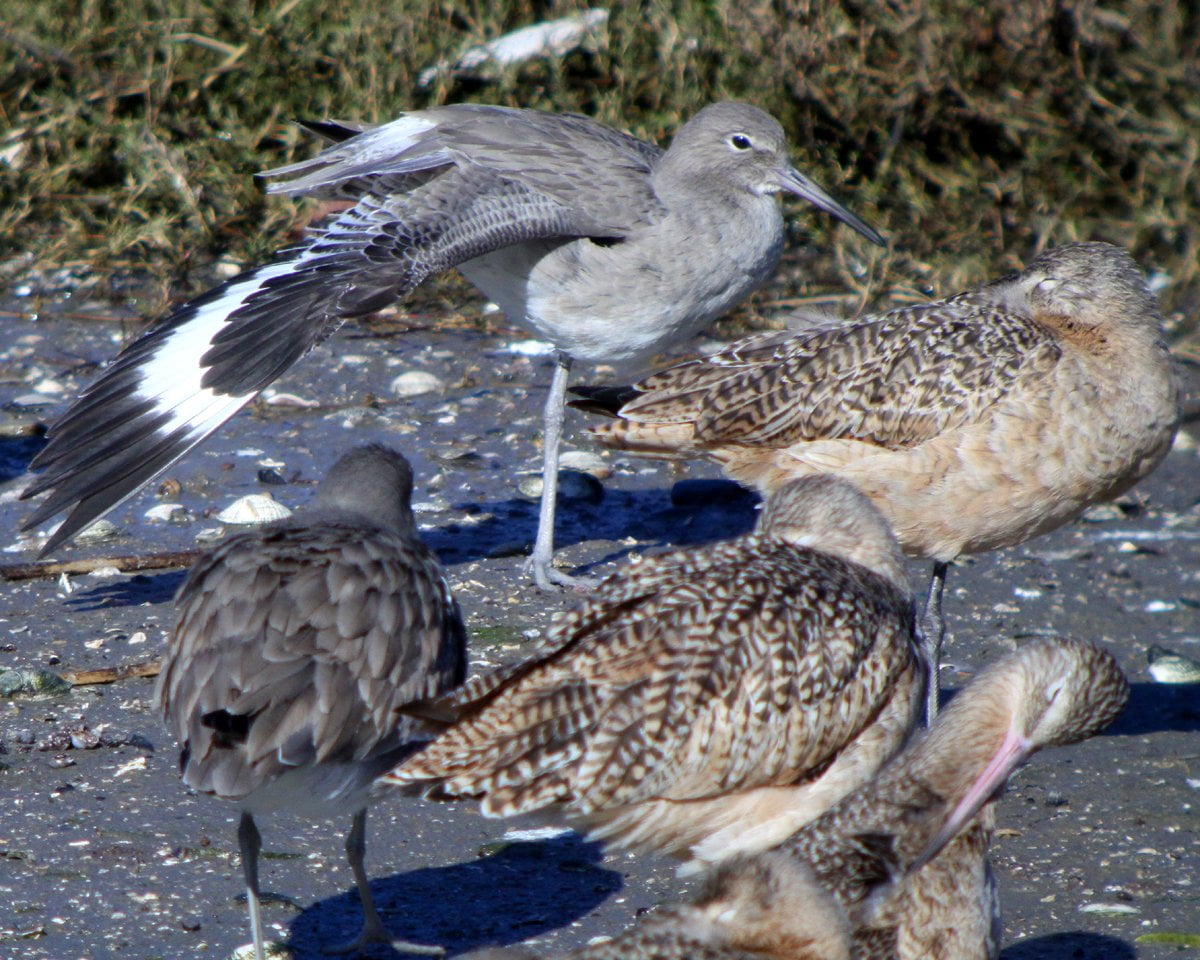 I also did some looking for land birds, though, really it was a half-hearted effort as I didn't expect to see many species that I hadn't already tracked down at San Joaquin Wildlife Sanctuary.  But I did add a couple new birds for the year with a House Wren and a surprising Marsh Wren, but the White-crowned Sparrows, as often happens in southern California in winter, stole the show (expect a whole post about them soon).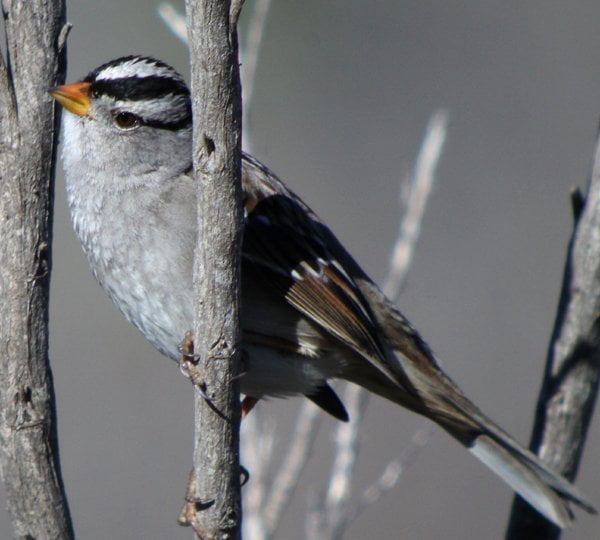 White-crowned Sparrow Zonotrichia leucophrys
Most interesting to me, however, was a flock of birds that would not count towards my year list because they are not yet countable in southern California (which seems absurd considering their numbers).  Never before had I encountered Nutmeg Mannikins, also known as Scaly-breasted Munia, Spice Finch, or, if you want to get all scientific, Lonchura punctulata but they are pretty cool little birds, despite their status as an invasive species.  I watched the flock of about twenty birds for at least a quarter-hour and enjoyed each and every minute.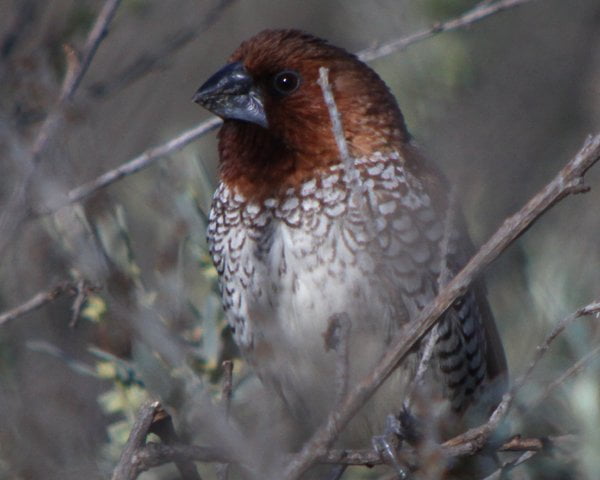 adult Nutmeg Mannikin Lonchura punctulata
Eventually it was time for me to leave Upper Newport Bay behind and make my way back to the in-laws because, you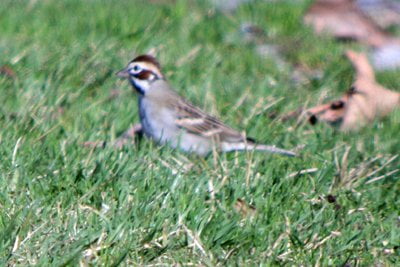 know, we family men can't spend all day birding.  But on my way back I realized that I would be passing close by El Modena Park, where I had already twice dipped on a Vermilion Flycatcher.  You can read all about my search for that bird here but there were also some other pretty darn goods at El Modena Park, including the gorgeous Lark Sparrow to the right and the Western Bluebird below.  Even little tiny mostly ignored parks in southern California hold some pretty amazing birds and the lack of snow and cold make birding them a treat.
After getting home, visiting another local park with the family, and then taking a walk in the evening I ended the day with 97 species of bird, not a bad total for a year list only one day in the making!  How did your first day of birding go?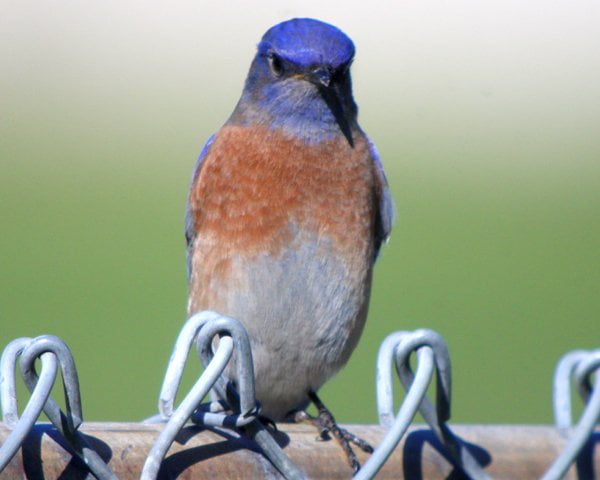 Western Bluebird Sialia mexicana
…