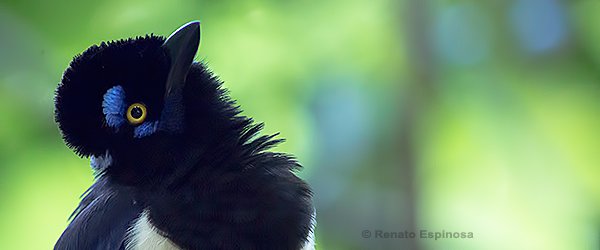 Plush-crested Jay
Birding outside my home country is expensive but the current black-market for the dollar exchange rate to the Argentinean Peso help us save money.  Also we found some cheaper flights going to Santiago de Chile and leaving from Buenos Aires so we decided to put together a birding trip to take advantage of all of these savings.
After reading many trip reports and searching the weather patterns we decided to go during the southern fall just after memorial day weekend which is a very busy time for local tourism which we wanted to avoid.  All of this coincided with the slowest tourism season for us, so leaving our lodge made it easier when we did not have any important reservations during this time.
At the early stages of our planning we were aiming to spend a few days in Santiago de Chile and then move to the North-west Argentina where we planned to spend most of our time and then to finish near Buenos Aires.  As we spend more time reading trip reports our eyes and mouth continually watered at the thought of also visiting Iguazu.  So we decided to shorten our visit to Santiago de Chile to only two days and also shorten the time we spend in the North-west so we could leave enough time to also see Iguazu!  And so we began to carefully plan a very busy schedule so we could cover all the birding hot spots that we could find.
Planning for such a whirlwind tour became a monstrous research task.  I spent a lot of time on-line searching to nail the birding hotspots and then the places to stay that would always keep us close to the birds.  I did not realize how difficult this would be until we had one month to go and very few places had confirmed availability and pricing for our stays.  To give you some idea of our crazy birding ambitions our plan was stretched to 20 days with 15 different lodging reservations, two overnight bus trips, two internal Argentina airline reservations, and three rental car reservations.
So now I am back at home and thinking that this whirlwind tour was not such a crazy idea and that we could have changed some things to make it better.  But first of all I want to tell you about two essential tools that I used which made this trip a success.
1. Garmin GPS and Garmin South American Map
I used my Garmin Etrex 20 before for recording tracks and points in Ecuador but I did not have a map loaded for Ecuador since Garmin does not have one!  Luckily Chile and Argentina are well covered in the Garmin South American Map which proved to be essential if you are driving in new places.  Although the Etrex 20 is not sold as a GPS for car use, it worked exceptionally well.  There are more advanced models but I am not sure of their benefits; more research needed for my next trip.  I am not an expert user of the Garmin system but the basic stuff that I learned was enough to help me navigate through two countries and never felt that I was lost!
Some of the basic stuff you must learn is MapSource which is the software used to add all of the waypoints and routes to the map which then can be uploaded to the Garmin GPS.  The next basic function is on the Garmin GPS which allows you to navigate from your current location to your next waypoint.  This function is call the "Where To?" which allows you to pick a point so the GPS can give you the instructions on how to get there.  It is very helpful if you also find the coordinates for the lodging places, in his manner you can travel from hotspot to hotspot and end at the next lodging place.  The maps will also have thousands of other points which you can pick such as Shopping, Food and Drinks, Fuel Services, etc
2. Ebird and Xeno-canto information and Maps.
These two places were a great source of information since I was able to actually get GPS coordinates as to where the birds can be found. Ebird has also classified some of the birding spots as Hotspots so loading those points into the map is a must.  In most cases the Ebird information was very good but I found a couple of places where the coordinates given where miles away from the actual hot spots. More on this later!
If you have not used Ebird before then this is a good place to begin to search for the birds in a specific region: http://ebird.org/ebird/GuideMe?cmd=changeLocation
Once you select the country and the region you can click on the right side for Hotspots and "Continue".  On the next screen you have a list of all the birds that have been reported at that Hotspot.  Now find a common bird for the area and click on the "Map" button which opens a map of the area where people have reported the birds.  Click on any of the Hotspots and you will get a list of all the checklists that have been reported at that hotspot.  Now click on the link labeled "Checklist" and you will get the actual checklist submitted with details.  Now click on the link labeled "Map" (top right side) and you will get a Google Map where the coordinates are shown on the http address, the map tab, and also on the Google search bar.  Now you can add that hotspot to your GPS.  Also if you use Google Maps you can save this point to your list of points.
For Xeno-Canto just go to http://www.xeno-canto.org/ and type the name of the bird that you want to search.   A list of all the recordings will come up, now find a place that you are interested which should be listed under location.   If you click on that specific location a map will come up and the coordinates of the spot where the bird was recorded is below the map on the right.   Note that some of the listed places do not have coordinates so you can't use this information.
The GPS was like having a private driver that always knew how to get there and the Ebird and Xeno-canto information was like having a private guide that could at least point me in the right direction.  This combination of GPS and Ebird mapping technology is a winner.
Continued … Birding Santiago de Chile – Trip Report