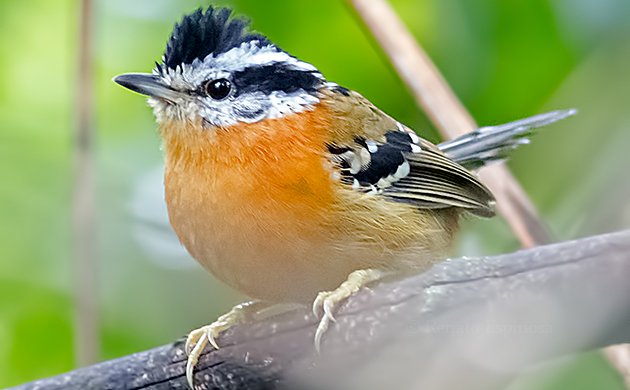 Continued from .. Birding Chaco at JV Gonzales
Our original plan was to fly from Salta to Buenos Aires and then to rent a car for 7 days birding from Buenos Aires to Iguazu Falls, and then to fly back to Buenos Aires.  This plan was scratched when we arrived at Buenos Aires and were told by the rental car company that our car reservation was cancelled since the car return trip (driven by them) was too risky!  We were going to pay and extra $800 for the rental car drop-off at Iguazu but they cancelled our reservation.
This changed our entire plan and we decided to take a night bus to Iguazu Falls and then to rent a car to bird in the surrounding areas.  We rushed to the bus station and got one immediately for a 20 hr ride to Iguazu Falls.  It was a very comfortable bus and we slept through most of the night arriving at Iguazu Falls the next day at 1 pm.  After a quick lunch we researched our rental car possibilities and by 3 pm we were driving away in a rental car towards Ibera Marshes.
That night we drove for a few hours south to just before Posadas (capital of Misiones province) and stayed in small roadside Swiss Hotel which was comfortably cheap and clean.   The next morning we drove to Posadas to load up on more pesos and then we called our destination lodge in Ibera which told us not to attempt the drive since the last few nights they had gotten massive amounts of rain and the access road we not accessible for a couple of days!   This was another blow to our plans so we started heading back north.
Our first stop was Salto Encantado which is a beautiful national park with a small waterfall. We arrived a bit late but it was ok since it had been raining the whole day and just as we arrived the rain stopped. This park facilities had been recently upgraded and they did not want us to take some of the wooden walkways since they were slippery.  No problem we said and approached the water fall to get impressive views.  Soon a large group of Great Dusky Swifts started flying in an out of the water falls attracting our attention.  To get a better view of the Swifts we had to go to the other side of the falls and to accomplish this we had to use the slippery walkways.  We went against our commitment and took the slippery path. it really was not bad so we hurried to the other side before anyone would see us. From this end of the fall we could see where swifts would rest clinging to the rock walls just behind the water fall.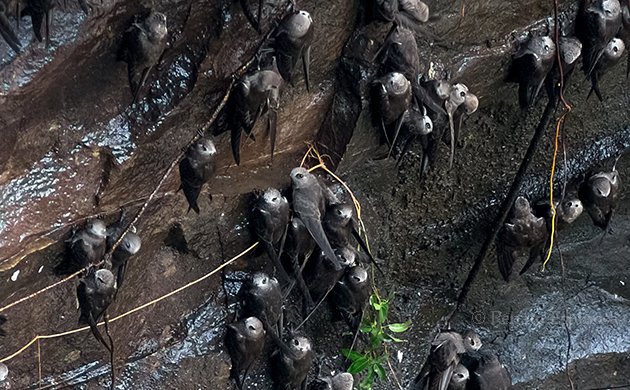 Great Dusky-Swift
That was about the extent of this visit and we did not hear or see any additional birds so we left this park and headed north to reach our next destination before dark.
We arrived at Yaguarundy Reserve in late afternoon and were greeted by Plumbeous Rail that crossed the road before reaching the station. We arrived and met with the owner who explained about this private reserve which has been constantly threaten by hunters and other people to destroy what they have been protecting since 1997. As it is all across the world, the human pressure has destroyed most of the pristine habitat in this region and this 400 hectares reserve still hold a tiny portion of the Atlantic Forest and is a good place to see some of these exotic birds and mammals.
The facilities we basic and adequate for our needs, we stayed in a cabana that had a complete kitchen, three bedrooms and bathroom.  Next day we birded for three hours on the trails and found the secretive Large-tailed Antshrike which was almost impossible to see since he only remained in the thickest areas of the brush.  This a very large Antshike that would seem very easy to see but its black color and stealth behavior makes it very challenging just to find his hiding spot. Here is my best picture: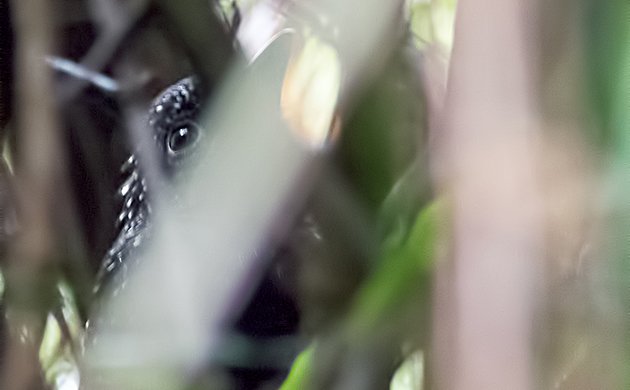 Large-tailed Antshrike
The new birds for the trip were Bertonis Atbird: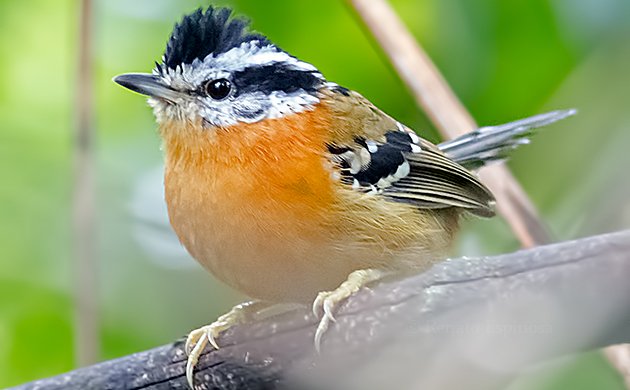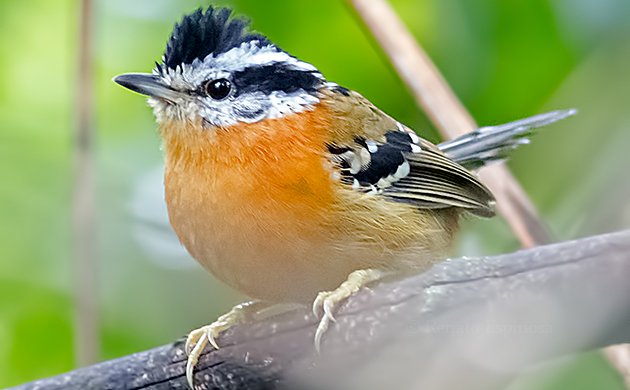 Bertonis Antbird
Rust-and-yellow Tanager:
Rust-and-yellow Tanager
Ochre-breasted Foliage-Gleaner: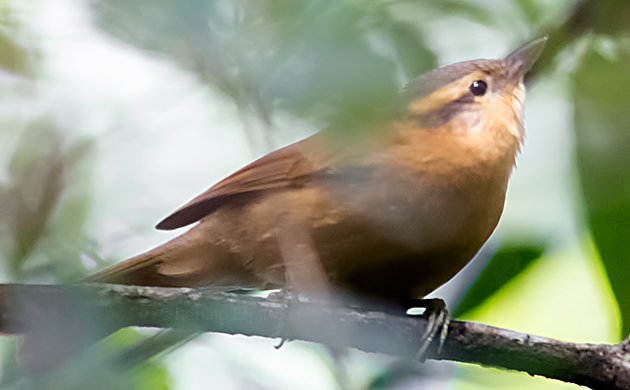 Ochre-breasted Foliage-Gleaner
White-rimmed Warbler: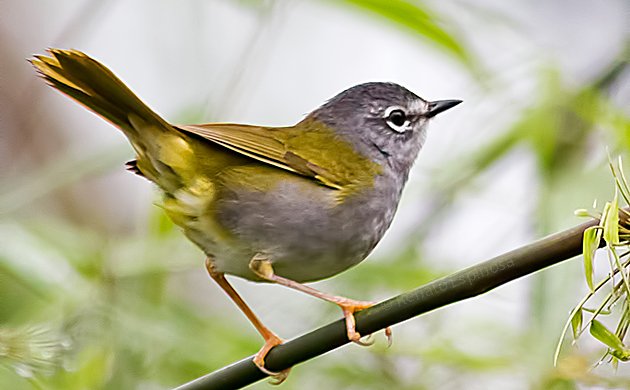 White-rimmed Warbler
Yellow Tirannulet: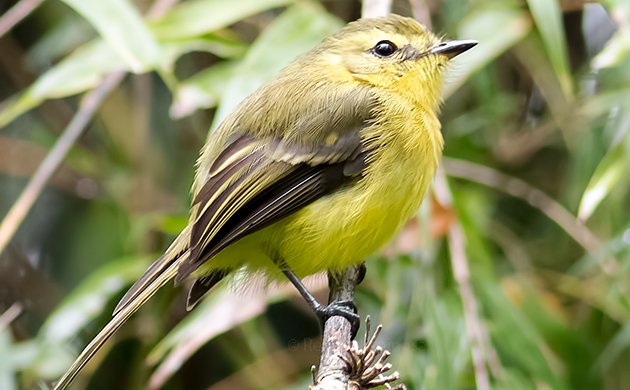 Yellow Tirannulet
Eared Pigmy Tyrant: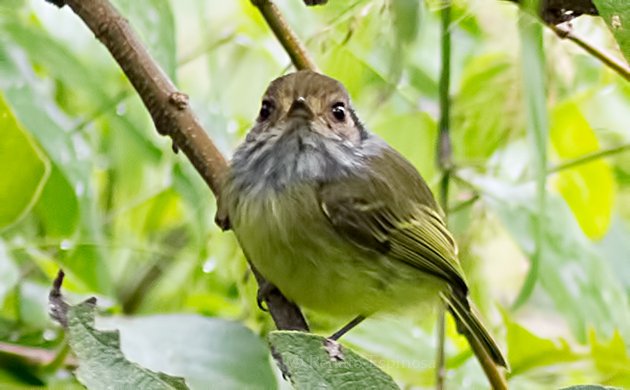 Eared Pigmy Tyrant
Sepia-capped Flycatcher: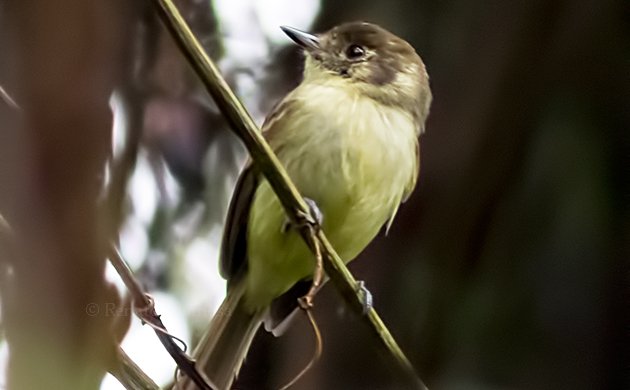 Sepia-capped Flycatcher
And finally a good photo of White-throated Woodcreeper:
White-throated Woodcreeper
This was an excellent morning and we should have stayed another day but we wanted to see more of this beautiful area so we left before lunch for our next stops at Araucaria Provintial Park and Cruce del Calballero.