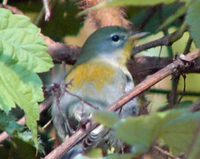 After a week of inaction, the Core Team finally made it out into the field. My dearest aunt Janet invited us to a "Birding and Breakfast" event through the beautiful orchard and gardens of Van Cortlandt Manor in Croton-on-Hudson, NY. The combination of an expert-guided bird walk and a hearty 18th century-style breakfast proved irresistible.
Our expert birder was none other than Michael Bochnik, president of the Hudson River Audubon Society. Michael is an superlative guide. He knows where all the owls hide in the Bronx, and taught us a bit about his own style of pishing, which I believe he called 'shpishing.'
The most dominant bird this morning was definitely the Blue Jay, which seems to have begun its fall migration. Mixed in with the Gray Catbird and American Robin, we saw plenty of Black-capped Chickadee and White-breasted Nuthatch. An Osprey gave us a great display. The group got vague glimpses of a Common Nighthawk and an immature Chestnut-sided Warbler, but nothing conclusive. We didn't see any life birds, but we enjoyed ourselves and had a great breakfast to boot.
Michael told us that there was a Hawk Watch going on at Lenoir Preserve in Yonkers, which happens to be Hudson River Audubon's home base. We made our leisurely way down there, stopping at the Tarrytown Farmers Market on the way. The Hawk Watch group told us with regret that the watch had been slow. We stood with them for a few minutes, but only saw a Great Black-backed Gull. That's okay, though, because the action was elsewhere.
The bird of the day, snapped by yours truly with our brand new camera, was a fetching little Northern Parula. This beauty shared a bush with a couple of cardinals. They fled, but she stayed put long enough for us to identify her as life bird #216.