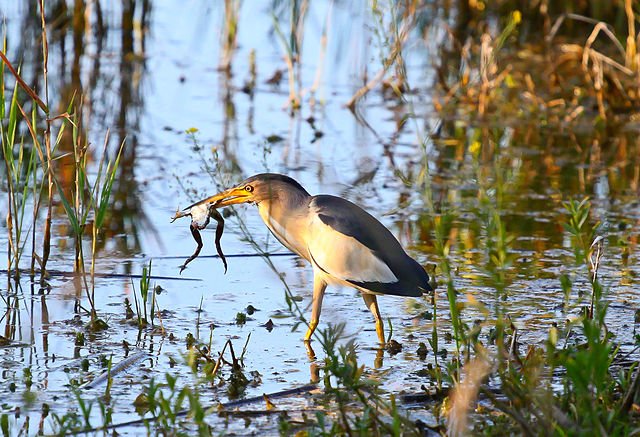 Are you stubborn enough to go out on Sunday morning even if it's raining? Some of us are. In May, morning bird lists here reach 40 to 50 and day lists reach 60+, even 70+, yet, this morning I am happy with a mere 11 species.
I was hoping for some wind, which would allow me to open the leeward window and listen to the birds singing in the reeds, or should I say singing in the rain, but the rain was falling literally vertically and, with a cup of espresso from the nearest petrol station, I was birding through water twirling its way down the glass.
There were many swallows and martins in flight above the pond, some coming a metre or two from me. Eventually, I just had to open the window to see the swallows standing on reed stems, serenaded by one Great Reed Warbler, feeling miserably wet and yet, looking so adorable: Common House Martins, a few Barn Swallows… and a few Sand Martins (a.k.a. Bank Swallows), three species side by side, waiting for the rain to stop.
Behind them were Common Pochards, a common, widespread, numerous species – yet a globally threatened one! Something seems to be wrong with their sex ratio. Now I observed one female surrounded by three males, which is likely just a part of their mating ritual but, more worryingly, winter flocks show the same pattern with males outnumbering females by two or more.
The sight of the reeds decorated with swallows was reason enough to have my coffee in the rain, but the highlight turned out to be a new bird for my year list, the Little Bittern. Many people, especially photographers, would probably choose the Squacco Heron in breeding plumage as the most handsome of local herons, but my sympathies go towards this little skulking guy which you usually see only in flight.
I was parked at the bridge crossing the Reva lake and noticed a pair of pale-brown and black wings taking flight from the nearest reeds and disappearing under the bridge – and under me – only to show up again on the other side and, after two or three metres, vanish into some reeds. Gone. Invisible again. Only the water is twirling its way down my windows.
Photo: Little Bittern by Biser Todorov / Wikimedia Commons