Saturday morning I tried to start the day off right by birding Jones Beach, the marvelous New York State park in Nassau County. Unfortunately for me, a thick fog had settled over the area and visibility was low, making birding a bit more difficult than usual. And it was a weird fog too; sometimes it was so thick I couldn't see more than fifteen yards and sometimes it lifted enough to allow me to spot birds high in flight.
Either way though, there wasn't much around at Jones Beach. The constant south winds that have kept temperatures unseasonably warm (in the 80's) around the region have also kept the birds from migrating much. Sure, Yellow-rumped Warblers were plentiful but one can only look at the butterbutts so much before getting frustrated by the lack of warbler diversity.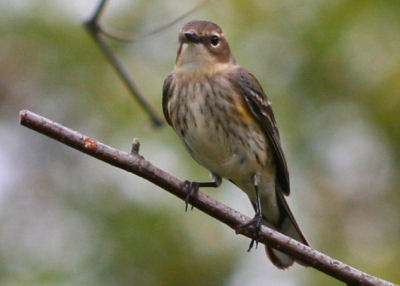 Yellow-rumped Warbler
Red-breasted Nuthatches, which have moved south earlier and in bigger numbers than usual, sounded off on their tin-horns while foraging in the pine trees in the median and occasional Palm Warblers relieved the monotony of Yellow-rumps. I actually missed a great shot of two Palm Warblers, one a yellow "eastern" and the other a white "western," side-by-side on a branch. It would have been a perfect picture if I was a second faster. Instead, here is a look at one of the many Eastern Towhees that call from cover in the thick brush at Jones Beach, rarely showing themselves for the nature paparazzi.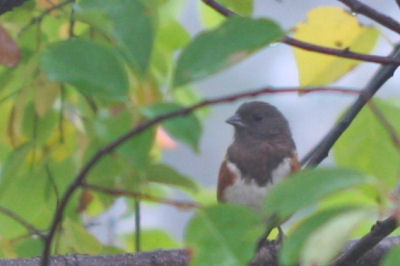 After about an hour of frustrating birding I came across a band of four other frustrated birders and joined forces with them, taking advantage of their expertise by looking at the third warbler species of the day for me, an amazingly dull Pine Warbler. It was so dull that I almost fell asleep looking at it.
I also pestered the local birders for information about if and where I might find a Whimbrel, a bird still missing from my New York State Big Year list, and the best location for now-migrating Nelson's Sharp-tailed Sparrow. Then, while we were discussing pelagics, missed birds, and sundry other topics that arise when members of the field-glass fraternity congregate, a flock of House Sparrows flew by to great excitement from us after one birder shouted something about one of them. We spent the next twenty or so minutes looking at the flock.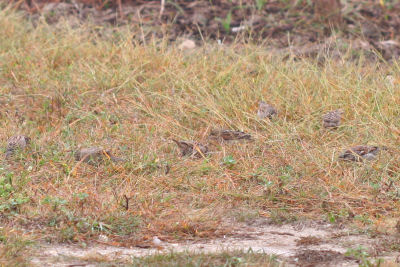 Which one of these is not like the others?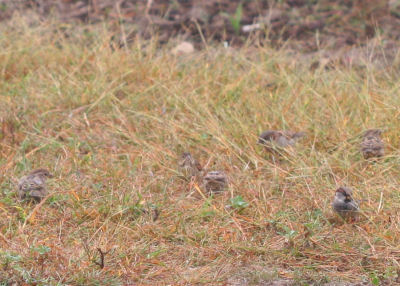 Which one of these just doesn't belong?
Why would what was at this point six birders spend so much time on such common birds? Well, one of them wasn't common at all. In fact, for New York, it was decidedly uncommon, even rare. My second Dickcissel ever!
But it wasn't even a year bird, because, after all, I'm on a big year and saw one a couple of weeks ago. And, to make matters worse, its plumage was even more dull than that of the aforementioned Pine Warbler. I don't know if the fog had robbed everything of color or what but it was definitely a day for dull birds.
If you had a hard time finding the Dickcissel above I've made it easier in the picture below.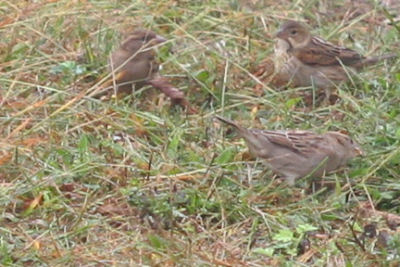 The dullest Dickcissel ever is on the top right.
After Jones Beach I was off in search of a Whimbrel, led by Sam, a local birder who I've birded with before, who was kind enough to show me the way to Cow Meadow Park and Preserve, the best location for Whimbrel in the area if they hadn't all absconded to warmer climes…but you'll have to wait until tomorrow to find out if I was successful or not!