For our second day in Ecuador we had plans for the entire group of Queens birders to take the hour-and-a-half long drive from Pululahua Hostal to Maquipucuna Reserve, a 6,000-hectare, privately owned forest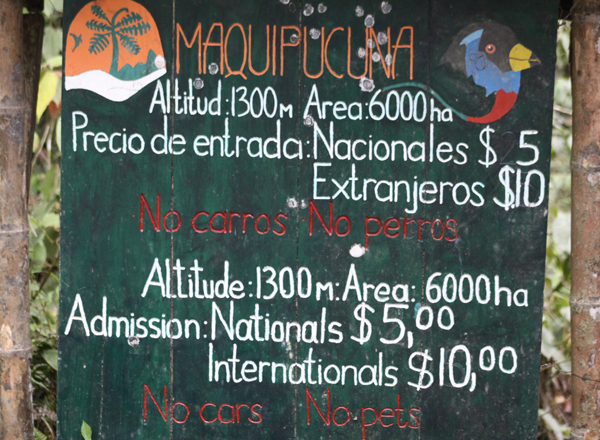 reserve, most of which is cloud forest.  Though it is only fifty miles from Quito it felt like we were a world away from the sprawling metropolis as the four of us drove up the dirt road to our first stop, the Maquipucuna Lodge.  Wait, did I just say we were only four?  Yes, sadly, one of our group was being hospitalized for a combination of bronchitis and altitude sickness, another accompanied him to make sure he survived, a third member of our group had a fever and generally felt lousy and a fourth person had still not recovered from our absurd airline odyssey and had elected to sleep in and have a lazy day to get fully recovered.  So it was only Karlo, Danny, Renato and me in the van to Maquipucuna Reserve.  Our group may have been small but we were ready for anything Ecuador could throw at us. No matter what happened we were ready to see some birds!
And see birds we did!  En route we got Smooth-billed Ani, a lifer for me, as well as American Kestrel, White-tipped Dove, and Glossy-Black Thrush, the last another lifer.  Once we arrived we took a few minutes to put on the rubber boots provided by Renato, meant as protection not from water and mud but from chiggers and ticks.  In our goofy apparel we got out of the car and spotted Crimson-rumped Toucanets making their way through the vegetation and I spotted a White-capped Dipper in the rushing river as we walked over the wooden bridge to the lodge.  Though the hummingbird feeders were tempting we knew that the hummingbirds would be there all day long so we tore ourselves away and made our way to a trail where the bird-life seemed active.  And active it was!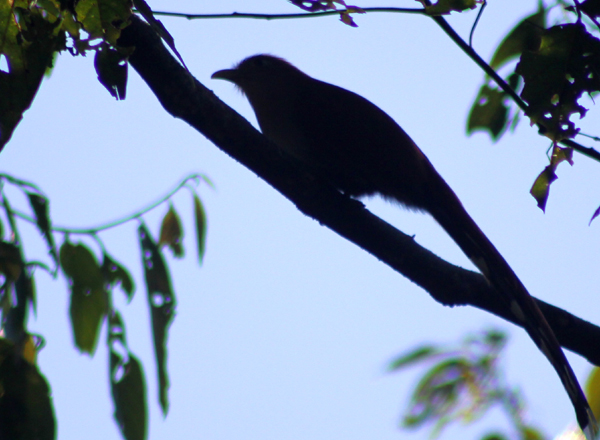 Squirrel Cuckoo Piaya cayana
Familiar species like Blackburnian Warblers battled for our attention with unfamiliar birds like Golden-crowned Flycatcher.  A pair of Red-headed Barbets were easily the highlight early, but were matched later with sightings of Rufous Motmot and Immaculate Antbird.  And whenever birds weren't around the butterflies more than filled the void.  It was a seriously sunny day which slowed down the bird activity but made for marvelous sightings of mariposas.  Illness and fatigue might not have stopped us from watching birds but butterflies sure managed it (and, don't worry, there will be a full post on the butterflies of Maquipucuna as soon as I get them identified, that is, if I can).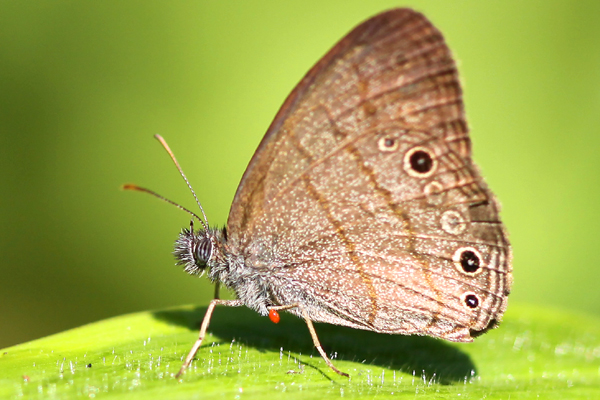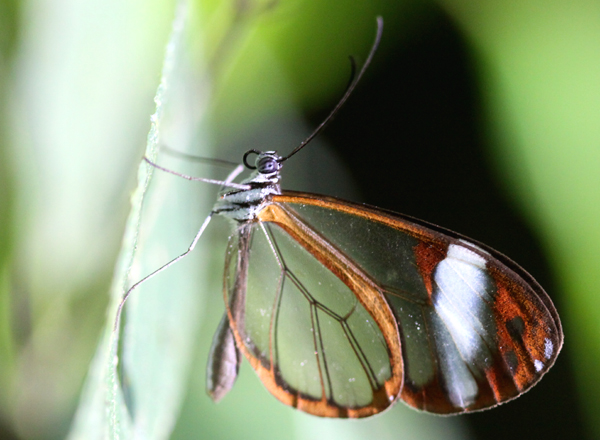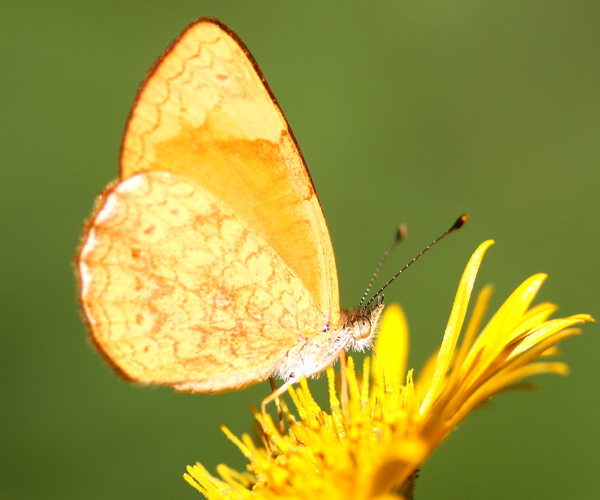 After our long morning's walk we arrived back at the lodge and rewarded ourselves with tasty beverages.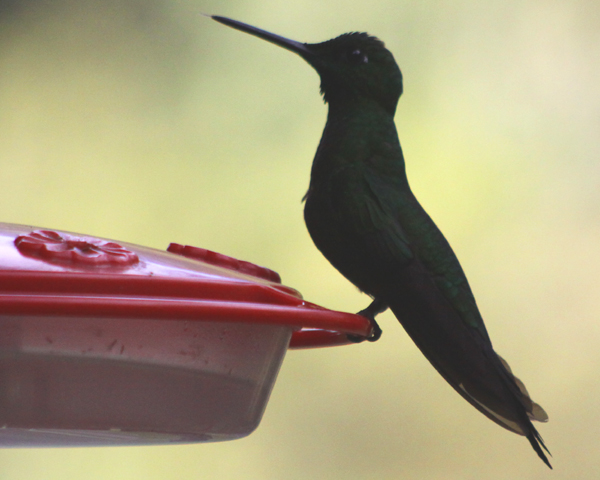 There is nothing quite like a nice long morning's birding followed by a giant, cold, pilsner.  Well, unless you add the fact that while we enjoyed our beverages we were watching some active hummingbird feeders.  Unfortunately and inexplicably, the feeders at Maquipucuna Lodge are rather poorly placed in relation to the sun so one ends up with way too many views of hummingbirds like the Green-crowned Brilliant Heliodoxa jaculaat at left and far too few like the one of the Green-crowned Woodnymph Thalurania fannyi below.  But, to be honest, I was happy to be holding a cold beer, sitting in the shade, and seeing great birds so I didn't care too much about the light conditions.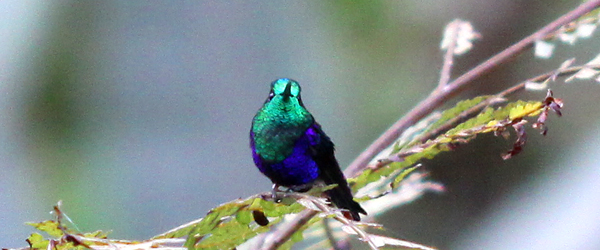 After our break we were hardly done for the day and we reconvened at the van with plans to drive up the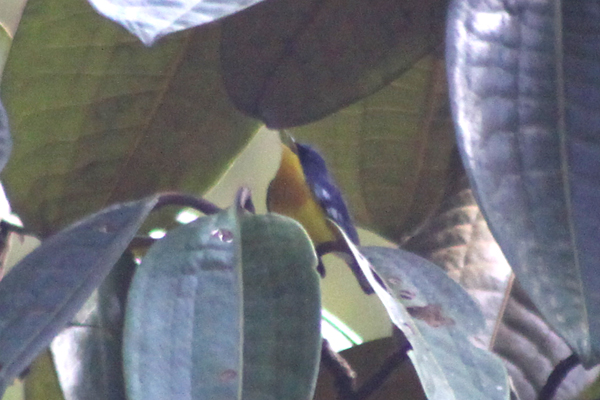 road, find a nice spot, and sit and eat our lunch.  This easy task would have been accomplished quickly but a flat tire slowed us down and when Renato refused our offers of aid Danny, Karlo, and I looked at some more butterflies.  Eventually, the flat was fixed and we did some more birding along the road, adding birds like Tropical Parula (that's my actual life bird on the right), Yellow-bellied Seedeater, Red-faced Spinetail, and Smoke-colored Pewee.  All of those, and other birds as well, were lifers for me.
One more quick visit to the hummingbird feeders added nothing to my day list but another bottle of beer.  That was alright though, because by the time we returned to Pululahua, which, considering that we managed to get the van stuck in a stream and had to get all macho and stuff to lift/push it out and we also had to get a tire repaired, didn't happen until pretty late, I had added 38 lifers for the day.  Not bad, not bad at all!  And the day was made even better when, upon our return, we were reunited with our long-lost luggage!  With my tripod back my digiscoping was about to get going again and with fresh clothing I could be sure that the birds weren't being chased off by my stench.  Well, at least not any more than usual…
…