When Daisy asked me if it was alright for her to pass my email on to a law school classmate so the classmate could pass my email on to a birder she had met through a friend, well, I was hesitant, because who knows what kind of person this was, but, in the end, I agreed.  It took less then four hours of emailing back and forth between Adam Welz, the aforementioned friend of a friend of a friend, and I to decide we would meet up in Prospect Park this past Saturday.  And Adam even mentioned he had emailed with Charlie a couple of times so I emailed Charlie to make sure I wasn't meeting up with some kind of psycho.  Charlie let me know that so far as Charlie knew Adam was not a raving lunatic so at 7:15 Saturday morning I was at the southwest corner of Prospect Park awaiting Adam.
Adam has a pretty cool blog loaded with great images and you should take a moment or two to check it out, especially his shots of Malachite Kingfishers which are nothing short of marvelous.  Wait, Malachite Kingfishers?  Did I forget to mention that Adam is South African?  Well he is, and despite the fact that he is not a native North American he still managed to embarrass me a couple of times when I miscalled fast-moving, fall-plumaged warblers.  Also along for the morning's birding was Francois Portmann, a freelance photographer from Switzerland, who has a website chock full of disgustingly good images.  I especially like some of his Red-tailed Hawk shots, like this one.  So, seriously, take a minute or two to click through to both of their sites and look at some wonderful images (10,000 Birds will still be here when you get back!).
Good, you've come back!  Now that we have our morning's cast of characters set I think it's high time I started blogging about the birds we found…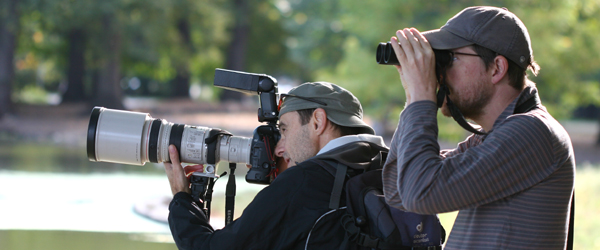 At first, our morning's birding in the chilly air was rather slow going, despite the horde of Northern Flickers and a single Sharp-shinned Hawk going overhead.  Eventually we managed to track down an Ovenbird and a Brown Thrasher but we were getting kind of frustrated with the lack of a migrant wood-warbler wave.  Then Adam had the ingenious idea of checking along the south shore of Prospect Park's lake and then we started getting into wood-warblers!  The vast majority were of just two species: Yellow-rumped Warbler, which were nice to see in numbers after a summer without them, and Blackpoll Warblers.  These two species of wood-warbler are essentially the last two species to come through in numbers and signify the beginning of the end of wood-warbler migration.  But we enjoyed them anyway, and also the Magnolia Warblers, Northern Waterthrush, Black-and-white Warblers, American Redstarts and several other species of wood-warbler!  The lake itself was looking pretty nice too.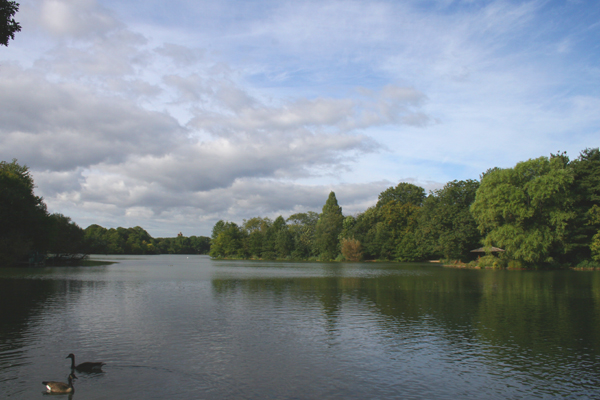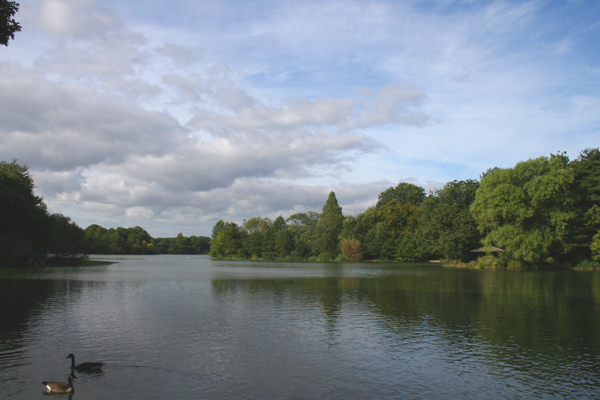 Throughout the morning we added species in drips and drabs but never had a horde of warblers like we did along the south shore of the lake.  It was, however, great to be out birding with two nice guys I had never met before who have an international perspective and with whom it was easy to get along.  And, I have to admit, I loved the fact that because I hardly ever bird Brooklyn I was racking up new birds for Kings County at an alarming rate!  Though we found no real rarities we did get very nice looks at lots of birds, and ended our morning's birding well north of sixty species.
So if a friend of a friend offers to set you up to go birding with a friend of a friend, well, take them up on it!  Sure, they might turn out to be an axe-murderer but the odds of that are extremely low, and I think axe-murderers are usually looking to kill popular high school students, at least, that is what I remember from horror movies.  So maybe only adult birders should meet up with friends of friends of friends to go birding?  Whatever the odds of being killed by an axe-murderer are I think that I am starting to make no sense at all now so I will mercifully end this blog post with a flicker before one of you wonderful 10,000 Birds readers decides to come take a whack at me with an axe.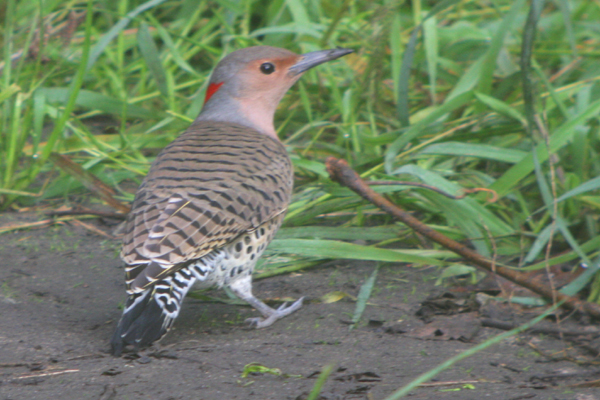 Birding is great!