Gonna take a sentimental journey
Gonna set my heart at ease …
Gotta take that sentimental journey
Sentimental journey home
Sentimental Journey – Ella Fitzgerald (1947)
Being Belgrade born and bred, I was a Yugoslavian and after the war, I felt the urge to visit my childhood homeland, to revisit those places I climbed, sailed or caved in my youth, in those formative years when I couldn't even imagine the possibility that my country may cease to exist. One caving friend from a Small Town, Croatia, later told me that it was coming, that it was visible on the horizon, but I lived in a cosmopolitan Belgrade. Deafened by the best rock Yugoslavia ever produced and blinded by the freedoms we enjoyed – paradoxically, without democracy, I couldn't see it.
Having said that, my sentimental journey started without a plan, more by accident, on an AGM of BirdLife Slovenia in Ljubljana in 2005. Possibly for the first time since 1980s, birders from the whole of former Yugoslavia sat together at the same table. I remember the look on the face of the RSPB representative at the meeting, seeing us all like that. He couldn't understand. Neither can I.
The series of birding workshops and meetings continued across the map, through Ulcinj, Montenegro, then Samobor, Croatia and Stip (described here), North Macedonia, leading to Brussels, the unofficial capital of EU. One evening in Brussels, we realized that people from all countries that came out of former Yugoslavia were around the same table once again – all countries but Kosovo. Overhearing that, the waiter came and introduced himself "I am from Kosovo".
Right: Water Pipits landing on my car and sliding down the windscreen
Yet, Bosnia and Herzegovina was the very heartland of former Yugoslavia, with Sarajevo in its geographical centre. And in the middle of a heatwave of the 2012 summer, I was heading to Sarajevo and Jahorina Mountain, a major venue of the 1984 Winter Olympics. While heading to the Croatian sea coast I did pass through the city's railway station a few times in the 1980s, the last time I spent some time in Sarajevo when I was still a kid.
The road was new, the only sign of the recent times were bullet holes in a few abandoned houses, but that was a rare sight. No other scars were visible.
Around mid-day, I was walking along the Bascarsija, "the heart of old Sarajevo with pedestrians padding pale stone alleys and squares between … coppersmith alleys, grand Ottoman mosques, caravanserai-restaurants and lots of inviting little cafes and chevapi serveries" (Lonely Planet). The scorching sun was right above my head. Yet, due to stronger Islamic influences after the war, alcohol is rarely served – even the local Sarajevsko brew was hard to find. And the day was tropical.
Invited by the welcoming shade of an old plane tree, I sat in a corner café, enjoying the sound of water trickling down the small fountain and attracting House Sparrows and Feral Pigeons to come and drink, while waiting for a friend to join me. No, no, they do not serve beer.
My friend is an ornithologist at the National Museum, Bosnia's biggest and best-endowed museum of ancient and, especially, natural history. Although he goes to work every day, he hasn't received a single paycheck for a year already, and the museum was planned to be closed (and was closed for a while; by now it is reopened) because of the lack of a museum budget line in the dysfunctional state's budget.
From there, we continued to have lunch (chevapi, grilled skinless sausages – a Balkan version of kebab, in kajmak, a type of clotted cream, all together served inside a somun, a round and soft flatbread) at the Vrelo Bosne Park. It is an extensive park shaded by large trees along the meanders of the Bosna River, by its moss-covered limestone cliff-mouth source. And to my surprise, finally yes, this restaurant does serve the Sarajevsko Beer, as cold as the Bosna River itself. In the crystal-clear water, there was a White-throated Dipper, joined by an early Willow Warbler, and a local Short-toed Treecreeper and an Eurasian Nuthatch.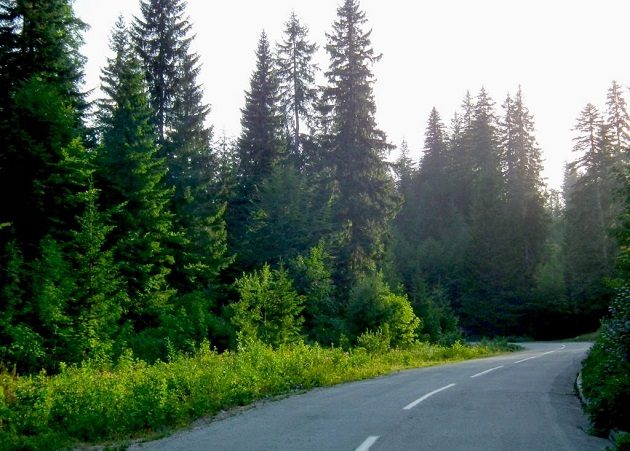 I followed the old road over the Trebevic Mountain
Later, I followed the old road over the Trebevic Mountain (the last time I was here, I was picking wild-growing hazelnuts with my late uncle) towards Jahorina where, among firs and spruces forests I found Coal Tits mixed with Common Chaffinches, Willow Tits and a Goldcrest or two. There were also solitary European Crested Tit, Eurasian Treecreeper and the Red Crossbill, awaiting me in the same habitat.
Before heading higher, above the tree-line, I asked our landlord if there were any minefields to be aware of. He said yes, there are, but way far, on the other side entirely. Encouraged, I follow the dirt track up. The forest edge will add Black Redstarts, European Robins, Eurasian Blackcaps and Tree Pipits, all of them towered by flocks of Common House Martins chasing insects.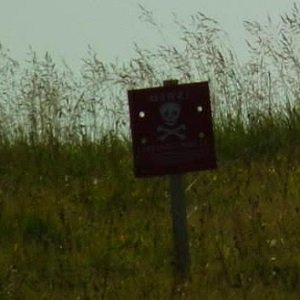 The open, higher grounds are inhabited by numerous Water Pipits (some landing on my car and sliding down the windscreen), Whinchats, Common Linnets (cover photo), Red-backed Shrikes, Northern Wheatears, Common Kestrels and… those strange red squares at the next ridge.
I study one of them through binoculars… it is far, but that drawing could depict a skull and crossbones? But it is far, let's go a bit further… The next one is much closer, close enough not only to spot the skull, but also to read "MINES" above it. End of the road for me, I turn my car back.
Yet by some of those signs, cars were parked, their owners walking and picking blueberries, for sale at the green market. One local birder offered to show me a Western Capercaillie, which would be a lifer for me, but I had to decline the offer: the site was within a minefield. Bosnian birders often bitterly joke that the only truly protected reserves in the country are minefields. A few days after my trip, a news item in the local media attracted my attention: near Sarajevo, a father and a son got killed while cutting firewood in a minefield.
I was born a Yugoslavian, but that tribe is lost like the ten tribes. Hence, I had to adopt a new one. And I become a Birder.