.
"Poo Ponds" are normal here, but what happens everywhere else? Do you all help out the birds when you go to the toilet?
Clare M,
in a recent mail to all the beat writers
Yes, it is true. This, above, and of course Clare M's fine original post about her poo ponds (not her private ones, the ones of Broome in Australia) are the reason we are talking poop this week. Honour to whom honour is due. So, what happens at my patch? Do Germans help the birds when they go to the toilet?
The short answer is "No, they don't".
The long answer – and that's what you are here for, right? – is "No, they don't, but…"
So let's take a closer look at the "butt" "but":
This post will take you on the great German Poo Trail, and as everywhere else, the good birding starts here: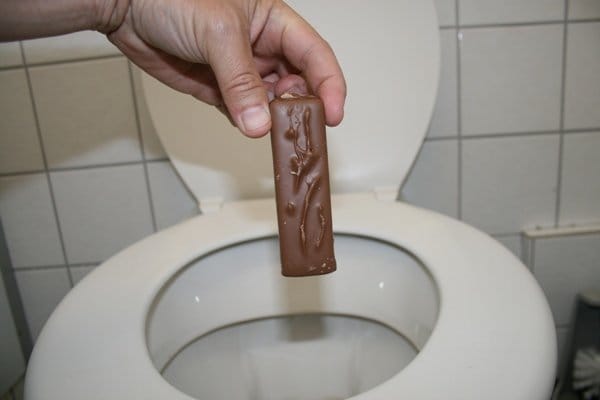 Okay, someone in Germany accidentally drops a chocolate bar or something comparable into their toilet – kerplunk – and down it goes. Where are the birds? Nowhere to be seen, that's where. The view from the toilet onto the world is usually decidedly unbirdy, and this is also the case for German toilets and their surrounding "restrooms". But there are exceptions. A locally famous one, if you are birding in Germany's North-East, is the outhouse of the bird ringing / banding station on a small island called the Greifswalder Oie (page sadly only in German, but it has some pictures of the place). I have sadly never been there, neither the island, nor it's outhouse, but was told that one of the banders/ringers a long, long time ago attached a sheet of paper to the wall and started a list. Subsequent visits by the birder and those who came after him have added species after species to the list, and the sheet is now considered part of Germany's cultural heritage as far as I am concerned. I have no idea how many species were recorded until now, but as the island attracts huge amounts of migrants with regular Asian vagrants, that list is probably better than most hinterlander birders' capability to dream of good birds.
Let us return to our chocolate bar.
After being dropped, it is surrounded by darkness and something we'll graciously call "water" as it dashes through pipes and tubes and follows the draw of gravity until it reaches the German underground sewage system.
Where are the birds? Well, you see, that's the problem. I've never been to the underground sewage canals and tunnels, and I doubt many birders in Germany have. For all I know, there could be a tropical rain forest hiding in there. I doubt it, though, and have a feeling that this place, too – just like the restroom it all started in – just doesn't offer good birds and birding.
Finally our chocolate bar sees light at the end of the tunnel, is sucked in by a pump and lands here: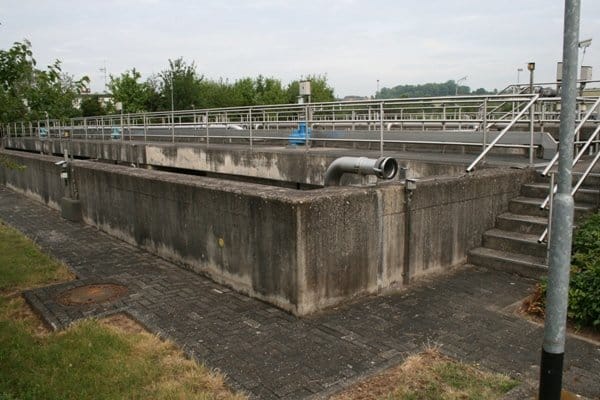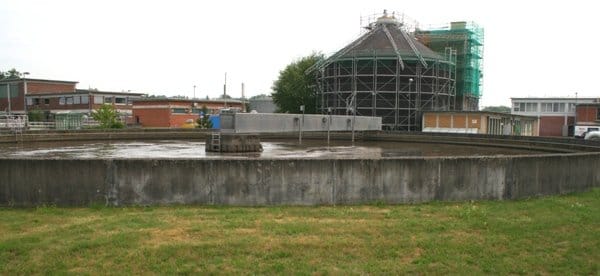 The End of the chocolate bar, a typical German sewage treatment plant. Again, a very unbirdy place unless you really need to see a White Wagtail and Black-headed Gulls. That's all there is to it, and this is the end of the short answer: No they don't.
Now, the "but":
It wasn't always like this in Germany. In the good old times of Old, each and every larger settlement in Germany had its own "poo ponds" as the Ozzies say. I don't think that poo ponds are a legal way of treating sewage anymore as I am not aware of a single active one in Germany. However, the "poo ponds" used to be really good for birds in Germany as well, and some have been preserved and are fed with fresh water for reasons of nature conservation, to maintain their functionality for the birds.
These ponds aren't called "poo ponds" in Germany. We call them Klärteiche = "clearing ponds", and a cascade of clearing ponds will form so-called Rieselfelder = "trickle fields". Now, I am quite sure the terms Rieselfelder and Klärteiche used to describe two different modes of cleaning sewage water, possibly comparable to ponds and sod farms that look like golf courses, but today they are freely exchangeable and birders will use whatever comes to their mind.
Where I live now, in the south-west of Germany in the Rhine valley, former poo ponds are a very rare landscape feature. This place is very crowded and the soil is fertile. There is one exception though, and this exception is actually one of Germany's most famous birding spots:
The sugar ponds of Waghäusel.
Sugar ponds? Yes, these ponds were once used not to treat sewage water but the waste waters of a nearby sugar refinery.
This is what the place looks like today: very large ponds surrounded by a huge mass of reeds and lines of willows. Lovely. And full of birds, too.
The place even allows birders to find something that's more rare and exciting than a vagrant: birding infrastructure! Who knew?! Two of the ponds regularly dry out partially during migration periods (I guess that's no coincidence, just smart management) and are basically the only place in all of Baden-Württemberg to see shorebirds/waders. While the latter part is sad, the fact that I live nearby makes it all good.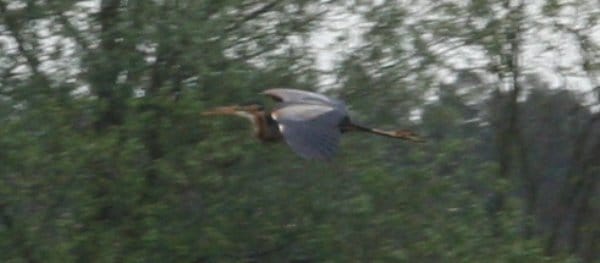 Waghäusel is most faaaaamous for its breeding Purple Herons. Roughly ten pairs of this predominantly Mediterranean species are breeding here, and it is basically the only place in Germany where they are. A few scattered pairs may breed more or less regularly at other places, but Waghäusel really is the place to go for the Purple Dudes in Germany. Sadly, that crappy flight shot is all I've managed, yet.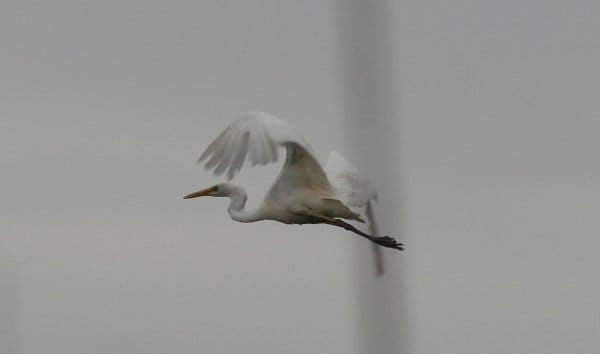 Great White Egrets have become common at Waghäusel, too. While they were still rare vagrants to Germany in the early 1990s, they can now be seen year-round in good numbers, and Waghäusel is the most reliable place for them in Baden-Württemberg. It certainly is only a matter of time until they start breeding here.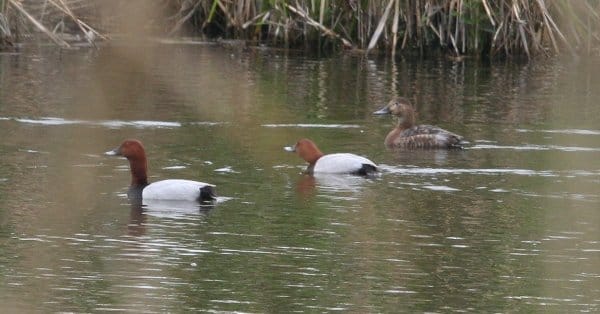 Of course ponds aren't only about herons and egrets, they are about sexy redheads, too. In this case, we are looking at a few Pochards.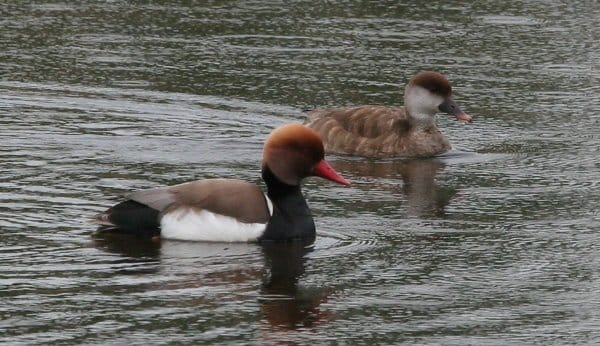 Another speciality of Waghäusel – or rather the south of Germany as they occur commonly around Lake Constance as well, are Red-crested Pochards. Many European birders would kill for such a sight at their local patch! Or flush chocolate bars down their toilet to lure them in.
And then there are the shorebirds and the vagrants, often in personal union. This stunning White-tailed Lapwing is currently residing in the North of Germany which is remarkable as it should really be in Iraq right now. I confess to having cheated as this particular bird is not roosting at a poo pond but along a muddy river bank, but it's the only cool shorebird picture I have at the moment, far too special not to squeeze into a post for the blog, and usually such birds turn up at poo ponds and nowhere else. Get on with it!
That's what happens at my patch – along the Great German Poo Trail.
________________________________________________________________________________________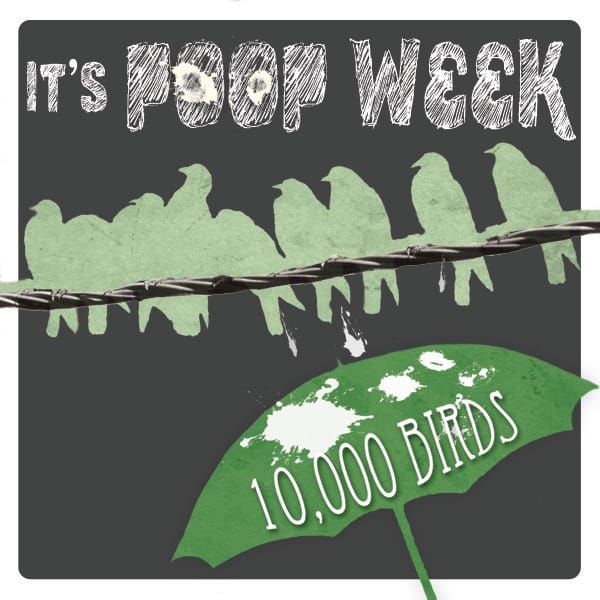 Poop Week is a week of themed posts on 10,000 Birds that cover the intersection of poop and birding, a fertile precinct if there ever was one.  Rather than just discuss the horror of a pigeon dropping droppings on someone's head we decided to really get down the nitty-gritty details of poop, to the point where it is squishing up between our toes.  Not only is Poop Week a fascinating way to spend seven days in June it is also a serious attempt to elevate the level of discourse in the bird blogosphere, which, as we all have no choice but to admit, is far too low.  Enjoy, and make sure to wipe up afterwards, would you?
________________________________________________________________________________________