One of my all-time favorite bands is Men at Work and I couldn't get the song "Down Under" out of my head the entire time that we were in Australia filming for our 3-part series in March of this year. Birding "Down Under" was everything I hoped it would be – exotic, dramatic, diverse and laid-back all at the same time. A lot of people seem to go to Queensland when visiting Australia for birds. And while Queensland is a top-notch birding destination, there are countless other places in Australia that offer great birding. One of these regions is undoubtably the Red Centre of Northern Territory. I would include the Red Centre on any trip to the country, simply because of its high diversity of reptiles, unique mammals, its phenomenal Outback birding and the wonders of stunning natural attractions like Uluru (Ayer's Rock) and Kata tjuta.
Some of the best birding locations in the Red Centre are the "gaps". These gaps are caused by tectonic shifts in the mountain ranges and, even at the driest of times, these gaps have a high water-table, enabling trees and vegetation to grow and thereby attracting good numbers of birds. There are several of these gaps really close to Alice Springs and not only are they great for viewing birds, but they're also good for mammals, especially Dingos and the endearing Black-footed Rock-Wallabies.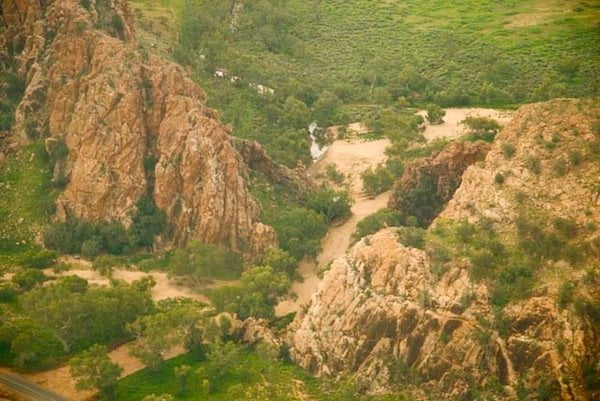 One of the gaps from the air, close to Alice Springs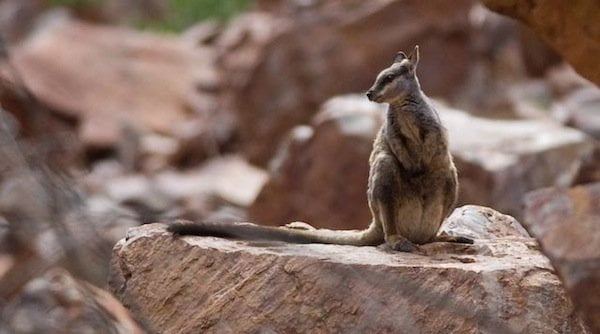 A Black-footed Rock-Wallaby
There is something else that is especially appealing about the Red Centre…the people. Or lack of people. The people you do come across are hospitable and very friendly. But pretty much the only human settlements are clustered along the Stuart Highway which runs from Darwin all the way south to Adelaide. With only 230,000 people in an area two and a half times the size of Texas, this means that you're unlikely to see anyone else in the outback, literally. This is pretty cool unless you are stuck with someone borderline. And so I found myself at an Outback reptile centre with Aderman, my cameraman. Problem with Aderman (amongst a laundry list of problems) is that he's always trying to get me to do weird stuff for the camera. And so I love this sequence of the two of us getting up close to a Spencer's Goanna…at Aderman's suggestion. The lizard was pretty chilled for a while until it lunged at Aderman. There's nothing better than seeing a 7ft, 300 lb man running in hysterical fear from a lizard with a blue tongue…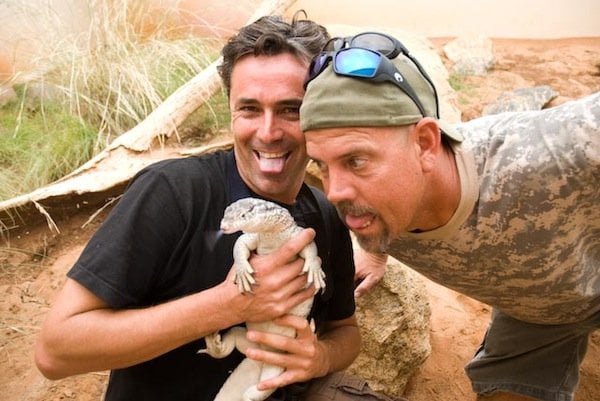 Up close and personal with a Spencer's Goanna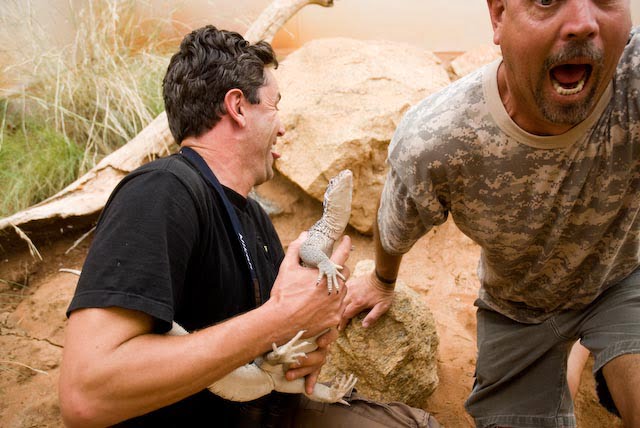 Run Baby Run
There are reptiles galore to go with the wonderful birding and its not unusual to find Frilled Lizards, Bearded Dragons and Thorny Devils whilst birding in the Northern Territory. In fact, there are more reptile species in this part of the world than in any other place on earth!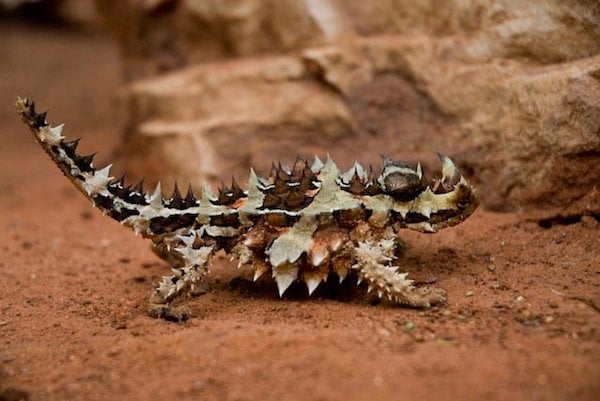 Thorny Devil
Our travel companion on this trip was Nikon birding rep, Mike Freiberg. For some reason I kept singing the following line from the famous Men at Work song. "Buying bread from a man in Brussels. He was six-foot four and full of muscles. I said do you speak-a-my language. He just smiled and gave me a Vegemite sandwich."
When we were down in the Red Centre, there had been unseasonably heavy rains and the area was temporarily transformed into the "Green Centre". There were grasshoppers everywhere and the birds weren't the only ones taking advantage of this bounty. Aderman is petrified of lizards and snakes but yet he will not hesitate to satisfy his hunger by feasting on live animals. Go figure…
Yikes! I nearly forgot about the birds! The birds in the Red Centre were nothing short of spectacular. The recent rains had boosted the normal numbers of dry country birds and there was evidence of irruptions of various species. Words cannot really describe the colors. Green Budgerigars, red Crimson Chats, Blue Fairy Wrens. It really felt like birding in a sweet factory.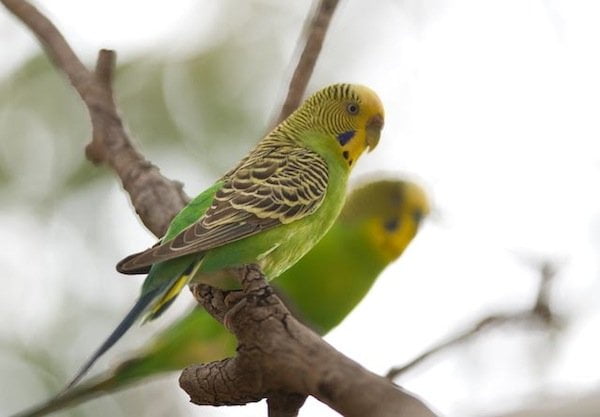 Budgerigars by Mike Freiberg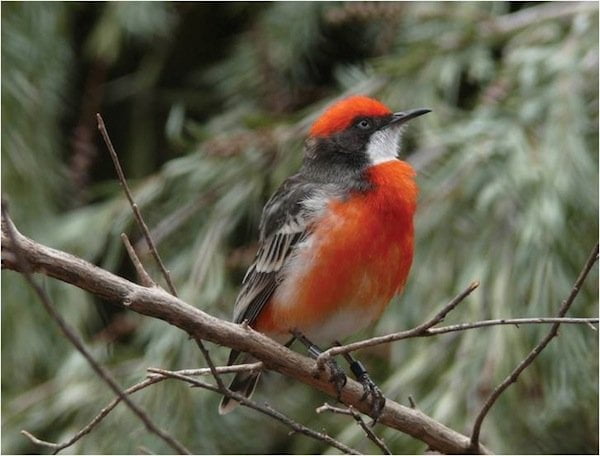 Crimson Chat by Mike Freiberg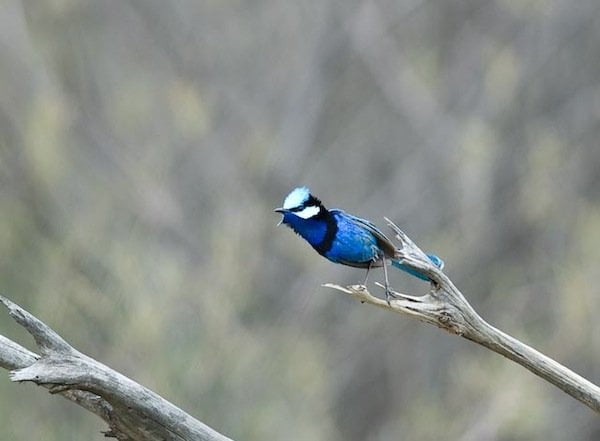 Splendid Wren by Mike Freiberg
But the primary reason for our visit to the Red Centre was to capture the Western Bowerbird on film. Bowerbirds are related to Birds of Paradise and while most BOP's use ornamental feathers to attract mates, Bowerbirds have lost this ability. And so they have turned to art and music to attract females. Art in the form of their wonderfully constructed bowers and music in their uncanny ability to mimic just about any sound. From car alarms, to cats fighting, to babies crying, these birds have an extensive musical repertoire. Incredibly, we witnessed this ability first-hand. Aderman has a cough, an affliction caused by his 30-a day habit. After filming the Western Bowerbird for a day, I was distressed to hear that this particular bird had caught Aderman's smoker's cough! And if art, music and smoker's coughs fail to impress a would-be mate, the male Bowerbird has one further trick up his sleave…a dance routine that will seriously ruffle the feathers of his competitors.
So don't forget to visit the Red Centre in the Northern Territory of Australia! You will not leave disappointed and if you happen to chance upon a Western Bowerbird with a smoker's cough, please say hi from me.