In my last post, about the Great Egrets at the Marine Nature Study Area, I said that I would be doing a full post about the birding adventure that we had.  Well, I guess I'm a liar.  Going through the pictures I took (and I managed to fill up my camera) I realized that almost every single shot featured one of three species, so, rather than try to cram two into this post I'll give this one over entirely to the most bizarre of terns, the Black Skimmer.  I had never seen a Black Skimmer at the Marine Nature Study Area before my last visit, and, well, they made up for having dodged me up until then.  Several of them put on quite a show; at one point one flew so close to our heads that we could have reached up and touched it as it flew past us.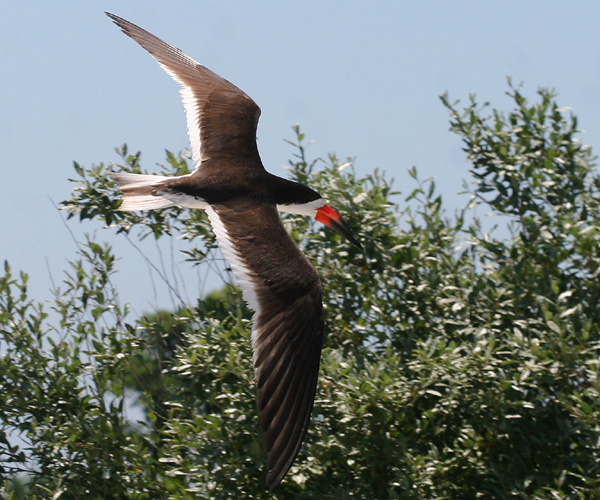 We were there at what was apparently a perfect time for skimmers to be feeding, just as the tide was gaining steam on its way to high tide.  The nutrients flowing into the saltmarsh's tidal channels and pools must have attracted lots of fish because the skimmers (and other terns) stayed busy fishing.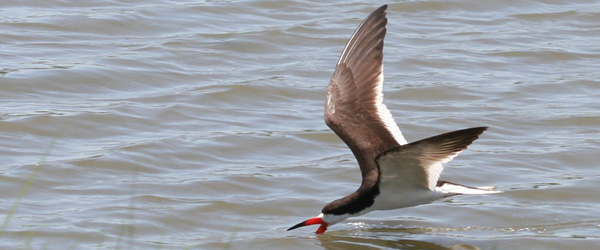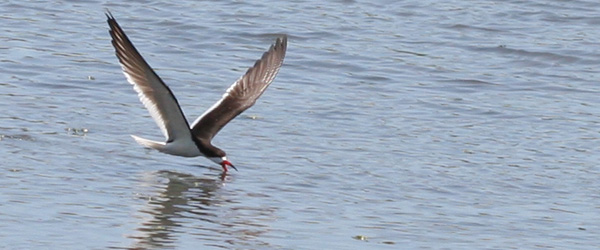 It was amazing watching the skimmers fly along the surface with their beaks in the water, flapping their wings in a shallow beat to keep the forward momentum going and to stay out of the water.  I just felt bad for any fish unfortunate enough to hit the tip of the sensitive beak and cause it to snap shut.
It was fun to watch the skimmers make their way around and across the water without crashing into the egrets that were also busy catching fish.
Are there any birds more unlikely and more ungainly yet somehow graceful?  I doubt it!