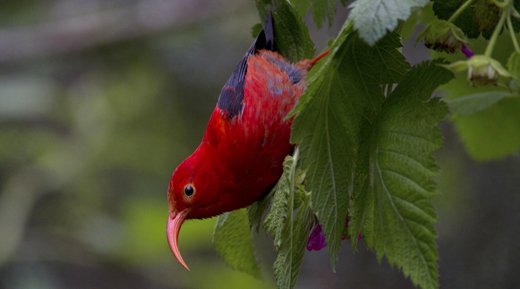 You've probably heard the children's song about the old lady who swallowed a fly, followed by swallowing a spider to catch the fly, and at least a half-dozen other creatures, each to eat the animal that came before it. (The law of unintended consequences, etc.) Something of the same sort may be in the works for Hawaii, with scientists considering unprecedented measures for the best of reasons.
The U.S. island chain was mosquito-free until 1826. Since then, mosquitoes have flourished and begun to pose a serious danger to wildlife, including birds. The latest threat they carry is avian malaria, which threatens to devastate the 'i'iwi, a honeycreeper already listed as Vulnerable. ('i'iwi image above by the U.S. Fish and Wildlfie Service)
In response, various conservation stakeholders are considering whether to combat the malaria-carrying mosquitos with genetically modified skeeters. The plan would involve releasing bugs which are genetically manipulated to produce offspring that die quickly, leaving fewer and fewer to reproduce and eventually driving down the total population. If conducted, this would be, as an article in MIT Technology Review says, "the first 'landscape-scale' use of gene-modified insects."
Whether the project actually happens, and if so whether it succeeds without any unintended environmental consequences, remains to be seen. In the meantime, you might want to book a trip to Hawaii to see 'i'wi while you still can. If you do, make sure you load up on bug spray.