Though they have a world-wide distribution and can be found on every continent except Antarctica, Caspian Tern Hydroprogne caspia is a bird that is not often spotted in Queens.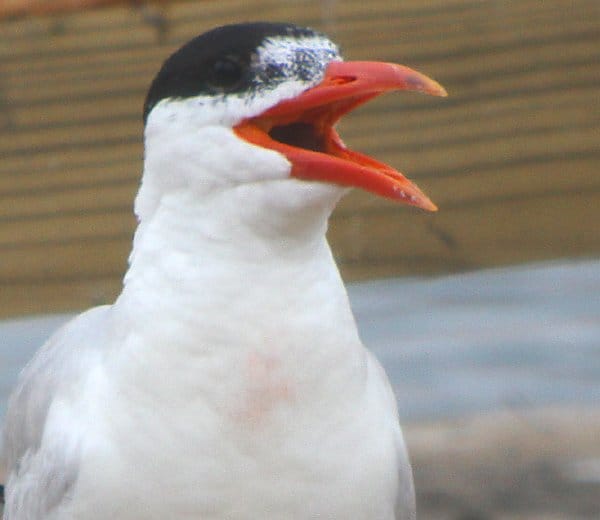 Before this past Saturday I had only ever seen one in Queens, back in 2007, and eBird only has records of nineteen different Caspian Terns ever reported in Queens, almost all from Jamaica Bay.  Any day of birding Queens that featured a Caspian Tern would have to be considered a red-letter day.  You can imagine my delight then, when upon arriving at Flushing Meadow Corona Park for a brief birding foray before Hurricane Irene arrived I was greeted both by Donna and by not one but two Caspian Terns!*
The birds, one an adult and one a juvenile that incessantly begged, were spending their time on one of two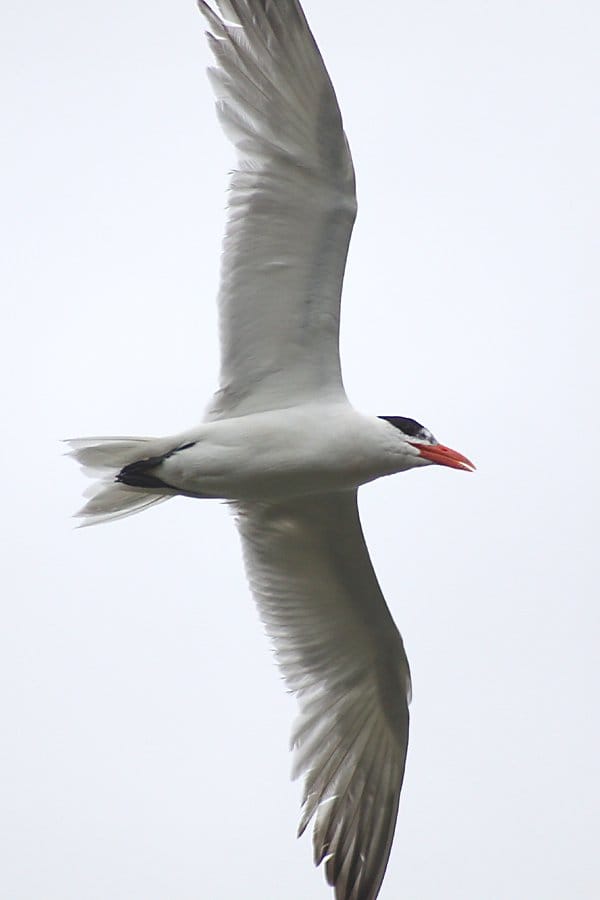 floating docks in Meadow Lake that are liberally coated with goose poop.  Other birds roosting on the dock included Great and Snowy Egrets, Great Blue Herons, Forster's Terns, Laughing and Herring Gulls, and Double-crested Cormorants.  In the entire time I watched the birds, about forty-five minutes, I only saw them take flight three times, and each time it was because either a Great Blue Heron or a Great Egret got too close.
It was great to spend some quality time with Caspian Terns and I stuck around until a sudden downpour sent me running to the car.  Fortunately, though Caspian Terns are not common in Queens, they are common around the world (in fact, up until I saw these two birds I had seen as many Caspian Terns in Kazakhstan as I had seen in Queens), and are considered a Species of Least Concern by BirdLife International because of their enormous range and large and growing population.  Hopefully this means that I will get to spend more time with a Caspian Tern again soon.
The two birds in these photos are an adult and a juvenile.  The juvenile is the one with some brown on the back, a less black but more complete cap, and a more orange bill.  I was surprised by the difference in color of the young bird's bill, which was closer in color to the bill of a Royal Tern, but the field guides all show it so it that way so it is as it should be.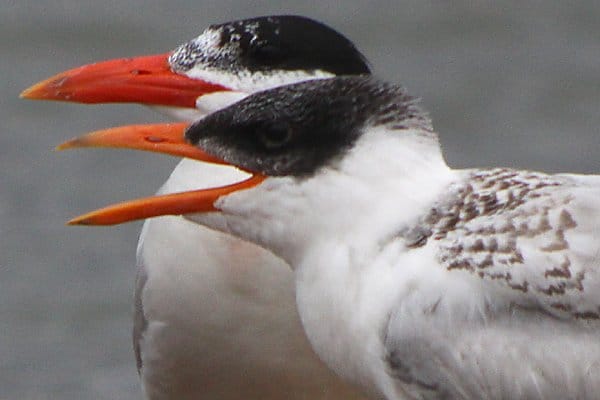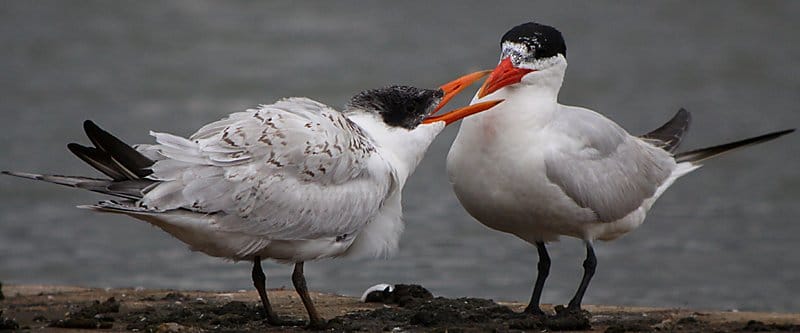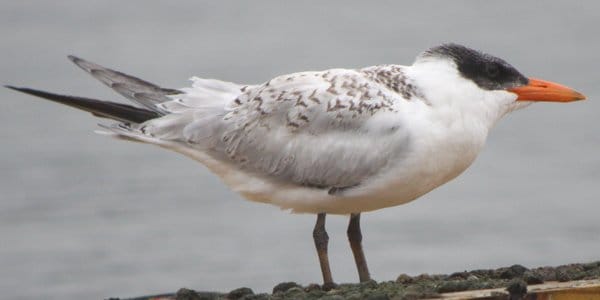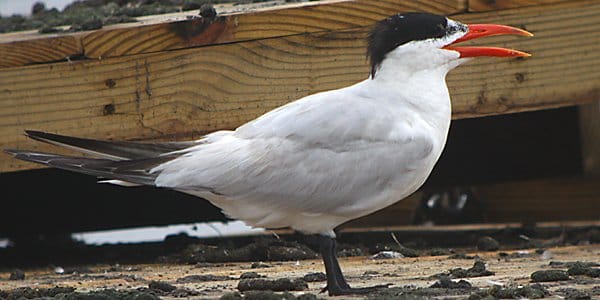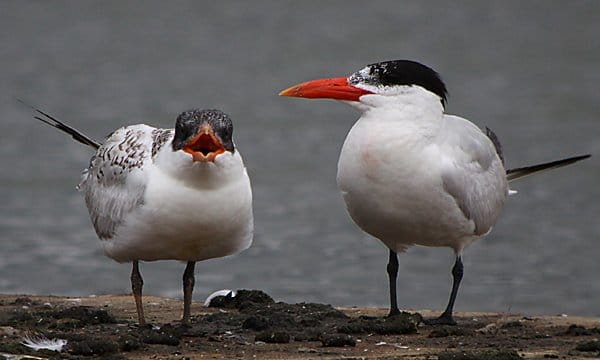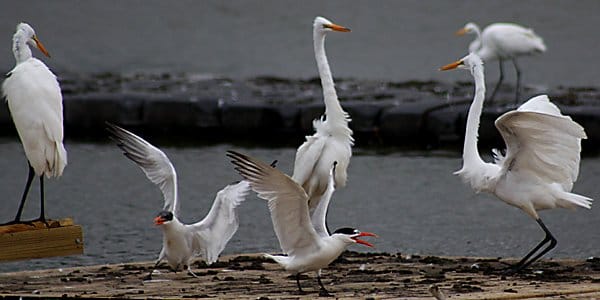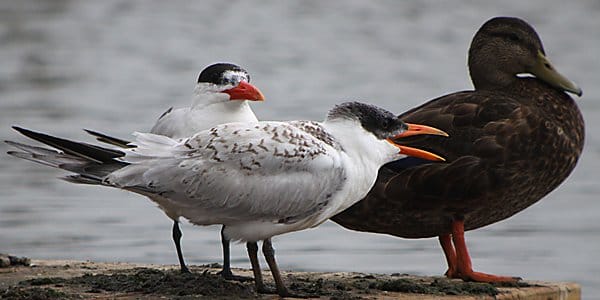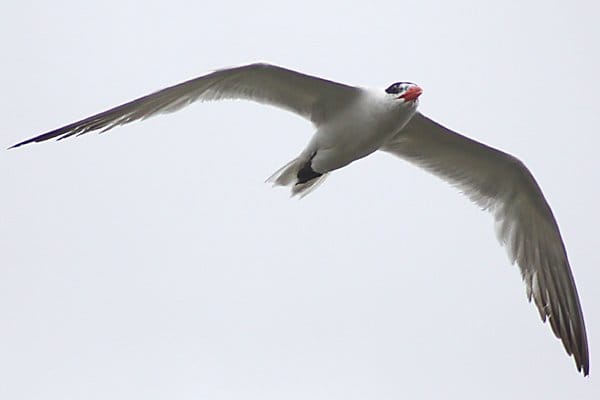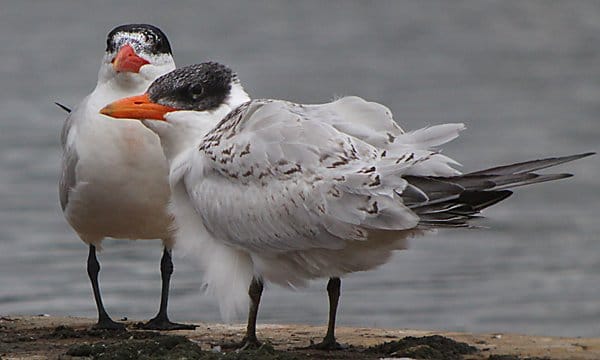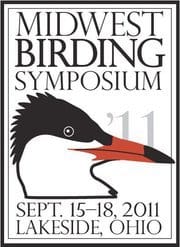 If you liked this post and want to see more great images of birds make sure to check out 10,000 Clicks, our big (and growing) page of galleries here at 10,000 Birds.
I would be remiss if I didn't mention that in addition to being an awesome bird, the Caspain Tern also serves as the logo for the Midwest Birding Symposium…you are going, right?
*Though it turns out that the birds had been seen and reported earlier in the day by another excellent Queens birder, Pete Shen.
…