One of the all-day avian extravaganzas offered each year at the Space Coast Birding & Wildlife Festival scours central Florida for the best birds this area has to offer. Considering how spectacular many of these species are, I gleefully committed 11 hours to the odyssey.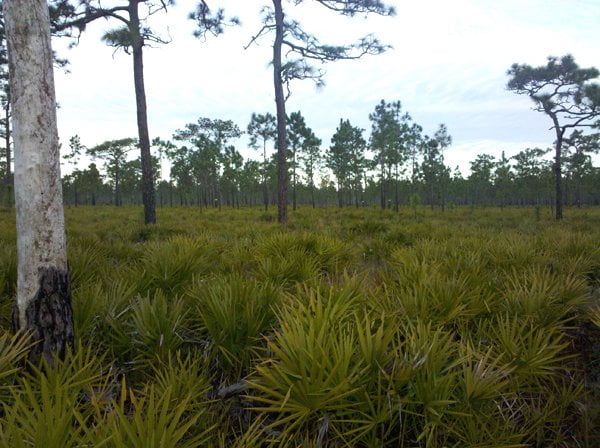 Three Lakes Wildlife Management Area protects lovely pine-palmetto habitat that is home to the same suite of birds I associate with places like Weymouth Woods in North Carolina. Here too the star of the show is the endangered Red-Cockaded Woodpecker. A panoply of picids favor this longleaf pine flatland, as we encountered an actual flock of Red-cockaded Woodpeckers — as long as you agree that three seems to be the minimum number of birds needed to fill out a flock — along with Downy, Hairy, Red-bellied, and Yellow-bellied Sapscker. Pine, Palm, and Yellow-rumped Warbler made up most of the rest, but Brown-headed Nuthatch and Blue-headed Vireo made the scene as well. Alas, my target bird Bachman's Sparrow eluded me yet again, as winter apparently makes this sparrow sluggish and truculent.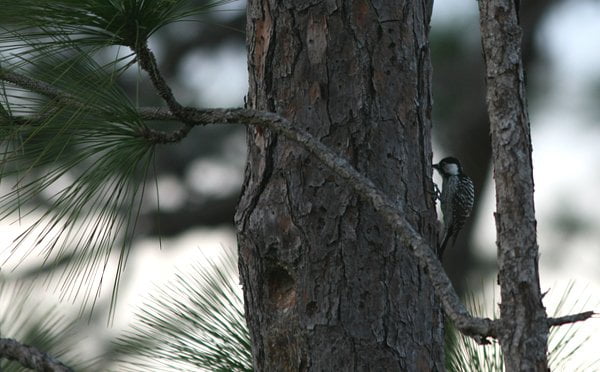 Shouldn't this be called a White-cheeked Woodpecker?
Vast expanses of turfgrass along the unremittingly straight country roads were carpeted by Killdeer and the occasional American Pipit. In other fields, shaggy Sandhill Cranes milled about in pairs and mobs. We even spied flocks of the Osceola race of Wild Turkey. Loggerhead Shrikes and American Kestrels implied malice from telephone wires while plentiful Bald Eagles and vultures of both species mostly stayed aloft. Red-shouldered Hawks stood sentry on many fenceposts; am I alone in considering the sleek, dappled Florida red-shoulder to be one of the handsomest of all hawk species?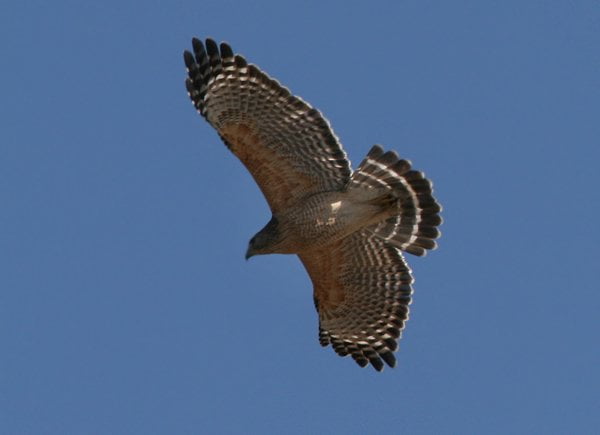 Red-shouldered Hawk aloft
Three Lakes WMA delivers on its implicit promise of a trinity of large bodies of water, each appealing to a different group of birds. Lake Kissimee contained all sorts of long-legged waders (Tricolored, Great Blue, and Little Blue Herons and Great and Snowy Egrets) plus moorhens, coots, and Wilson's Snipe. A gang of Eurasian Collared Doves loitered among the buildings along the shore. Lake Jackson brought us brilliant views of Limpkins lurking in live oaks, Great Egrets bedecked in lacy breeding plumes, and Wood Storks loafing on lawns. Lake Marian was the cinch spot for soaring Snail Kite as well as distant Purple Gallinules.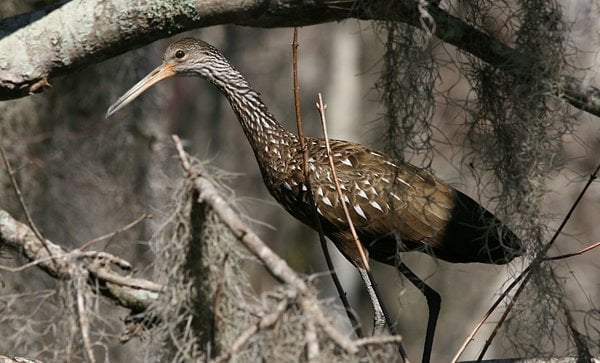 Limpkin lurking
Forever Florida served up a tasty family-style lunch, but more importantly some Crested Caracara on the wing. Along the edges of a pond filled with White Ibis, Common Moorhen, and Pied-billed Grebe, we added Carolina Wren, Ruby-crowned Kinglet, and Brown-headed Cowbird. Naturally, this working ranch had its share of Cattle Egret.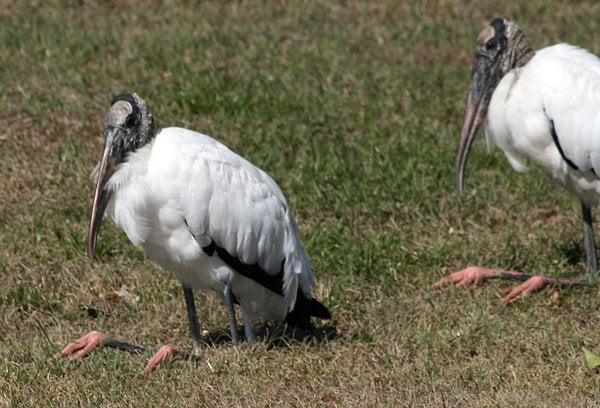 Wood Storks loafing (check out those crazy legs!)
Hour after hour, visiting one habitat after another, we rolled up a substantial list of killer birds. Our adventure ended as it began, with a ravishing woodpecker in pine habitat, The Red-Headed Woodpecker murders its monochromatic kin in a contest of color schemes. Who doesn't love seeing that pure scarlet cowl against a searing blue sky? If you're looking for wall-to-wall woodpeckers, waves of waders, or specialty birds of the Sunshine State, central Florida clearly delivers. Just make sure you've got guides like Wes Biggs, Dave Goodwin, and Jim Danzenbaker to get you on the good birds and steer you away from the gut pit.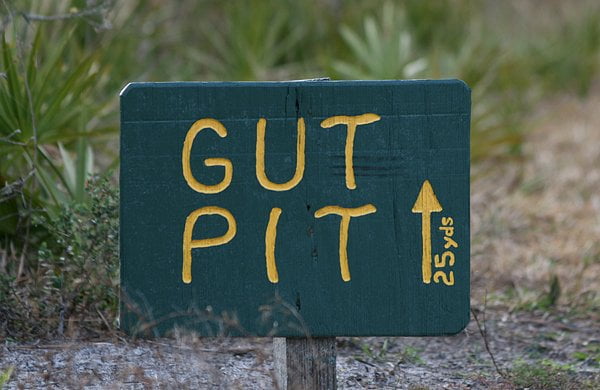 Another attraction of Three Lakes WMA