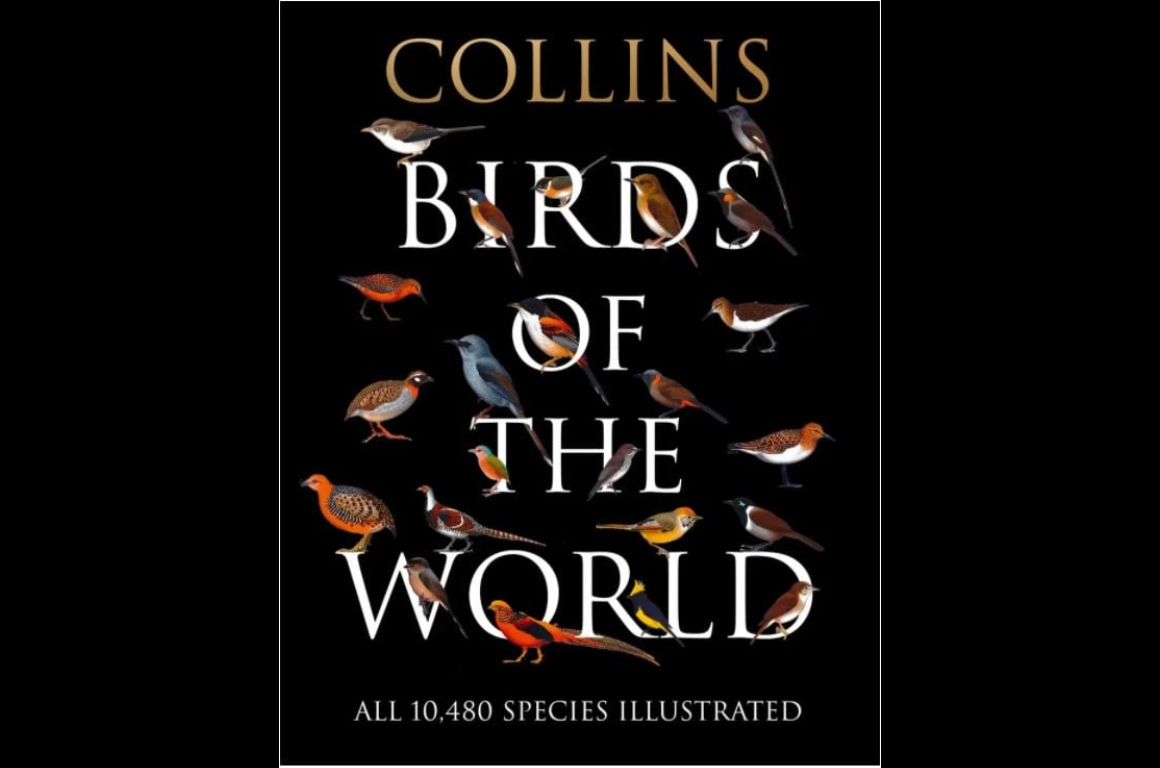 Collins Birds of the World is "a must for the travelling birder," as the BBC Wildlife Magazine reviewer has put it. And I cannot agree more. But I have to disagree with the publisher, HarperCollins, calling it an "all-encompassing new field guide" – it is a world checklist and I say it with a lot of respect. Have you ever used illustrated checklists in the field, as opposed to full scale field guides? I have.

When I moved to Botswana, to learn my birds I got myself the thickest local field guide. But when I felt familiar with perhaps half of the species around my town, I started to feel that my field guide is now too bulky and too hefty to carry, and that was the era before smartphones and phone apps. My response was to start looking for some portable guide to take with me into the field, and that need was fulfilled by the Birds of Southern Africa illustrated checklist by Ber van Perlo, published by HarperCollins.

It had perhaps 20 or so species per plate, and a rather concise description on the opposite (left) page, but all maps were grouped in the end of the book, making it very impractical to check them and in order to use the checklist, you had to know what to expect and which species are unlikely. It is not a concept for a total beginner, more of a reminder to someone with some experience.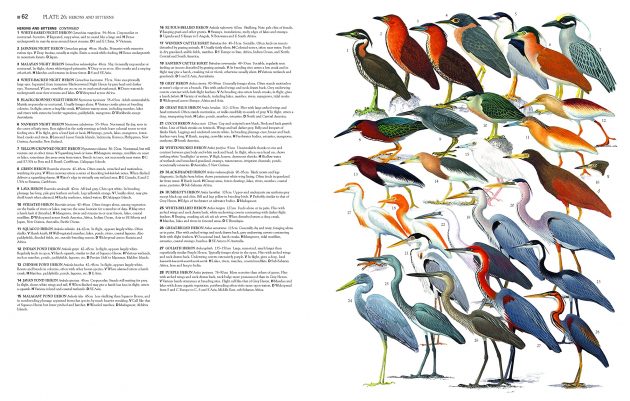 With about 35 species per plate (but in a much larger format, too), Collins Birds of the World has a similar concept, minus the range maps. It is a large book of 656 pages and, with this concept, the addition of more than 10,000 maps would easily push that to perhaps 800 pages, making it very uncomfortable to use.

The book covers all the world's birds. But birders know better than that: are we here talking of Clements, IOC or the most comprehensive HBW/Birdlife list? This is a painful question, I know that.

Dealing with a large set of data, you always feel like, oh, this has been updated, let's include it. But at some stage you have to draw a line and say: this is final, no new updates can possibly be included, or the work will never be finished. The author's decision was the IOC list, version 8.2 of January 2019, which resulted in 10,711 species, 40 orders, 246 families and 2,313 genera. Subspecies are not included.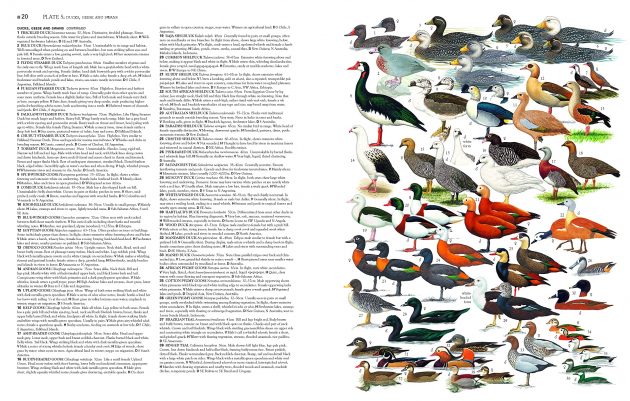 This "coloured checklist", as Norman Arlott rightfully calls it in his preface, starts with 6 pages of illustrated contents, making it easier to spot and find the desired group in a long list. The book ends with English and scientific name indexes.

Typically of checklists, the text is concise and does not waste space on describing the bird as a whole, but focuses on describing the differences between that and other similar species. It also describes voice (usually song), habitat and species distribution.

For example, from one such entrance I will learn that the Pacific Elaenia, Myiopagis subplacens, is 14 cm long, and that it has indistinct wing edging and blackish ear-coverts. Voice is a sharp, piercing phrase of a double note and a harsh single note; and it inhabits undergrowth at borders of forest, woodland and riverine belts, while its range stretches from W Ecuador to NW Peru.

In the book, it is a short, 3-line paragraph. In more complicated ID cases, the text extends to 5 or 6 lines, but for a checklist, I find it to be a reasonable amount of text.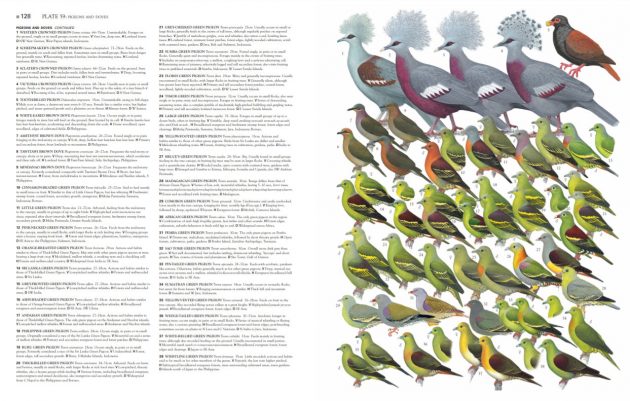 The two principal illustrators, prolific authors both whose works were pulled out of various Collins' field guides and checklists, were Norman Arlott and Ber van Parlo. In some periods, I used Arlott's or van Parlo's books and I like their works. The additional illustrators were Gustavo Carrizo, Aldo A. Chiappe, Luis Huber and Jorge R. Rodriguez Mata.

Within a total of 301 tightly-packed but well organised plates, illustrated are all male breeding plumages, as well as females – where significantly different. And the paintings are just the right thing to dream over on long winter evenings. One of the greatest pleasures this book brings is wandering aimlessly through the plates, recognizing the species you have observed, and recollecting where were you and when was it…

Arlott and van Perlo have contrasting styles, different clarity levels of showing fine details, and while they both look great in pocket editions, van Perlo's approach appears less detailed when enlarged to an encyclopaedia format. Their style divergence in this scale does attract attention, forcing a reader to compare, oh, I like these paintings better than these ones.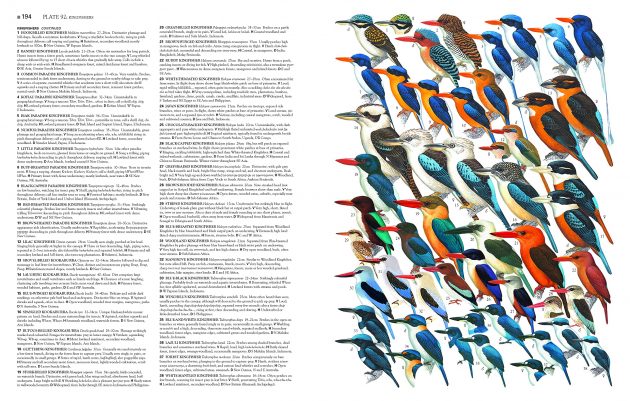 Having personal experience with some of those illustrations used in the field, in Europe and in Africa (and remembering them, from mousebirds to orioles, etc.), I sure do like them both, but pairing them next to each other may have been a brave decision. Or perhaps it's just me splitting hairs?

The truth is, I love this book and it does look magnificent! The artwork is outstanding, the text is expectedly concise but information-rich as can be, and the layout and design are stylish and classy – I can't recommend this book highly enough.

Collins Birds of the World by Norman Arlott et al.
656 pages, 301 colour plates with 25,000 illustrations
HarperCollins Publishers, London, September 2021 (in United States: Princeton University Press, 2021)
ISBN 9780008173999