After my visit to Jones Beach this past Saturday I decided to work my way away back to Queens by hopping from park to park.  Cow Meadow Park, a Nassau County park, is just north and west of Jones Beach, and is well-known as a good spot to see some shorebirds.  This time of year, you can also see bugs, and I spent much energy smacking mosquitoes, flies, and gnats that would not leave me alone.  Despite the onslaught of insects I enjoyed my visit to the park, especially the time I spent sitting on the edge of the pond watching Tree Swallows and shorebirds.
But I'm getting ahead of myself a bit.  Immediately after pulling into the park I was surprised to spot a horde of shorebirds feeding in a field.  Short-billed Dowitchers and Semipalmated Plovers were the majority, but some Killdeer joined them and the flocks of Canada Geese.  The Semipalmated Plovers were so numerous they even overflowed into the parking lots!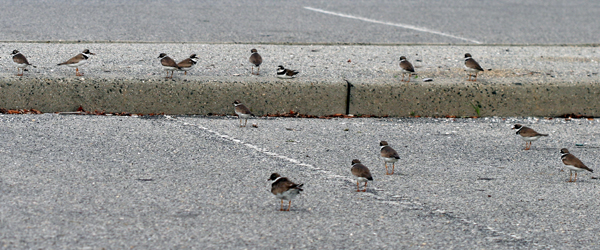 A walk on the short nature trail loop that provides access to a small wooden tower overlooking a large saltmarsh didn't net me a hoped-for Whimbrel, but I did see an adult Willow Flycatcher feeding a juvenile and my first Magnolia Warbler of the fall migration.  But the best spot to see birds at Cow Meadow Park, expecially in the fall, is the pond, surrounded by heavy vegetation and inhabited by herons, ducks, and shorebirds.
This visit was no exception, with a Tricolored Heron joining the numerous young night-herons, and both species of yellowlegs, Short-billed Dowitchers, and Spotted, Least, and Semipalmated Sandpipers all foraging for food.  Secreting myself in some vegetation on the edge of the pond I tried getting shots of fly-by birds, with some results better than others.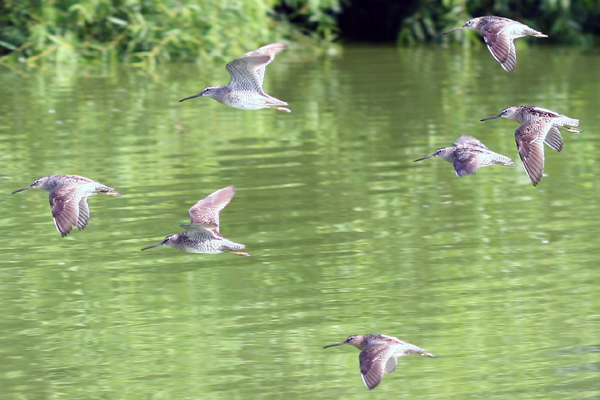 Short-billed Dowitchers in flight
Nothing is more frustrating than a night-heron flying your way that you manage to get nearly in focus, but not quite, except maybe that exact scenario playing out with the added joy of a Tree Swallow getting in the way: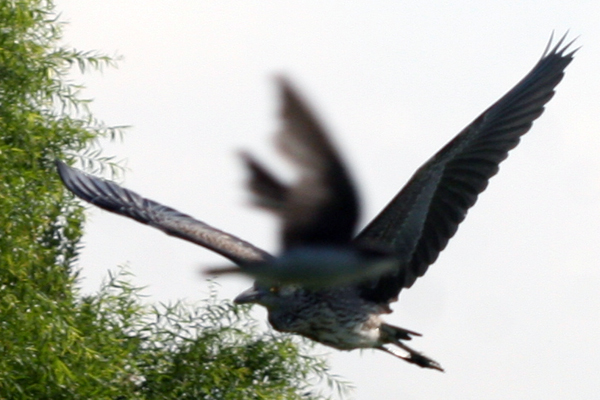 Tree Swallow messing up a shot of a juvenile Yellow-crowned Night-Heron
Fortunately, I did manage to get a couple decent shots: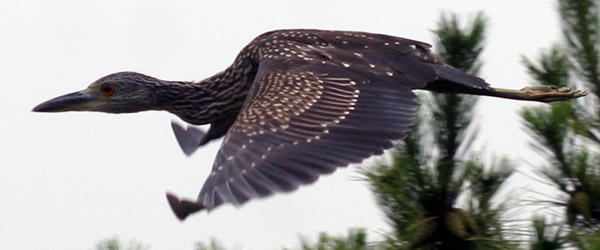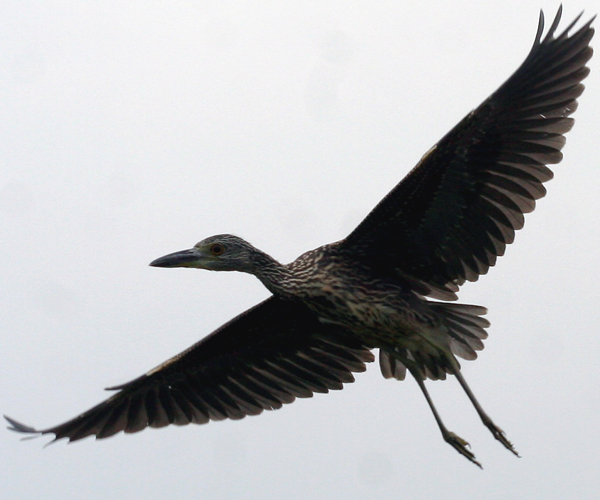 On the way out I took a quick spin around the park's parking lots (how odd it felt to bird by car again) and didn't see anything new, though I did yell at a couple of jerks in a pickup truck who thought it was funny to speed at resting Canada Geese.  Some people!
I did have one more park to stop at before I called it a day, but that will have to wait…

Semipalmated Plovers relocating