Cuero y Salado Wildlife Refuge, Honduras, March 2009
After our trip to the Cuero y Salado Wildlife Refuge was rained out on our first morning at The Lodge at Pico Bonito we rescheduled our visit for our second and last morning at the lodge.  Everyone wanted to get out into the mangroves (especially me seeing as I had never even seen a mangrove) and I couldn't wait for a shot at quite a few life birds, including several species of kingfisher (Green, Amazon, and American Pygmy would be lifers and Ringed and Belted that I had already seen) and a couple herons (Boat-billed and Agami as lifers and a host of other herons already seen).  Other species I was looking forward to as possibilities included Anhingas, Magnificent Frigatebirds, and seeing as the sun was supposed to shine, some raptors soaring.  Of course, there is much to see in the mangroves beyond just birds, and the over-13,000 hectare Cuero y Salado Wildlife Refuge, which is located on Honduras's Atlantic coast about 30 kilometers west of the tourist mecca of La Ceiba, was actually created to protect a population of manatees that live there (no, we weren't lucky enough to actually spot a manatee).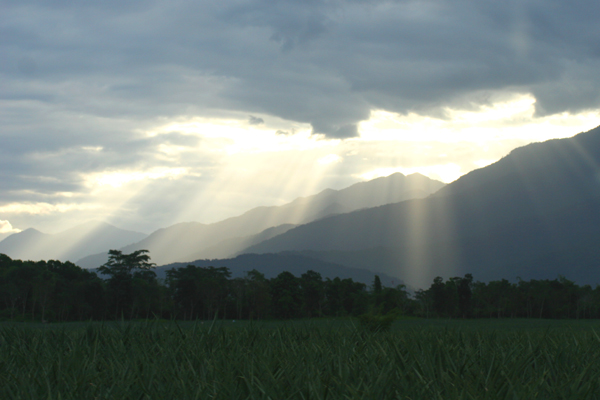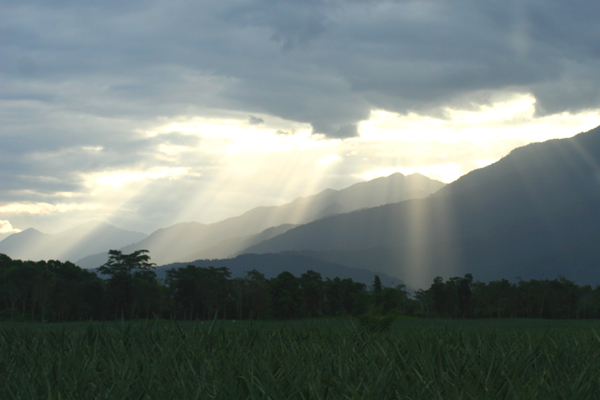 Our bus ride to the train that would take us to the boat launch led through monoculture pineapple plantations being sprayed with pesticides that were not a pretty sight, but the view of the sun breaking through the clouds over the mountains (like in the picture above) was inspiring.  And the knowledge that the forecast had been accurate and that the sun was winning the war in the sky against the clouds was welcome: we would not be rained on again!  Not only that, but we had a train ride to look forward to!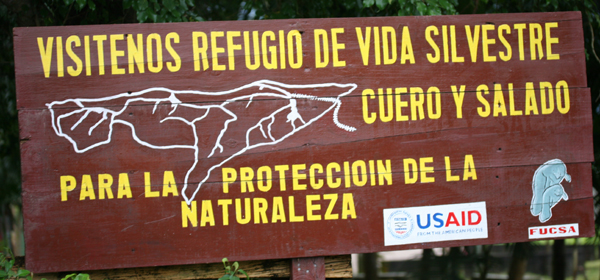 We didn't know what to expect from the train that had at one time been used to transport bananas to the coast and is now used to transport ecotourists to the wildlife refuge.  It turned out to be pretty cool.  The train is tiny, open, narrow-gauge, and only two cars long, but a fun ride nonetheless. It was expertly driven and we saw some cool birds en route, for the best of which the driver was kind enough to stop.  Little Blue and Tricolored Herons, Snowy, Great, and Cattle Egrets, a Laughing Falcon, Black Vultures, Blue-winged Teal, a Wood Stork, a nesting tree of Montezuma Oropendulas, and Ruddy Ground-Doves were just some of the species we saw on our short train ride into the refuge.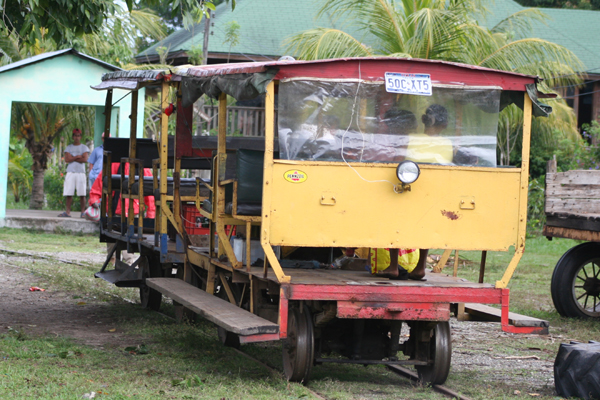 the little engine that could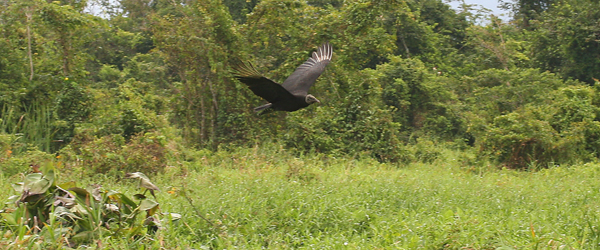 Black Vulture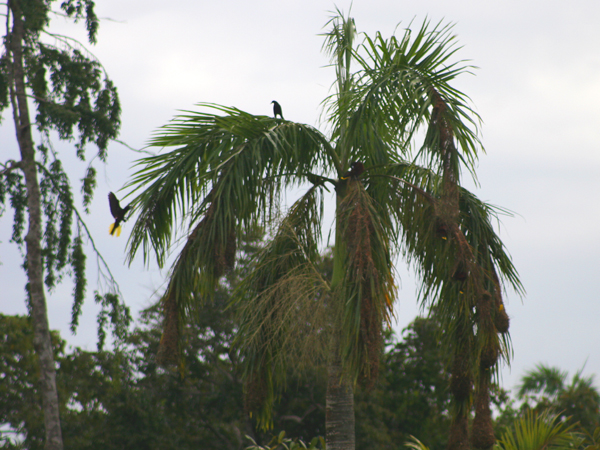 Montezuma Oropendula nest tree
Oh, and did I mention that at the very end of the train ride, just before we arrived at the refuge headquarters and boat launch we spotted two Mangrove Cuckoos perched out in the open?  Yes, you read that right, two FREAKING MANGROVE CUCKOOS perched OUT IN THE OPEN!  For those who don't know why I just started shouting, well, Mangrove Cuckoos aren't exactly known for cooperation.  In fact, they are known for a complete and utter lack of cooperation.  I was very pleased, to say the least, to see Mangrove Cuckoos for the first time, even if I didn't have my digiscoping rig and they were at rather long range (we were going out on a boat, after all, and scopes don't work on boats).  An excellent and unexpected life bird for me and a wonderful welcome to Cuero y Salado Wildlife Refuge.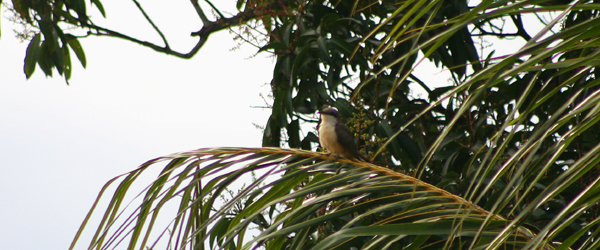 my life Mangrove Cuckoo
Once we were on the small motorboat all else was forgotten but looking for birds (at least, so far as I was concerned).  We were headed into the mangroves in search of the rare and elusive Agami Heron and nothing could slow us down…oh, wait, what's that?  Monkeys!  Howler monkeys!  Golden-mantled Howlers!  That's right, some Alouatta palliata palliata, a subspecies of the plain-old Mantled Howler, were moving through the trees above the water's edge!  My first-ever wild monkeys!  I know I'm using a lot of exclamation marks here but I was seriously excited and want to make sure I convey that excitement.  Monkeys!!!!!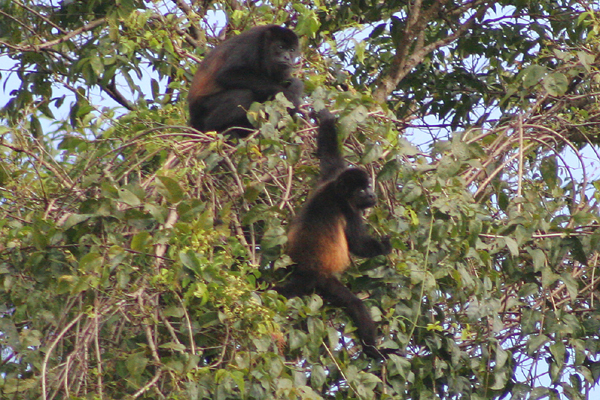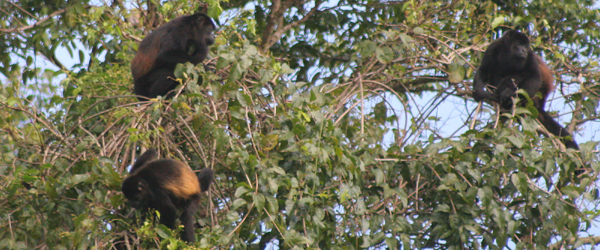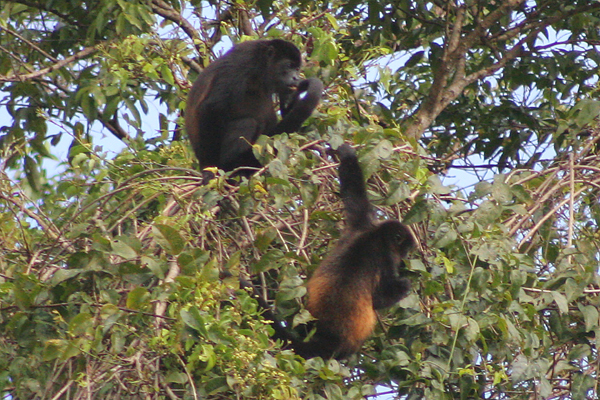 I'm not sure if Julie and Bob, who were sitting on my left and right respectively, noticed, but I nearly jumped up with joy, which probably would not have been the best idea considering the fact that we were in a rather small boat that wouldn't have taken too much effort to capsize.  Somehow, I restrained myself and we moved on to see more awesome creatures in the mangroves.  Creatures like another species of monkey, White-headed Capuchin, Cebus capucinus, which are also known as White-faced Capuchins.  Unfortunately, we only saw the one capuchin and it didn't want to stick around to get its picture taken.  We did see one other species of mammal, a bat, and they were more cooperative, though I don't think anyone in the boat felt confident enough to identify the bats to species (if anyone out there wants to tell me what they are I'd appreciate it).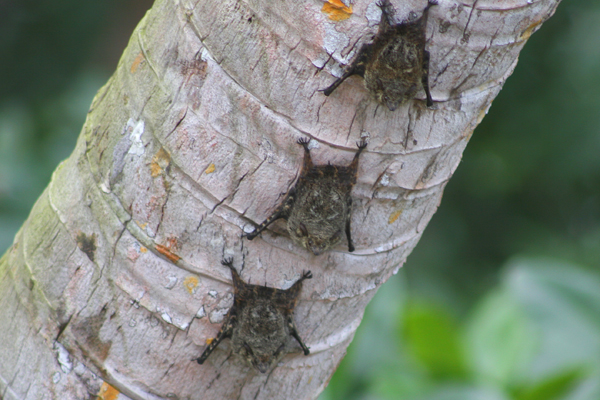 I was also just enjoyed the simple beauty of the mangrove environment and the smooth water and excellent scenery made for some sublime photographic opportunities.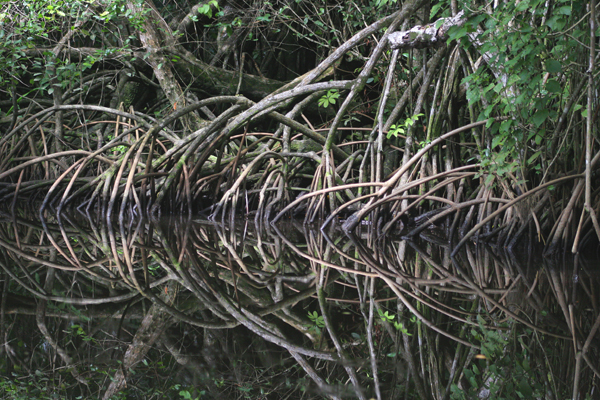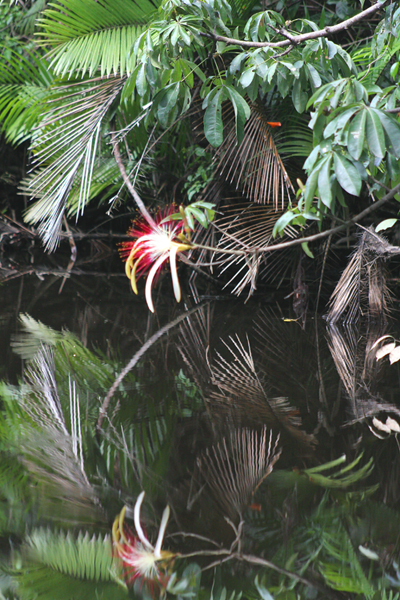 If you think what I've shared so far about the trip to and through Cuero y Salado Wildlife Refuge has been cool just wait until Part 2, which will be up within a couple of days…more birds, some of which were absolutely amazing,  a reptile, and a bee-yoo-tee-ful butterfly await, so make sure to check back soon.
…
This post was originally published on 6 May 2009 but a post like this can't be left to languish in the archives!
………