"The most outstanding binoculars I have ever seen" and "unexpectedly comfortable and stable".  I cannot tell you how many times I have heard this recently. Which is a good thing. It helps me sleep and puts my little heart at ease.
The last couple of weeks have been nuts. The EL50 Swarovisions went in to serial production at the beginning of the year and we have just started to show it, but the highlight was our birding trip last week where we invited a small group of selected birding journalists and raptor experts to Extremadura (western Spain) for a bit of birding, socializing, and the opportunity to be the first to field test the EL50 Swarovisions.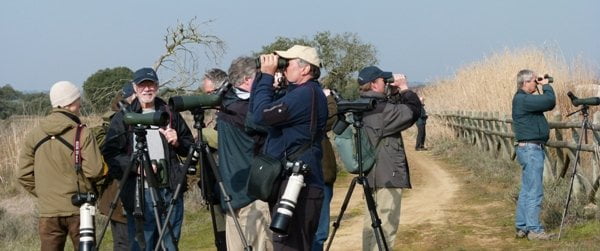 Me, Bill Clarke, Dick Forsman, Gino Merchiers, Tim Appleton, Godfried Schreur, Pete Dunne (from left). Photo by Xavier Esteller
Now the thinking behind the birding trip was not just idly thought out. The thing is, this really is an incredible binocular, but typically birders write off 10×50 and 12×50 binoculars are being too big and heavy, and that you just cannot hold them still (the internet is littered with reports that birders should be using ~8x). And I was personally really sceptical of them when I first came across the idea. But the thing is, I – and everyone else that has had a chance to try them so far – has been surprised by them: there is just no way to adequately describe how they are, without having tried them. And, no-one believes a marketing guy (particularly when it is my baby). So it was important to get a bunch of well respected birding journalists and experts together so that they could make up their own mind.
Lesser Kestrels (Falco naumanni) were a sure sight in Trujillo, just 300m from our hotel. Photo by Steve Fletcher, who was able to join us on the first day.
I am a very excitable kinda guy and really like talking about things I enjoy (just wait for me to start blabbing on about tropical fish), but looking around the room at the product presentation talk, the scepticism in the room was almost tangible. Sure, they were likely intrigued as to what exactly lay before them in the box, but it seems they were unlikely to ever have believed what I was blabbing on about ergonomics and stability.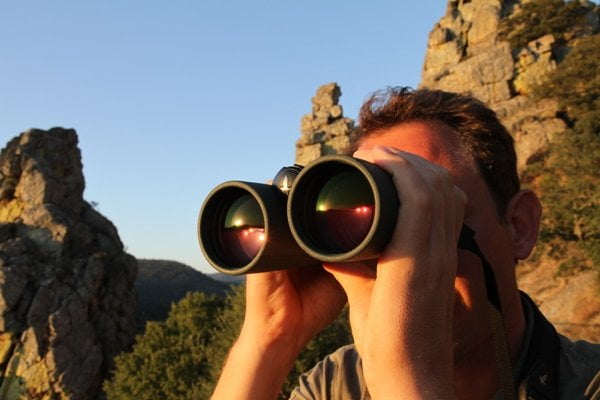 Birding with the EL50 Swarovision at the Salto del Gitano, Parque Nacional Monfragüe, Spain
The real test came the next day when we headed out to the stunning Monfragüe National Park – a wonderful rocky spine of cliffs cutting through the dehesan savannas, and sporting all sorts of wonderful birds. Our first sight in the morning was dozens of circling Griffon Vultures (Gyps fulvus) circling in the dawn mists. What an incredible sight!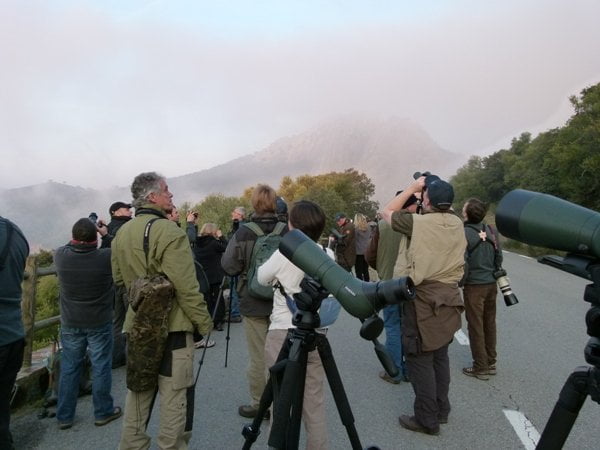 Birding at the Salto del Gitano, Monfragüe. Marc Duquet, Martin Hierck, Dick Forsman, Andreas Pittl, Linda Dunne, Pete Dunne, Godfried Schreur, Rebecca Armstrong, Stephan Gröhn, Anja Weidig, Martin Kelsey, Matthew Merrit, Dale Forbes (from left). Photo by Xavier Esteller.
The slogan that we are using for the EL50 Swarovision binoculars is "SEEING IS KNOWING". In that you kinda need to see it to believe it, but for bird identification, it is always better to know than to just believe/think. Which is exactly for what the binocular was designed in the first place, to allow you to see more detail. And everyone on the trip was stunned at just how well the designers had gotten this. Suddenly, we were seeing feather detail on the Griffon Vultures that we had never dreamed of before; Long-tailed Tits sprung to life; and the Spanish Imperial Eagle in the distance was way more recognizable.
I could not believe that I was using 12x optics, they were as steady as my own pair of 10 x 42, with an image quality that was truly remarkable…Swarovski have achieved the impossible, again! (Martin Kelsey, our incredible guide on his blog).
I'm finding myself looking at the same bird for longer, or looking at birds I know well more often, simply because I'm genuinely amazed at how user-friendly, ergonomic, and outstandingly bright these things are. They're actually fun to use – more than a tool, they actually contribute to the day's birding. (Charlie Moores on Talking Naturally (day 3 report).
We had great views of Great Bustards (), including one individual flying directly over the group. Photo by Steve Fletcher
While out in the field, we managed to film some of the spontaneous reactions to the birding and binoculars, which we hope to put together in to a little youtube video to see what the pros are saying:
Happy birding,
Dale