I travel for birding. A lot.  I'm about to head out to the Hula Valley Bird Festival and as I'm packing, I thought I would share with you some essentials I think any birder should plan to have in their suitcase–no matter where they are visiting.  I've never regretted any of these items being in my suitcase. I've also learned a thing or two from optics reps on how to pack expensive binoculars, spotting scopes and cameras.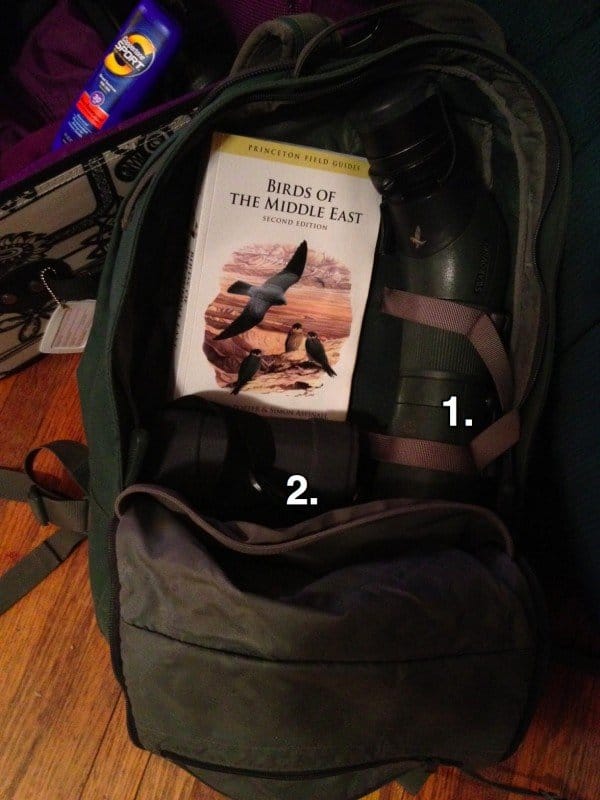 First of all–and  I want you to burn this into your brain–NEVER put your optics in checked luggage.  Don't.  It's far too easy for optics to go missing and no matter how well you packed them into your suitcase, if airport security decides to go through your checked luggage (and no one ends up stealing your binoculars) they will most likely not repack your optics securely leading to a higher probability that they could be knocked out of alignment.  I like to use backpacks as my carry on.  I have a backpack from Swarovski but there are a variety of backpacks out there that will do the trick.  My carry on will always have my scope (1.) binoculars (2.), camera, laptop, book and a snack.  It is always in my person, I know how to gently deal with my backpack and it fits under the seat in front of me.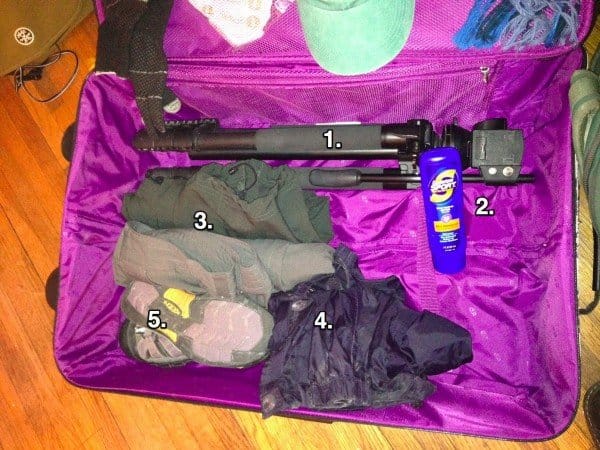 The suitcase is filled with all sorts of clothing but you have to be prepared for weather extremes.
1.Tripods are generally safe in checked luggage. To help secure it, I will wedge clothing all around it and stuff socks in the middle of the legs. I can take my tripod apart and it will fit into most carry on luggage, but for overseas trips it will go in my big checked suitcase.
2. You can never have too much sunscreen and nothing ruins a good birding trip like getting crisped out your first day in the field.  Sunscreen should be one of the first things you pack.
3. Convertible pants are an essential because weather is never dependable.  I actually call mine "adventure pants" because they can go from winter wear to shorts for hot weather with a few unzips. I've had several brands over the years and my personal favorite at the moment are Columbia's convertible pants (they make them in short people sizes ) and they material is quick drying and still incredibly comfortable.
4.  A small rain jacket. I've had this one for years, I grabbed it on clearance at a Land's End.  It wads up into a tiny bundle and fits easily in suitcases or the bottoms of backpacks, because you never know when the squall is going to pop up.  It also is a nice thin layer to add on if the wind is just a hair too nippy and you need a barrier.  I have also used it on my bird surveys as a make shift shade when temperatures crept up past 110 degrees Fahrenheit last summer.
5.  Some sort of waterproof shoe.  I like traveling with Keens because they can take a beating and I can throw them into the washer when I get home.  They are meant to be used as water shoes when canoeing but I have found that when worn with wool socks, they can even take temperatures a few degrees below freezing.  They have great arch support and toe protection and are great for hiking.  The one downside: they make your feet incredibly stinky, but if that's what I must suffer for foot comfort, so be it.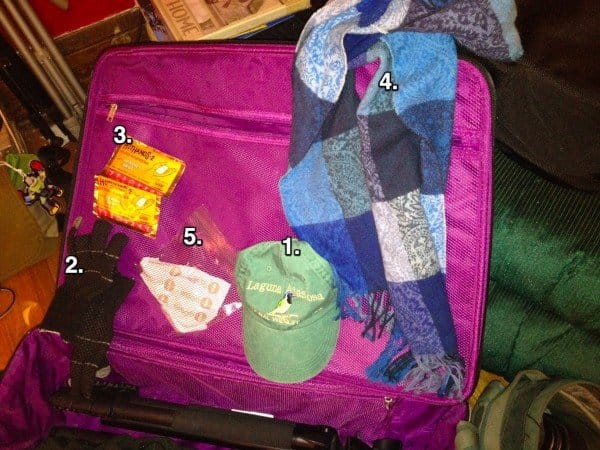 1. Hats are a must. I remember years ago when one of my sisters came with me on a birding trip to Idaho. Before we set out for the day I suggested she put on a hat, I even packed an extra one. She refused saying that she wasn't a hat person, they don't look good on her.
By the end of the day, her scalp where her hair was parted was bright pink. The next morning she was trying to part her hair in a different way to cover her burnt scalp. I handed her the hat, she reluctantly accepted.
2. No matter what time of year, always pack a pair of gloves. Even if your birding trip is June, even if you're going to be in Central America–always pack a pair of gloves. Sometimes high elevations will catch you off guard, sometimes there's a record cold snap. Don't let frigid fingers spoil your fun. I was at a birding festival in North Dakota in June and it was a chilly morning.  The woman next to me was grumbling about being cold and I said that is why I always pack a pair. She was a native of Florida and said, "I thought since it was summer it would be warm, even for you people."
3. Hand Warmers are the best thing to happen to outdoor comfort. You can stuff them in shoes, wedge them in gloves and even if it's too warm, you can use them to apply heat to sore muscles.  A few years ago I planned a winter trip to Florida and a record cold snap and frost hit. The hand warmers in my pocket not only were relief for my fingers but kept my batteries in my camera a little warmer too, extending their life.
*Side note: when that cold snap hit in Florida, birders were hitting the local big box stores to look for gloves and having a tough time finding them.  I found easily them, but I knew where to look.  I'm going to let you in on a pro tip.  When looking for gloves, hand warmers, any kind of out door gear for an unexpected weather issue, look for the big box store that has a hunting section–like a Fleet Farm.  Hunting sections will always have gloves, wool socks, bug spray–all sorts of handy tools.  They might be in camo colors but they will do the trick.
4. Scarves are another way to add a little warmth on a cold morning. It can also be used to absorb sweat or emergency napkin.  Depending on some scarves, they can even be a colorful accessory to dress up your outfit when going from the field to a restaurant.
5. Gentlemen may have a tough time reading this part and may want to avert their eyes, but ladies, how many times have you been caught birding with no bathroom in sight and limited options (side of a highway) or a restroom so disgusting a bush is the cleanest option. There are many devices out there to allow for an easier time and even allow you to stand up. I usually pack a GoGirl because it folds up neatly into a small bag. Word of advice, when you purchase one of these, plan on some practice. There is technique in application and dismount.  All it takes is one unfortunate breach to reinforce proper alignment and hand placement to teach you how to use them (and it's much better to have that lesson in the privacy of your own home rather than out in the field with no change of pants).
I do have to say that when I was traveling to Kazakhstan a few years ago, the GoGirl was an item that ended up missing from my checked luggage.  Based on the bathrooms, I could understand why it was so irresistible to whomever took it.
How about you?  What are  your essentials that you think a birder should pack no matter where they are going?