This week I managed to squeeze one full morning of birding in at my favorite birding site, Forest Park.  Tuesday morning was sunny but a bit cool, the lower temperatures a reminder that while it is technically still summer we certainly won't be getting any more beach days this year.  Working the late shift at work meant that I didn't have to be at my office in midtown Manhattan until noon so I had several hours to spend looking for fall migrants all over Forest Park.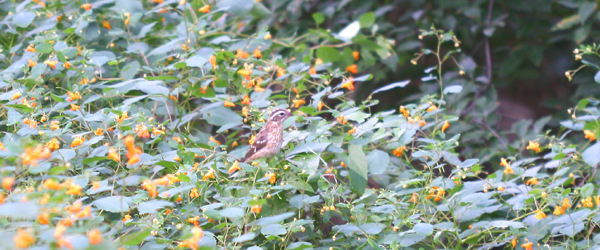 The Rose-breasted Grosbeak above was one of three I spotted foraging in jewelweed, a behavior I found odd until I learned that they really like jewelweed seeds.  Ruby-throated Hummingbirds were even more prevalent in the jewelweed: I spotted one in every decent size patch, and totaled nine for my morning's efforts!
Of course, what I was mostly hoping to find were migrating wood-warblers and I did manage to cobble together a list of eleven species, with a pair of hyperactive Wilson's Warblers and a still-nicely-plumaged Canada Warbler being the highlights.  I never came across a decent mixed-species flock but mostly found birds in ones and twos, drips and drabs, maybe birds left from better migratory flights on previous nights?
The Black-and-white Warbler in the picture above was spotted near Strack Pond, an area that I noticed on my last couple of visits was lower on litter than it had been in the past.  Then, yesterday, a comment on an older blog post of mine about Forest Park let me know why: there is a blogger named Joe Ambrosino that has a blog about defending Forest Park!  Please take a moment to check it out and encourage him in his noble pursuit.
The other highlight in the part of the park west of Woodhaven Boulevard was a host of Northern Flickers.  I put into eBird that I spotted thirty but I think the number was probably higher than that.  They were everywhere!  Nothing much beats the flashing yellow of the underside of their wings as they take off, one after another.  I did my best to capture it with my camera, but am going to ave to make more attempts.  The best two shots I managed are below.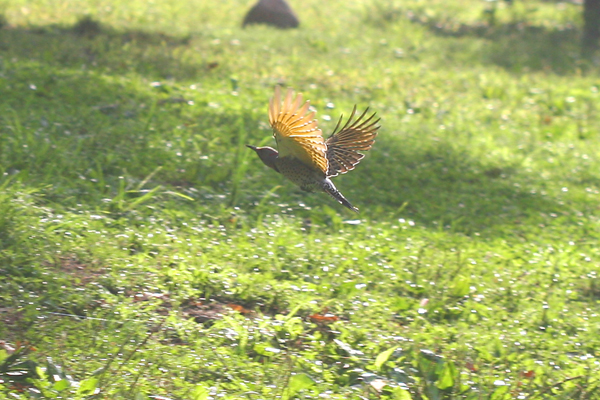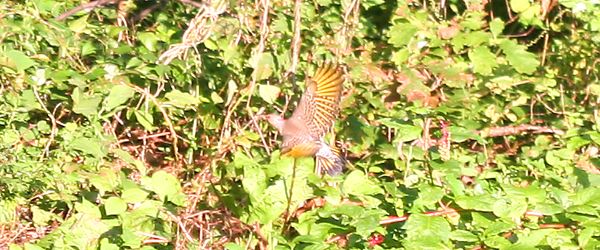 Obviously, I can get much better shots with patience and a bit of luck.  The walk back across the park was rather uneventful, with Ovenbirds, a Northern Parula, and a Gray-cheeked Thrush being the highlights.  I did stop and watch several Gray Squirrels and Eastern Chipmunks, both of which are frantically storing food for the coming winter.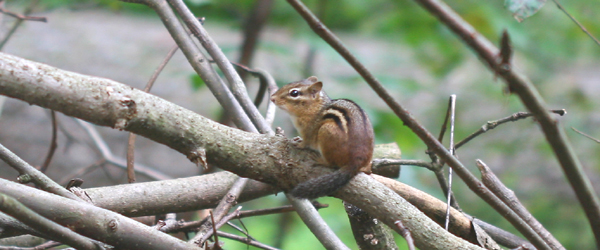 Get out there and bird your local patch!  If you don't it will be winter before you know it and you'll be kicking yourself for having missed all of fall migration!