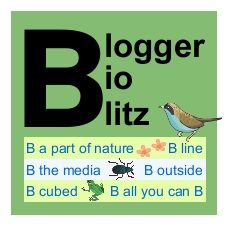 The National Wildlife Federation has declared April 21 – 29 to be National Wildlife Week. During this eight-day week (hey, wildlife deserves an extra day!) participants are expected to download a list of wildlife and natural phenomena to observe in their backyards, neighborhoods, communities and other special places, observe said wildlife, and then post their findings on the NWF website. Citizen science initiatives like this one contribute valuable data regarding the disposition of national flora and fauna. They're also a fun excuse to tramp around in the woods to seek out emerging signs of spring.
If you're a micropublisher looking for another excuse to observe wildlife, besides the fact that you need to generate content for your blog, here's a winner. You are cordially invited to participate in the First Annual Blogger Bioblitz. Join your blogging peers around the world in choosing a wild space, even an urban one, and auditing the area's different species within a prescribed time period. This is citizen science blogger-style!
Jeremy of The Voltage Gate, the brains behind this brilliant idea, explains:
Pick a neat little area that you are relatively familiar with and is small enough that you or the group can handle – a small thicket, a pond, a section of stream, or even your backyard – and bring along some taxonomic keys or an Audubon guide, or if you're lucky enough, an expert in local flora and fauna. Set a time limit. Try to identify the different species of organisms that you find as well as the number of each species that you find. Take pictures if you have a digital camera, compile your numbers, make observations, set up your post however you wish as long as you include your numbers in a digestible fashion (I'll have more details on that later) – then submit it to me and I'll include it on the list. We will also be tallying total numbers of each species found, and then a grand total.
Of course you'll be a part of this innovative adventure in wildlife watching, won't you? Sign up at the Blogger Bioblitz Google Group, then swing by the Invasive Species Weblog to pick up one or two of the fancy bioblitz badges Jenn cooked up. Next, clear your late April calendar, scope out some promising locales, and start dusting off those field guides. The First Annual Blogger Bioblitz will be here before you know it.