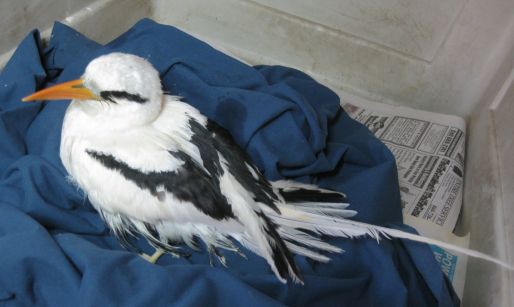 Today's Guest Post is written by Linda E. Bowen, a wildlife rehabilitator licensed with CT DEEP for small mammals and reptiles (specializing in bats www.bats101.info) and is also USFWS licensed for migratory birds, specializing in waterfowl. She may be contacted at: linda@cmsincorporated.net
The day started out as a typical Saturday of running errands. There was one voice mail when I returned, from a man who claimed to have found a tern while checking out the damage that Tropical Storm Irene had caused. Very few rescuers would be able to identify a tern; so I suspected that he had found some type of gull. I told him to bring me the bird, and while he was en route, I prepared a suitable enclosure.
Upon arrival, I was surprised to see that the bird had a single, very long (perhaps 14") tail feather – definitely not a tern. The exam revealed no visible signs of trauma, but the bird was slightly dehydrated and had sustained quite a bit of feather damage. I noticed that the bird's legs were positioned far back on the body allowing for greater strength while diving, so at least knew it was a diving bird, however, that was about as far as I could go with an ID. It also explained why the rescuer said the bird stayed in a sitting position most of the time and why he thought that the bird had a leg injury.
I paged through the water bird section of my Peterson field guide. When I got to the pages with Gannets and Boobies, there was the bird's picture at the bottom of the page—a White-tailed Tropicbird, Phaethon lepturus! When I read the description and range, I was flabbergasted. These birds are not found in North America, but have a range in the Caribbean, Indian Ocean and the Hawaiian Islands. I had checked his wings and they had not been clipped, nor was he wearing any type of identifying band, so it appeared that he was not an escaped captive bird. This began the rehabilitation of the first recorded sighting of a White-tailed Tropicbird in the state of Connecticut!
After the bird had been stabilized, I needed to decide what my next step was. I called Dr. Erica Miller from Tri-State Bird Rescue and Research in Delaware for some advice. She verified the bird's identity and told me that the Suncoast Seabird Sanctuary in Indian Shores, Florida was one of the few places equipped to handle this species.
The next call I made was to a very good friend who is a pilot, hoping that he would know someone willing to fly the bird from Connecticut to Florida.
On Sunday morning things really started to get busy. Suncoast was willing to take care of the bird, but we needed to get it there! My pilot friend had located a commercial pilot who was flying out of Newark Airport on Monday evening, and had agreed to pick the bird up on his way to Newark from his home in Lenox, Massachusetts and get it on a flight to Florida.
I called his airline and was told that the shipping container had to have a perch and dishes. After explaining that this bird did not perch and would not eat from dishes, I asked if attaching a written explanation of this to the crate would suffice, and was told that it would. The difficult part was going to be getting a USDA-accredited veterinarian to sign off on the required health certificate AND getting it done by 1:00 PM on Monday to get the bird a ride to Newark Airport. Without a veterinarian signed health certificate, the bird would not be accepted by any airline. We set up a rendezvous point to meet the pilot on his way to Newark, so everything seemed set, except for obtaining the health certificate.
I was so anxious about the bird and the travel arrangements that I barely slept and was up before 5:00AM. By 9:00 AM I had called four vets, but none were USDA accredited, and I was starting to panic, then my friend called to say that he had located one that would see the bird as soon as I could get it there.
With the health certificate in hand, my friend called to make the flight reservation, but this time the airline agent said that the bird's shipping crate had to be completely made of wire mesh or enclosed in wire mesh. We explained that this was an approved airline crate to go under a passenger's seat, so it shouldn't be a problem, but she insisted that it MUST be wire mesh, it MUST contain a perch and MUST have food dishes. Although we again explained about this bird, she was adamant, and said the bird couldn't fly if the requirements weren't met. My friend asked if it would be acceptable if the crate was surrounded by aluminum screen and if there were two cups inside the crate, and she said yes, but that a perch was required. We "creatively" explained that the bird could be severely injured if we put a perch in the crate, but a rubber mat could work. At that point she said that a rubber mat would be acceptable.
We proceeded to my friend's house where he quickly duct taped aluminum screen to the outside of the crate, fulfilling their requirement of being "enclosed in wire mesh." We put two small paper cups inside the crate to meet the "feeding dish" requirement, and attached the required paperwork to the outside of the crate. We met the pilot and the hand off of the precious cargo was made. The pilot arrived at Newark Airport in plenty of time for the bird to make the flight to Florida.
By 10:30 PM, the bird had arrived safely in Florida with only the loss of one feather. He had already been fed some fish and water and had settled in nicely. Finally, a sigh of relief…we had pulled it off! Within 48 hours of intake, the tropicbird was now in a facility that was adept at caring for pelagic birds.
Six weeks later, he was successfully released with a few other seabirds that Tropical Storm Irene had blown into the US.