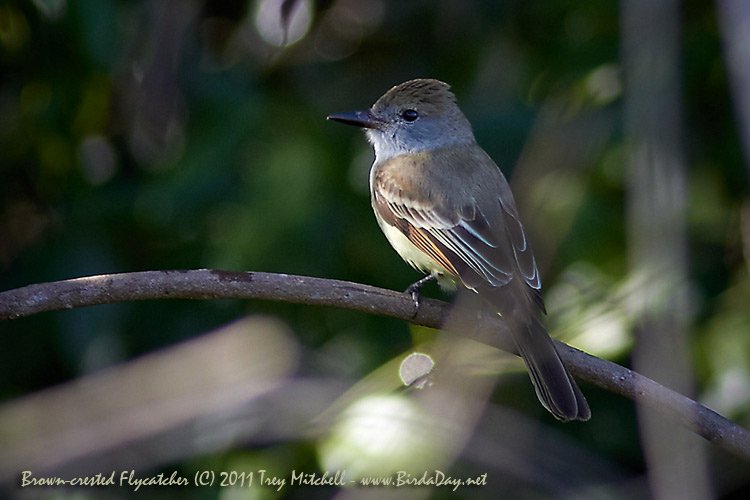 The C-111E Canal, one of several canals crossing the main road into Everglades National Park, provides another point of access to the same block of semi-continuous tropical hardwood hammock and lower scrub found at Lucky Hammock. Being no where near as heavily birded as the aforementioned birding hotspot, I decided to do some exploration and see what the habitat was like all the way south to where the tropical hardwood hammock switches over to open sawgrass prairie. During that walk, I recorded three calling Brown-crested Flycatchers along the trail. These observations got me asking questions:  what is their pattern of occurrence? when were the first records of Brown-crested Flycatchers in the state? where are these birds coming from? With some research, I ended up with more questions than answers, making these birds all the more interesting!

Brown-crested Flycatcher (Myiarchus tyrannulus) is a widespread bird species of scrub and wooded habitats with a range extending from southern Texas and the southwestern United States, through Central America, and down south all the way to northern Argentina. The populations in the southern United States and northern Mexico are migratory, and it is presumed that the birds that show up annually in south Florida are derived from these populations.
What is their pattern of occurrence in the sunshine state? In Florida, the species shows up annually (and in multiples!) in a tiny stretch of semi-continuous tropical hardwood hammock and scrub stretching from the Alligator Farm just south of Florida City west to Mosier Hammock in the Long Pine Key area of Everglades National Park — an area that only encompasses a few square miles. They seem to be mostly tied to the presence of mature tropical hardwood hammock, although the actual extent of this habitat does not seem to be important (such as the wintering 2012-13 bird in tiny 'Lucky Hammock'). Elsewhere in the southern peninsula, the bird winters only sporadically (such as the two birds at Matheson Hammock of January-March 2010) and can only be described as occasional elsewhere in the Florida peninsula.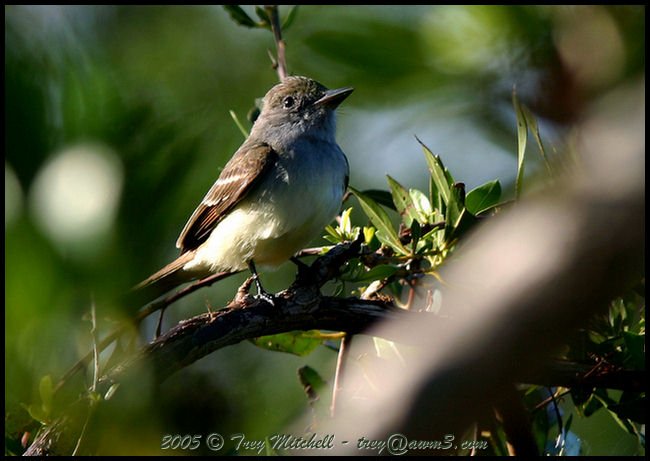 When were the first records of Brown-crested Flycatchers in the state? From the information I was able to gather, the first record in the state of Florida was in 1953, although a previously unrecognized specimen was collected in 1892 from Key West. Between 1960 and 2002, more than 50 official documented records were recorded in Everglades National Park alone. From these notes, there seems to have been a long term presence of this species in the sunshine state. Perhaps one can theorize that this is a tiny relict population that was once more widespread in the past when tropical hardwood hammocks had more extensive coverage in the southeast tip of the state.
Where are these birds coming from, and what are their migration patterns? Brown-crested Flycatchers arrive at their wintering locations in Miami-Dade in autumn, although most records come from the months of January through March when the birds are more actively calling than earlier in the season — their distinctive calls making them easy to differentiate from the more widespread Great Crested Flycatchers. Strangely, according to the information I was able to gather, there have yet to be any records for the western panhandle of Florida.  They also appear only sporadically elsewhere in the state. In contrast, other western flycatchers such as Ash-throated Flycatcher are regularly recorded across the panhandle and northern Florida — a species which is theorized to fly south into Texas and then follow the gulf coast through Louisiana and into Florida (along with a host of other western 'vagrants' such as various hummingbirds).  Are Brown-crested Flycatchers following this same migration route undetected, or are they flying across the gulf (such as from the Yucatan) into southern Florida as some have postulated?
Although usually thought of as a species more typical of the southwest, Brown-crested Flycatcher is a regular winter resident in southeast Florida within a comparatively tiny stretch of road. Why they are restricted to this area, the long term history of this bird in the state, and their migration routes are all a mystery. Every time I see one of these intriguing birds in the field, I find that the questions surrounding this species' occurrence in the state make it more than just 'another drab flycatcher'.