Despite the fact that I have been in Berlin for two full days now I haven't seen very many species of bird yet. This is mostly because I have been spending my time getting to know the various species of beer and going to a wedding, which, by the way, was wonderful! Congratulations Mike and Annalena!
(An aside…I am actually now way up north in Griefswald but I had already half-written this post and don't have enough energy in me or my computer battery to rewrite and change tenses etc. Enjoy it anyway!)
The first species of bird I saw in Germany I failed to identify. I was in the waiting area at the Munich airport, where I was left for an hour while I waited for a new connecting flight to Berlin. A bird flew from the ground to the top of a building, wagged its long tail a couple of times, and was gone in a flash of yellow. I think it was a wagtail of some type but I'm not at all sure if it was, so my first bird of Europe was one that got away from me.
But when I landed at Berlin's Tegel Airport I spotted Hooded Crows from the plane. These gray and black corvids are called Nebelkrähe in German, which translates to "fog crow," a name I understood much more when I saw a whole flock silently fly in to roost today at dusk at the Tempelhof Airport, the largest fascist-built structure in all of Europe, where I got my rental car for my planned trip up to the Baltic Sea tomorrow.
Other than the Hooded Crows I have spotted two other corvids, the gorgeous Common Magpie and the less gorgeous Jackdaw. I've seen a few smaller birds, notably both Great Tits and Blue Tits. The former is a essentially a large chickadee with yellow underparts and a large black line down its chest to its belly and the latter is a charming blue and yellow chickadee. All three times I've spotted one I've spotted the other in its company.
Also, when I was waiting for a bus an accipitor flashed past, being harassed by three small birds that, unlike the Eurasian Sparrowhawk they were harassing, I was unable to identify. The other raptor I have picked up was soaring high over the city and was only identified as a Common Buzzard because I got pictures and later used the field guide to identify the buteo of buteos, otherwise known as Buteo buteo.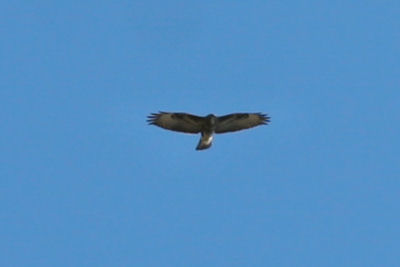 Common Buzzard over Berlin
And, of course, I have seen House Sparrows and Rock Pigeons. Surprise! But I also managed to find a couple of the bird that is difficult-to-differentiate from the ubiquitous Rock Pigeons, the Stock Dove, with its gray back that matches its head, and a flat-tipped tail instead of the rounded tail of the Rock Pigeon.
The final bird that I have to report from my half-hearted Berlin birding is the most basic of blackbirds, yes, the aptly named Blackbird.
There will be much more to come and hopefully better pictures too, but at the moment I am exhausted and my battery is dying and I just wanted to get a post up so Mike and Charlie don't try to replace me with a couple of monkeys and a keyboard…guys, hey guys, hello?