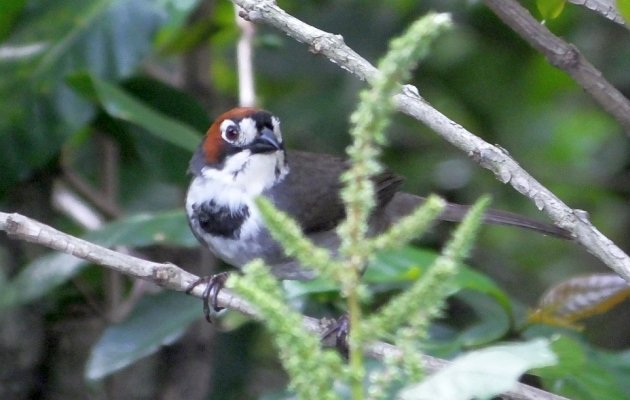 When looking for birds in Costa Rica, the Central Valley isn't the first place that comes to mind. Fly in to Juan Santamaria airport and this is where you arrive; a heavily populated and urbanized intermontane valley. Tongues and patches of green space host birds but most birders leave as soon as they can. I can't blame them, I would too. Tropical forests dripping with tanager and additional delights are a mere drive of an hour or two away. Why linger when you can go where the birding is better?
However, for birders who live in the Central Valley, life's everyday situations and obligations often keeps us closer to home. I venture into other birding spheres when guiding birders in foothill rainforest or when showing them endemics in the highlands above the valley. Other times, getting away means driving to shorebird sites on the hot Pacific Coast or exploration further afield. Although I prefer to be immersed in the challenge of quiet and unpredictable deep forest birding, I'll watch birds wherever and whenever. Most days, that seemingly random place is right at home. It's good, birds live in the riparian zone out back and I still awake to the husky warble of a Blue Grosbeak, the occasional whistle of a Crested Bobwhite.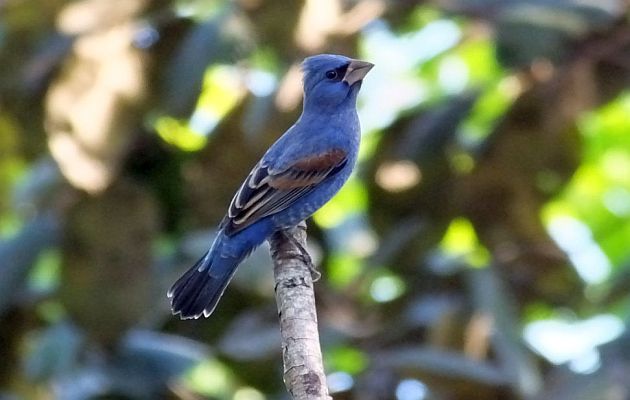 Their songs could cease any day now; their brushy field home is being steadily converted to housing. I'm surprised they have lingered for this long. Then again, if you have nowhere to go, a bird may stay until the very end, what choice does a it have? It's exodus for survival or wilt and starve in the concrete. Thankfully, some birds can find their place in remnant brushy and grassy fields. A few spots manage to persist and welcome them in this human-dominated landscape. Some call them trash, tours might not visit, but they can host more than the expected and common species. Some such vegetated spots can also attract oddball birds, species that wander to find a home in urban circumstances.
One such sudden hotspot is situated a few kilometers from my place. Known as Calle Los Viquez, this sizeable area of farm fields flanked by housing, its coffee bushes, hedgerows, and weedy fields has become a haven for birds. In the erstwhile sanctuary, common species like Red-billed Pigeon, Blue-black Grassquit, and Rufous-collared Sparrow abound. Lesser numbers of other common birds also occur; birds like the Gray-crowned Yellowthroat, Inca Doves, saltators, Groove-billed Anis, and other species.
Keep birding and you might see a White-tailed Kite hovering as it hunts rodents and one of the few Bat Falcons in the Valley might dash into view. You might hear the prominent notes of a Gray Hawk and Southern Lapwings. It's all good, it's wonderful birding for urban green space and yet, for whatever reason, this particular spot  gets even better. Three species of seedeaters sing from the tall grass, one of them being the Yellow-bellied Seedeater. Range maps show the small bird reaching its northern limits in southern Costa Rica, over there on the other side of the mountains. The true range maps have recently changed because at some point, the species moved upslope, moved into remnant patches of tall grass. It now occurs in various sites in the Central Valley.
Other birds have also moved upslope, some reaching the fields on Calle Los Viquez. Recently, I was surprised to have a family of Stripe-headed Sparrows, birds typically associated with dry habitats of the North Pacific slope. I guess climate change has made it hot and dry enough to expand their housing options. The same goes for the Lesser Ground-Cuckoo, another denizen of the same hot and dry lowland habitats.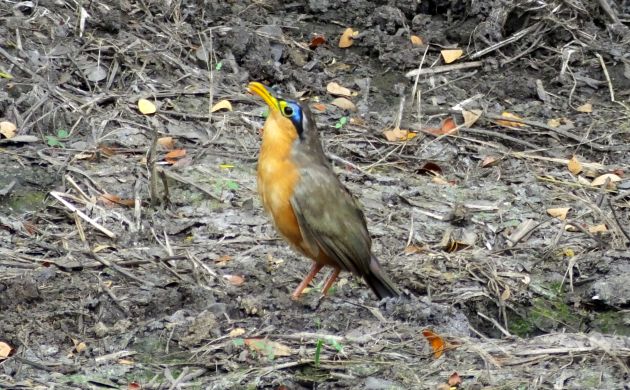 This pro skulker can get around but I still didn't expect it this close to home. This image is from a different site.
It makes me wonder what other species use that patch of what would be overlooked as trash habitat. Will some lost Bobolinks make an appearance? Will a Yellow-breasted Chat settle in for a tropical winter? The habitat looks good for it! It might not be forest but an interesting set of birds live in those overgrown fields and farmlands, one of them being the endemic and threatened Cabanis's Ground-Sparrow.
It's a special spot but as with any field in the Central Valley, one can't help but bird it with a sense of unease. I worry because no protection is given to such supposed "trash" habitats. They are deemed to be useless homes for rats (which provide food for snakes and owls), ugly expanses of weeds (enjoyed by seedeaters, grosbeaks, wintering Orchard Orioles, and other species), places that need to be "improved" (evictions for pioneering ground-cuckoos and endemic ground-sparrows). Unfortunately, I can never expect such grassy places to last, at least not in this part of the Central Valley. As with so much of our threatened natural world, one can only do what you can, bird as much as you can, and enjoy it while it lasts.