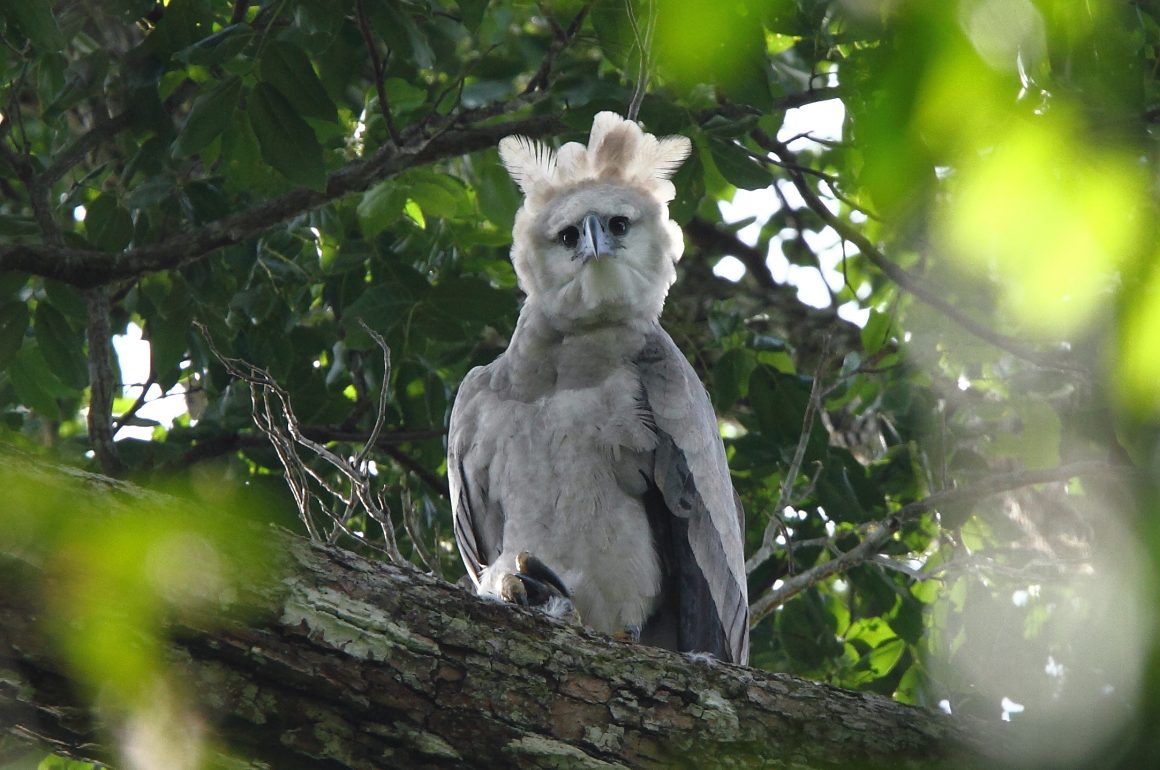 Guyana is an Amerindian word meaning "land of many waters" but it could just as easily mean "land of many birds". That's because this fascinating part-Caribbean, part-south American country holds well over 800 species of avifauna making it without doubt one of my top three countries in all of the continent to visit. Before I delve into some of these avian treasures let me give you a few non-birding reasons to visit this gem of South America.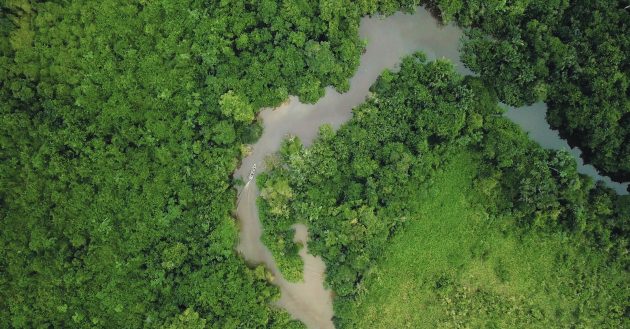 Guyana means "Land of many waters"
Language. If your Spanish or Portuguese is at the level of a 2-year-old bonobo like mine is, then you'll probably be pleased to know that Guyana is the only English-speaking country in South America. This makes communication a breeze and avoids situations like trying to tell your Spanish-speaking guide in your improvised Spanish that you're embarrassed about mis-identifying a bird. "Yo es embarazada," I once said in this exact situation. Which actually translates to "I'm pregnant." Not a great look for a middle-aged birding dude.
Wilderness. Guyana is WILD. I mean truly WILD. Over 80% of the country is still covered in primary rainforest, a larger percentage than any other South American nation. The scenery is diverse and sublime. From the mangroves of the coastline to the rainforests of Iwokrama to the open Rupununi savannahs that are reminiscent of the Serengeti of east Africa to the magnificent Kaeiteur Falls and to the mystery of mount Roraima, there is something for everyone in this fantastically diverse country.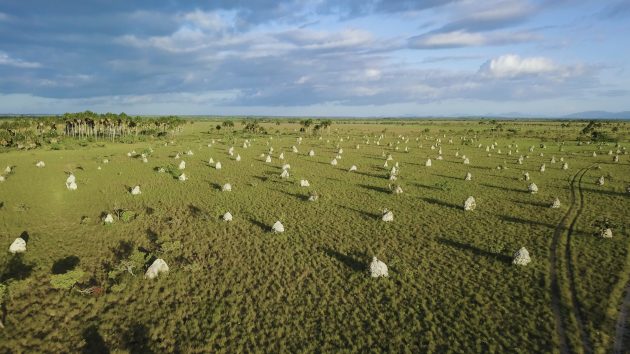 Giant termite mounds reaching over 10 feet tall near Waikin Ranch in the Rupununi savannah
Giants. Not only is Guyana famous for its birdlife, but it's also the Land of Giants. Giant anteaters, giant otters, giant armadillos, giant river turtles, giant termites and giant waterlilies that can sustain the weight of a human baby!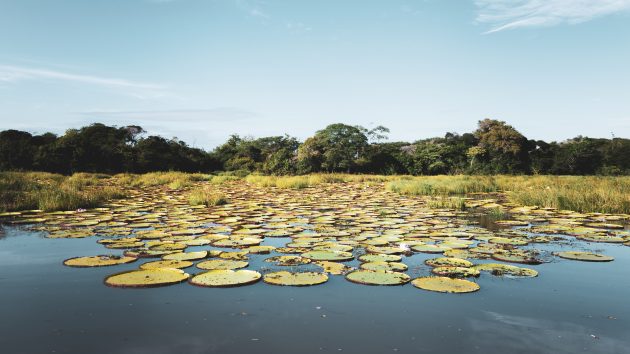 Giant waterlilies at Karanambu Ranch
And if that's not enough, consider that it's home to the largest cat in the Americas (Jaguar), the largest rodent in the world (Capybara), arguably the largest eagle in the world (Harpy Eagle), the largest snake by weight (Green Anaconda), the largest alligator (Black Caiman), arguably the largest freshwater fish in the world (Arapaima) and the largest bat in the Americas (False Vampire Bat). That's quite the list of charismatic and unique wildlife to add to your potential list of sightings. Ok, maybe not the vampire bat…but some of the more "cuddly" species are actually quite easy to see. Expect to see Giant Anteaters at any of the fantastic lodges in the Rupununi savannahs like the Waikin and Wichibai ranches. At the same time, you can immerse yourself in the wonderful vaquero culture by venturing out with vaquero trackers on horseback. And Giant Otters are still common in the rivers around Karanambu Ranch, home of the late "otter lady", Diane McTurck, who used to rehabilitate orphaned otters and whose family still runs the lodge.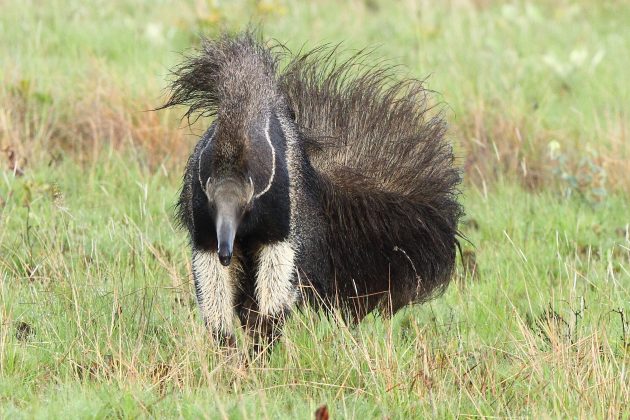 Giant anteaters are just one of the wildlife highlights of the Rupununi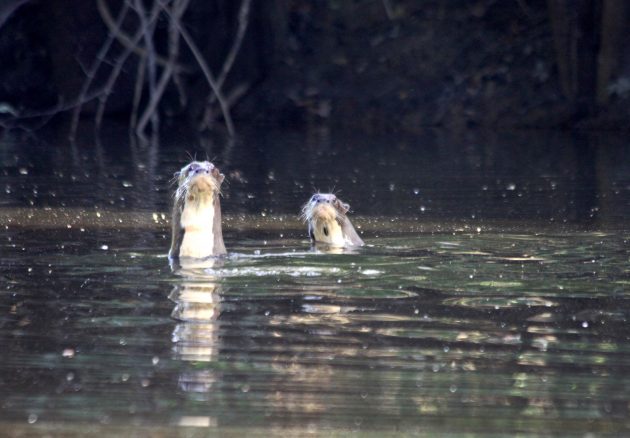 Giant river otters are often seen on boat excursions from Karanambu Ranch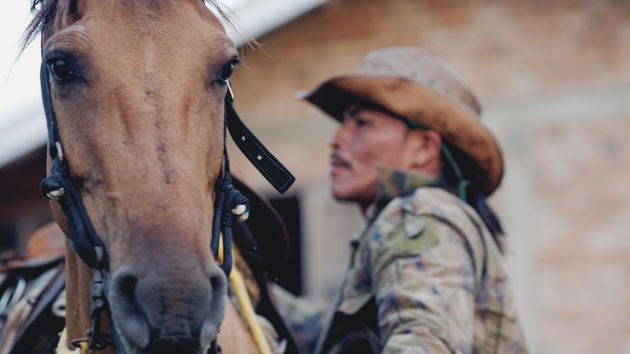 A vaquero gets his horse ready to look for giant anteaters.
Access. Most of the top birding and ecotourism lodges are readily accessible by a reliable air service. Some of the more remote lodges require private charter but there are set departures into the important gateway town of Lethem and from there, many of the Rupununi lodges are accessible by road.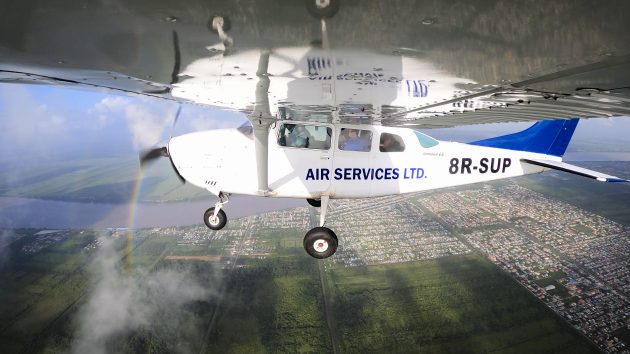 Leaving Georgetown en route to Lethem, the gateway to the Rupununi savannahs.
Now that you have a plethora of other reasons to visit Guyana, let's talk birds. Whilst Guyana doesn't boast the number of species of larger countries like Peru, Brazil and Colombia, one needs to consider the size difference between these countries. Whilst Colombia might have a bird-list slightly more than double that of Guyana's, consider the fact that it is more than 5 times larger. Peru, with a few less bird species than Colombia, is 6 times larger than Guyana. And Brazil with even fewer species than Peru is nearly 40 times larger than Guyana! So that old adage "Dynamite comes in small packages" certainly rings true when it some to birding this neotropical haven.
Of the 800-plus species found in the country, over 70 of them are considered Guianan Shield endemics species, birds which are found only in Guyana and its immediate surrounding areas. I like to compare endemic birds with skittles. You know…the candy. All the colors are delicious, but I always seek out the red ones and savor these with particular relish. There are over 70 reds in this Guyanese bag of over 800 skittles, an enviable percentage in my humble, sweet opinion.
Some of these red skittles include the likes of totally outlandish birds like the Guianan Cock-of-the-Rock, an orange-colored cotinga that Dr. Seuss couldn't have dreamed up in his wonderfully twisted mind had he tried. And once you've stopped giggling at its equally bizarre name, imagine sitting on the forest floor with a dozen of these male avian aliens at their lek as they try to impress the contrastingly dull females.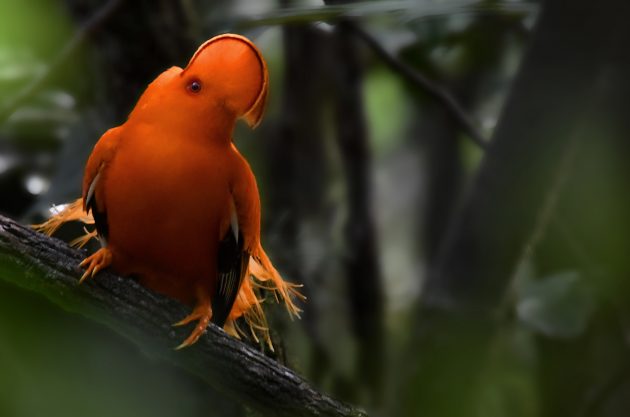 A portrait of a male Guianan cock-of-the-rock showing its weird head-dress and feathers
Another lovely red skittle that I had the privilege of spotting on my first visit to Guyana in 2008 is the aptly-named Blood-colored Woodpecker found in the coastal areas in and around Georgetown. This diminutive woodpecker has even been spotted in the botanical gardens in the city.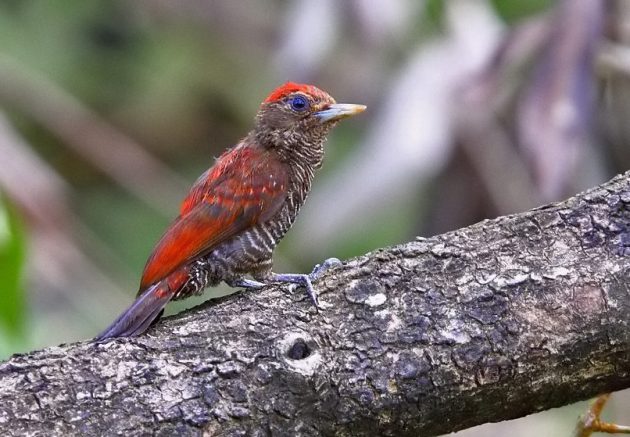 A beautiful Blood-colored Woodpecker poses on a tree trunk
Guyana is probably most famous in birding circles for the unlikely discovery of a population of critically endangered Red Siskins in early 2000. Decades of trapping for the pet industry drove them to the brink of extinction, and their survival into the future was seriously in doubt. Only a handful of small, fragmented populations were believed to exist in Venezuela and possibly parts of Colombia. In the year 2000, the world held their breath as ornithologists from the Smithsonian and the University of Kansas led an expedition into the southern Rupununi region. They found several thousand red siskins, a discovery that not only changed the course of the species' history, but inspired the local villages to embark on a conservation mission that has become a model for local communities the world over.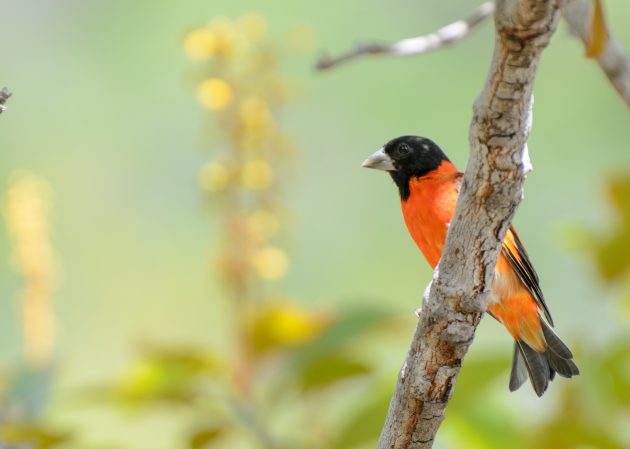 A Red Siskin close to one of the granite outcrops in the Rupununi
Another endangered species that Guyana is famous for and that, like the red siskin, was decimated by many years of trapping for the pet trade in neighboring countries is the enigmatic Sun Parakeet. The little village of Karasabai along the Ireng River on the border of Brazil is one of the last remaining refuges of wild sun parakeets, known in the pet trade as the Sun Conure. I remember being mesmerized by flocks of these noisy and dazzling birds as we drifted lazily down the river on one of my first visits to the country.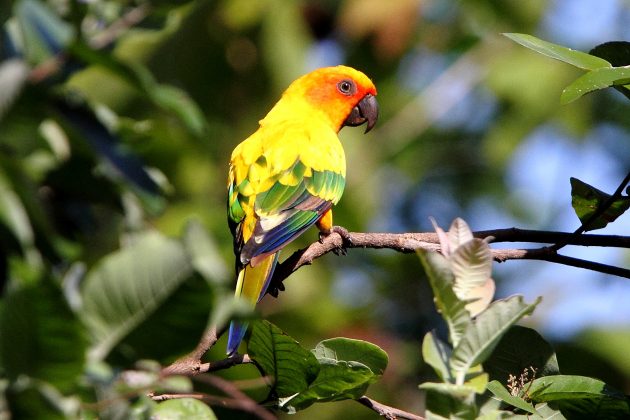 A dazzling and aptly-named Sun Parakeet along the Ireng River
Besides the special red skittle birds, Guyana also presents the opportunity to view highly sought-after species that are harder to find in some of the better-known birding locales in South America. These are the purple-colored skittles, not quite as tasty as the red ones, but definitely firm fan favorites. The mythical Harpy Eagle, a bird that is actually easily seen at its nesting sites around villages like Surama, definitely falls into this category. The first harpy eagle I ever saw was in Guyana and I remember being totally mesmerized by its size, its black eyes, large talons and its phenomenal double crest. You can tell how long ago this was by the quality of our video gear in those dark days of SD video and also by the fact that my hair is not white and I don't have a beer belly. Those bleeping "birds and beer" evenings obviously took their toll.
View from 10:18 onwards to see my first glimpse of a juvenile harpy eagle close to Surama village
And now imagine adding to your purple skittle intake by seeing such charismatic species as King Vultures and Sunbitterns, to name but a few.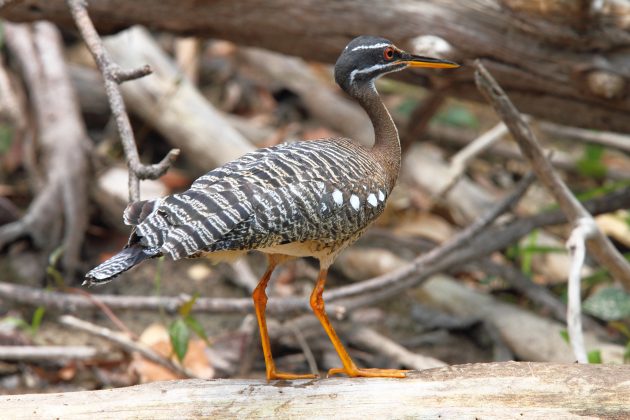 Sunbitterns are common along many of the backwaters of the rivers of Guyana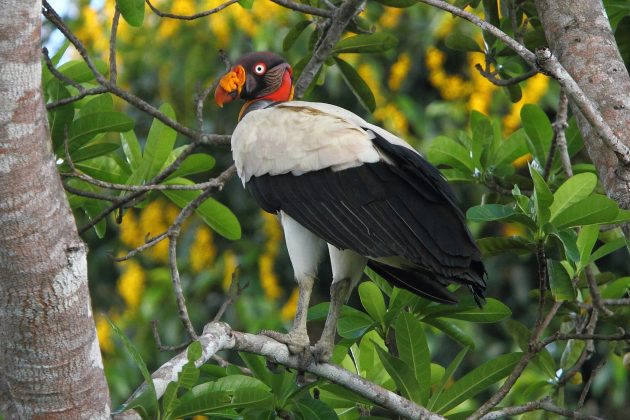 No matter how many times I see this bird, I still find myself saying, "Smoking Ponies…that's a stonker of a bird!"
Now I know some of you might be asking about the rest of the bag of skittles. The greens, yellows and blues etc. Well, you see I have a little secret. I like ALL skittles very much. Yes, I seek out the reds first and then the purples. But in reality, I like them all. If I tell you too much about the other colors, I might be giving away a lot. Like ruining a good movie. So please do yourselves a favor… come to Guyana and discover these other colors for yourself. You might come home with a toothache but I promise it will be worth it.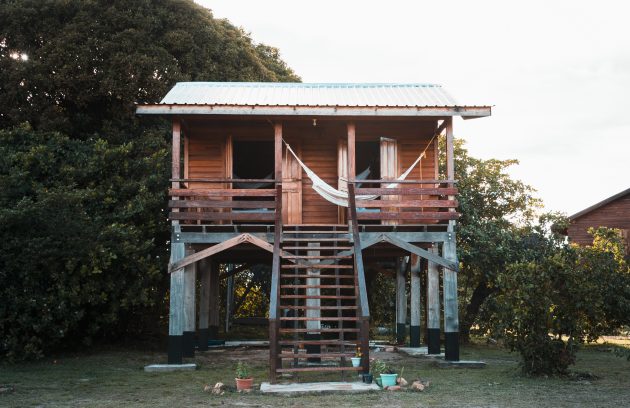 Guyana has some great birder-friendly accommodations like this elevated room at Wichibai Ranch
All images courtesy of A WILD Connection and Rockjumper Birding Tours. All rights reserved.